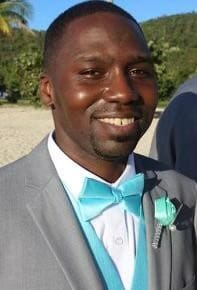 Javorn Mario George died in Atlanta, Georgia, on June 30.
He is survived by his mother, Alexia Callwood Azille; father, Mario George; stepfather, Romuald Romeo Azille; stepmother, Miguelina George; grandmother, Gertrude Parson; brother, Jalaunie George; sisters: Keneisha and Jasmin George, and Samantha Edwards; stepbrother, Charles Azille; stepsisters: Rosemarie Azille and Latoya Skeete; adopted Georgia mom, Elizabeth Juin; adopted Georgia brothers: Emanuel, Marvin, Reginald and Jonathan Juin; and aunts: Allegra Callwood, Alicia Callwood Liburd, Arlean Parsons, Lisa Parson, Lydia Testamark, Deborah Martin and Mary Azille.
He is also survived by uncles: Lyston Martin, Eliston and Celvin Callwood, Ludence and Lee Parsons, Lucien Testamark, Juniel Daniel, Mervyn Liburd and Alphonzo Airall; nieces: Jade George and Zjairys Fontim; and special cousins: Naomi Turner, Clyde, Deshawn, Keshawn, Kamal, Kadeema, Marquette, Kiesha, Keosha and Loring Callwood, Augustine Peets, Janaia Guy, Melicia Liburd, Shakeema Harrigan, Taliba, Neisjah, Brittiny, N'Kyla, Alyssa and Nalanie Parsons, Sharnel Davis, Shanika Harris, Lucien Testamark Jr., Eurita TinTin Hart, Rowmaine Charles, Jahquan, Jordynn and Jaelynn Daniel, Romalind Joseph, Michael, Kwes and Gwenett Turner, Donna Callwood, Kiki Molyneaux and Yan Culpeper.
Other survivors include godchildren: J'Lyn Jackson, Jahkai Peterson and J'Dari McGriff; godparents: Marcella Somersall, Maria Lewis, Yolanda Paul, Annette Hodge and Ernette Martin; special friends: Christianie Edward, Egbert (Mano) Olivecce, Jason (Ghost) Thompson, Clint Ettinoffe, Lakazia Jackson, Flynn Dickerson, GeVoune Peterson, Gary N. Turnbull Sr., Devan Emanuel, Vernon, Vernonica and Wendel Auguiste, Kimberley Prevoste, Jahryl Flemings, Shelia Callwood and Blossom Jackson; as well as many other family members and friends too numerous to mention.
The viewing will take place at 9 a.m. followed by a funeral service at 10 a.m., Saturday, July 30, at The Faith Christian Fellowship Church in Hidden Valley. Interment will be at the East End Cemetery in Smith Bay.
Funeral arrangements are by Turnbull's Funeral Home.