Although a number of folks have claimed to swim around St. John continuously over the course of several days (or incrementally over several years), no one has managed to swim around the island nonstop.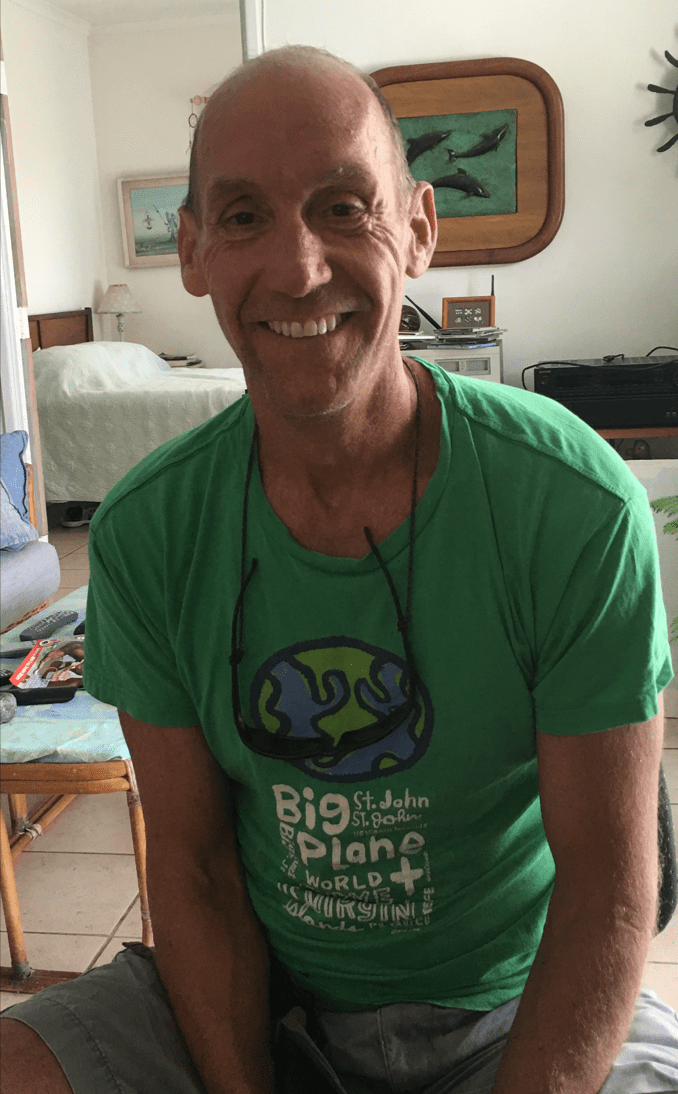 Now Jeff Miller, a 55-year-old fisheries biologist with the National Parks Service, plans to be the first. If the weather cooperates, he'll be setting out before the end of September to complete this swim of between 23 and 25 miles.
"It's been a goal of mine for a couple of years," said Miller, who will swim "unassisted" in order to qualify under the rules of the Marathon Swimmers Federation. (http://marathonswimmers.org/)  "Unassisted" means no mask, snorkel, fins, or thermal protection such as a wetsuit.  He can wear goggles and a cap.
Miller will be supported by Jude Woodcock, his wife, and friends who will be paddling next to him in kayaks and following along in a power boat for safety reasons. Under the rules of marathon swimming, he's not allowed to touch another person or a boat, but his support team will be able to put food, drink, or sunscreen in a bucket attached by a string and float it towards him as he swims.
[adrotate group="6"]
In order to minimize the distance he'll have to travel to get around the island, Miller will be swimming about a mile and a half offshore rather than closely following the bays and points along the coastline. The water along this route rarely gets deeper than 100 feet, he said.
Miller estimates the swim will take between 13 to 16 hours to complete, depending on the winds, the waves, and the currents. "There's not enough daylight anymore, so some of that will have to be in the dark," Miller said.  In order to become accustomed to night swimming, he's been practicing in the dark and recently completed the 3.5 mile course of the Beach-to-Beach Power Swim at night from Maho Bay to Hawksnest Bay.
"It's pretty intimidating," he said, "but at night there's tons of bioluminescence, and it's amazingly sparkly.  It's a lightshow each time your hand goes by your goggles." Unfortunately, the people in the kayak couldn't see the tiny sea creatures that glowed in the water and kept Miller so amused.  "We did one night swim during the Perseid Meteor shower, so at least they had that to look at," he said.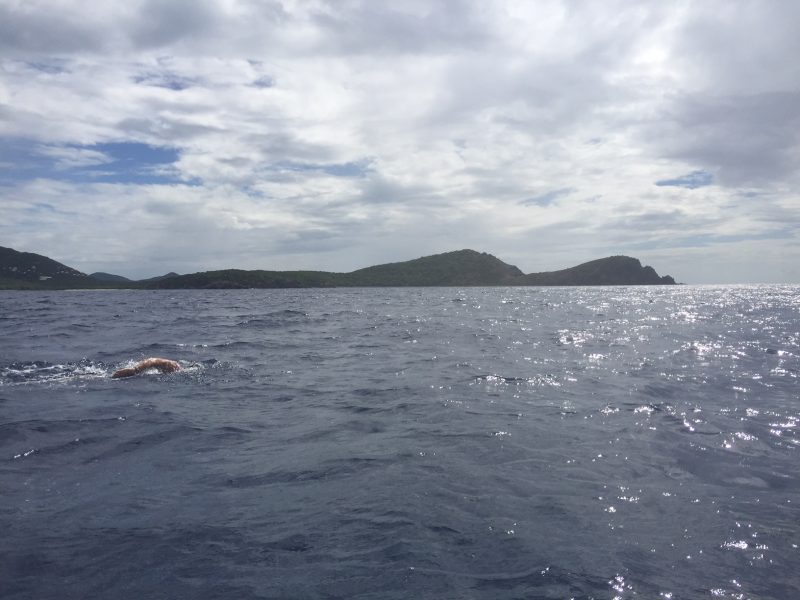 It's difficult to stay oriented in the night; the support crew carries a GPS to maintain a course and dangles chemical light sticks off the kayaks so Miller can keep them in sight.  He also ties a chemical light stick around his body so they can keep track of him.
Miller has been studying sea conditions around St. John over his 20-year tenure with the National Park Service on St. John, and he thinks he knows the currents well enough to predict the best route.
On the appointed day, he plans to set off from the seaplane ramp at around 3:00 a.m., passing Cruz Bay before there is any boat traffic, and head east (counter-clockwise) along St. John's South Shore.  He's counting on the winds and waves, which will probably be against him, to be relatively calm in the early part of the day.  After rounding Ram Head, he'll bypass Coral Bay and aim for the East End of St John, and finally swing back along the North Shore.
"That schedule could put me passing Caneel Bay around sunset," he said.  This route also puts him in the vicinity of friends with kayaks (to give his support team a break) and waters with which he's familiar as he gets closer to the end of his circumnavigation.
Miller hopes to keep up a pace of 35 minutes per mile when the wind and currents are in his favor.
He calculates that his arms will make a quarter of a million strokes before he's done.  But it's not the physical part that he finds most daunting.  "It's the mental side.  That's a lot of time to be alone with your thoughts." Unlike some marathon swimmers, he doesn't count strokes or recite in his mind the lyrics to songs.  "Most of us are bombarded with multitasking; it's nice to try to distill all of that away.  I try to be in the moment, and keep looking forward."
The swim will be a fundraiser for two causes that are close to Miller's heart –wounded veterans and cancer survivors.  Over the years, Miller has met a number of veterans, some blinded, some paralyzed from the waist down, who travel to St. John to race kayaks and scuba dive as part of the Team River Runner initiative.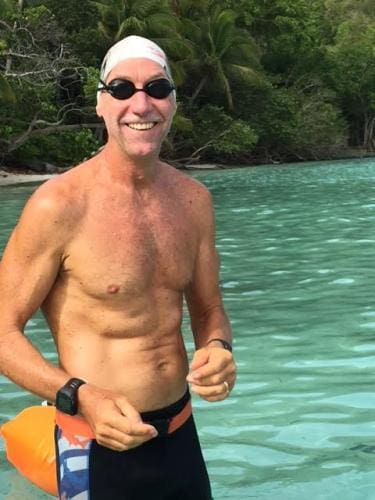 Amazed and inspired by their courage, Miller has set up a page on the Team River Runner website where people can make donations, and he's arranged for a portion of the funds collected to go to the St. John Cancer Fund.(Click here to donate to Jeff's swim.)
"The SJCF has done a phenomenal job of getting funds to people here who need it," he said.  "Everyone in my family has had cancer, including Jude.  My mom died of cancer.  As we get older, you hear about cancer more and more."
He plays down the courage he'll need to complete his swim.  "I imagine what veterans and cancer survivors have to face every day. That's amazing courage, and this is my little tribute to them. What is it the bumper sticker says? 'The miracle is not that I finished, it's that I had the courage to start.'"
But he will need courage.  During practice swims he has encountered sharks—including a hammerhead once– but mostly they just go on their own way. "They're curious because I'm the alien in their environment.  They're aware of me long before I'm aware of them.  Sharks catch their prey by stealth.  I don't think anything out there is interested in [eating] me."
Miller has had plenty of opportunities to test out this theory.  A certified diver since the age of 15, he's completed nearly 7,000 dives.  His job with the Park requires that he be in the water to monitor test sites on a regular basis.
The circumnavigation of St. John allows him to connect the dots among the many places he has studied.  "It's fun to see stuff that's a large part of my life and the work that I do."
Feats of athleticism have been a part of his life for years. In 1987 he set a record that stood for 24 years, swimming a six-and-a-half mile course in the Cayman Islands which included crossing depths of 20,000 feet. Click this link for details.
Twenty-five years ago, he completed an Ironman race in Kona, Hawaii, which includes a 2.4 mile swim, a 112 mile bike ride, and a 26-mile run. He's been a regular competitor in events sponsored by the St. John Landsharks   https://www.facebook.com/stjohnlandsharks/.  Over the past two years, he's completed ten and fifteen mile swims around portions of St. John.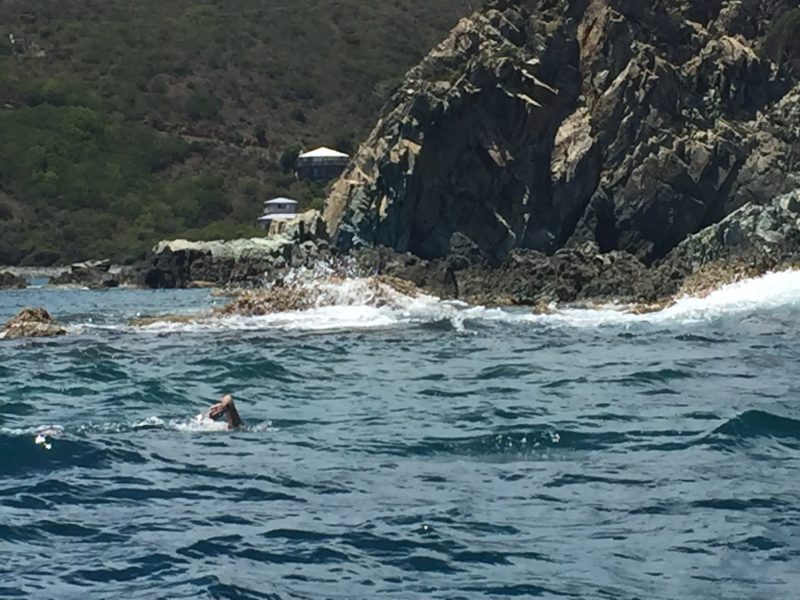 To keep his energy up on long-distance swims, Miller drinks two cups of an energy drink every hour.   It's hard to eat while he's swimming, he says, because the horizontal positon makes digestion difficult and the salt water burns sores in his mouth.  But on this upcoming swim, he'll have to eat something—perhaps peanut butter and jelly, or canned fruit.
Miller is grateful for the crew that has been supporting him, including Eric Bauman, Lee Richter, Stephanie Guyer-Stevens, Joe and Christina Kessler, and of course, his wife Jude.  "Paddling a kayak gets old after seven hours.  It's less challenging to swim through rough water than to kayak," he said.  "Long distance swimming is not a spectator sport."
 Tradewinds will keep you posted on Facebook when the conditions are just right and Miller takes the plunge.  We'll also let you how to track his swim on a tracking website.