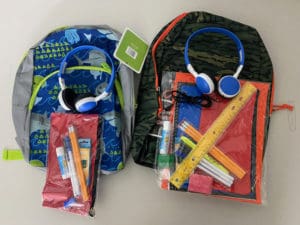 Back-to-school supplies were a bit different this year for students on St. Croix. Along with a binder, crayons, a bundle of pens, pencils and some notebooks, they also added face masks, face shields, hand sanitizers and disinfectant wipes to their backpacks.
"I have mixed feelings. I want to go and see my classmates, but I am worried about catching the virus," said Ravelo's daughter, who is starting the fifth grade.
"I feel concerned and nervous. It will be very challenging for the teachers to ensure that the kids keep their face masks on and practice social distancing," said Rhona Martínez of her twin granddaughters, who are in the first grade.
For more than a year, many students across the region have spent most of the last school year in a virtual classroom interacting with other students and teachers via a computer screen. So, going back to in-person learning with potential restrictions due to the health protocols against COVID-19 has only added to their anxiety.
"As students prepare to return, they will be facing a host of intensified challenges," said Anthious Boone, an elementary school principal in Pennsylvania. He cited mask-wearing and learning how to socialize again with peers as some of these challenges.
But parents can help prepare their children for what may be a tough transition. "As parents endeavor to help their children cope with potential back-to-school anxiety," Boone said, "it is absolutely imperative that they stay well connected with both the school and their children."
Ramón and Paola Ravelo always remind their daughter of the importance of keeping her mask on at all times, encourage her to use discernment to distinguish between what she can or cannot do, as well as bringing to mind: "Life is a precious gift from our God Jehovah, and He wants us to take care of it."
Designating a day of the week for family time has kept an open communication with their daughter. As Jehovah's Witnesses, they look for practical, Bible-based advice to help with any issues or concerns.
While coronavirus variants have raised pandemic anxieties, these families have strived to not overlook other probable challenges they might face. One of their favorite resources is www.jw.org,  the official website of Jehovah's Witnesses, which is free to all.
"Virus Outbreaks. What Can You Do?" and "Beat a Bully Without Using Your Fists" and "Stand Up to Peer Pres[1]sure!" are some of the topics addressed in a video series for young people that these students recommend to everyone. Such topics can facilitate children to have peace of mind when returning to the classroom.
"We have helped our daughter overcome some of the anxieties of going back to school," said the Ravelos.