Jenicia Dalmida reigned supreme after a night of stiff competition from Dior Parsons, first runner up, and Skanekua Lee, second runner up, at the stellar St. John Festival Queen Show on Saturday night, June 23, at the Winston Wells Ball Field for a Cult ural Blen for Festival 2007.
Dalmida won for Miss Congeniality, best eveningwear and best international costume. Parsons took top honors for most photogenic and best interview, while Lee was singled out for most cooperative and best professional wear.
Shikima Jones-Esprit kicked off the night of glamour and glitter with moving renditions of the National Anthem and the V.I. March. Veteran emcee Irvin "Brownie" Brown kept the show moving and St. Thomas sensations Spectrum Band eliminated any dull moments between segments.
[adrotate group="6"]
The three St. John Queen contestants impressed the crowd first in stunning swimwear ensembles followed by professional wear.
Lee, who is enlisting in the Navy, entered the stage in a formal Navy suit. Taking off her jacket, she revealed a white button-down shirt, and was transformed into a head of household.
Celebrating the many facets of a phenomenal woman, Lee finally unbuttoned her long-sleeve to reveal a strapless top and she was ready to take care of herself.
Rounding out the professional wear segment, both Dalmida and Parsons donned beautiful skirt suits.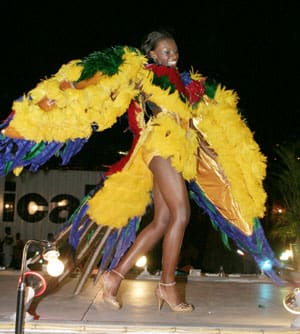 Creativity and imagination were the name of the game for the international wear segment when Lee embodied an endangered Peruvian Macaw parrot. Prancing around the stage in yellow, red, blue and green feathers, Lee was the picture of celebration.
Dalmida surely impressed the judges as Queen Nefertiti of Ancient Egypt with elaborate stage including a snake, canopied throne and pyramids.
Parsons shared the tale of Taj Mahal as she sashayed across the stage in an Indian magenta and gold sari and headpiece ensemble.
All of the ladies were simply elegant in their eveningwear and gave intelligent responses in the question and answer segment.
The low crime rate in Love City is what Lee said she is most proud of about St. John.
"My education has taught me structure, to cooperate well with others and that perseverance and striving lead to big rewards," Dalmida said about what she has learned through her education.
Dior had to field one of the most difficult questions about what she would change about herself.
"I would be more appreciative of the the gift of life, the love of family and friends and good health," said Dior in a poised response.
In what was definitely a tough choice for the judges, Dalmida took the crown from last year's queen Moremi Aderohunmu and greeted the crowd as St. John Festival Queen 2007.
Dalmida's chaperone Leann Oquendo went home with her second contestant win for Festival 2007 — she also chaperoned Shadiyah Boynes, who was crowned St. John Princess 2007 on June 17.