A single theme was evident in the speeches given at the Julius E. Sprauve School ninth grade promotion ceremony: stay focused, and do not let distractions hinder you from getting a good education.
Seventeen ninth graders were promoted to the 10th grade at the Tuesday evening, June 13, ceremony — seven with honors.
"Look at their faces," said JESS principal Mario Francis. "They are elegant young ladies, gallant young men. They are the best that we have."
Board of Education member and JESS alumnus Oswin Sewer told graduates to remember the hard work that got them where they are today.
"Continue to work hard," he said. "That's the old-fashioned way of getting ahead. Continue to do what you do best."
Insular superintendent Dr. Emily Carter expressed her wishes that all promotees would be members of the graduating class of 2009.
"Make Good Choices"
"My hope is you will all be in the class of 2009," said Carter. "Make good choices. Go to class every day, be positive thinkers and stay the course."
Promotees included Gemmesha Ashly, Elisha Auguste, Sinead Burkett, Isaurimar Cara-ballo, Lateefah Carty, Peterson Eugene, Ian Haim, J'Neil Jacobs, Damiana Knight, Kurt Marsh Jr., Yakita Morton, Dia Otto, Kamaria Penn, Niyah Potter and Jabari Walters.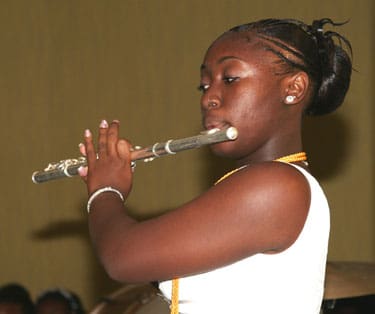 Shakwana Albert was the class valedictorian, and Malik Stevens was the salutatorian.
St. John Administrator Julien Harley took the opportunity to remind parents how important it is to be involved in their children's lives.
"Parents, we have dropped the ball," he said. "We have become too complacent, and we don't run things in the home anymore. We will find a way to make our dog sit while we say we love our kids and anything goes."
Harley urged parents to spend time meeting with their children's teachers and principal.
"Be Asset To Your Child"
"We can't visit their teachers or principal, but we can gossip about them," said Harley. "Show interest, be an important asset to your child and school, and I guarantee, you will love the result."
Stevens had the audience in stitches as he spoke about the reason he strived to do well in school — money.
"At last year's promotion ceremony, I was deeply touched by the awards and monetary gifts the valedictorian and salutatorian received," said Stevens. "I wondered, if I were valedictorian or salutatorian, how much money would I get? I decided that next year, I would be on top."
On a more serious note, Stevens told the crowd how he struggled to get back on top after a bad second marking period.
Teacher's Advice
"I wanted to make people proud of me, so my behavior changed," said Stevens. "My behavior changed and my work improved after a teacher told me that I would not be on top with a bad attitude."
Stevens urged his fellow classmates who were not promoted to the 10th grade to use the opportunity as a learning experience.
"See this as a bump in the road," he said. "Figure out how you will get over it."
Albert, who earned her position at the top of class by a mere two-tenths of a point, also worked hard to improve her grades after a bad second marking period.
No Reward For Lack Of Productivity
"It was a reality check when I learned that you don't get a reward for lack of productivity," she said. "I made weekly goals in an effort to balance my school work and social life. It was up to me to pull myself together."
Albert advised her fellow classmates to stay focused on their school work as they enter high school.
"Learn to distinguish what's good from what's bad," said Albert. "Slacking in school brings worry, disappointment and hurt."
The ceremony's guest speaker, Habibah Bell, a JESS alumnus and University of Notre Dame graduate, also urged the promotees to stay focused.
"College is a place where you find your identity," said Bell. "Several times, I was offered alcohol, drugs and cigarettes, but I refused because I didn't need it. Know where you come from, where you are going, and be proud to be black."
"Represent The V.I. Well"
"Nothing worth doing in life is easy," Bell continued. "Discrimination is alive and well, but you can't let that scare you. Know your history and represent the V.I. well wherever you may go."
Awards were given for the highest grade and for most improved in several subjects, and the students presented the school with a $1,000 gift.
"We are proud that all students in the future will be able to use this," said Stevens.