The Julius E. Sprauve School and the St. John School of the Arts have joined forces to improve the public elementary and middle schools' arts program with music, theater and movement instruction from a dedicated roster of local teachers.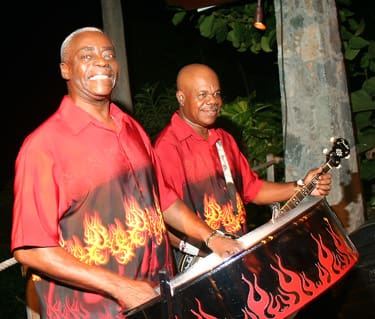 In the past, JESS students have enjoyed SJSA classes through its summer enrichment program. This is the first year, however, that SJSA instructors are rounding out the JESS curriculum with a full arts component running throughout the school year.
The Total Arts program consists of classes in: creative movement; ethnic drumming and dance; Orff Shulwerk music for children; recorder; scratch band; theater arts; and visual arts. Classes are taught on the JESS campus, at SJSA and at the art school's Lumberyard annex.
The content of the classes alone is exciting, but the instructors are what turn these interesting classes into amazing experiences for JESS students.
Veteran educator Barbara Winch is teaching a series of progressive classes for Total Arts to students in kindergarten through sixth grade.
Orff-Shulwerk
The students all started the year off with Orff Shulwerk: Music for Children instruction, which is based on the works of European composers Carl Orff and Gunild Keetman.
Used in schools world-wide, Orff Shulwerk incorporates movement, speech, song and instrumental playing to teach elements of music.
Winch, who has a bachelor's degree in psychology and elementary eduction and a master's degree in special education, spent two weeks in intensive Orff Shulwerk training in Texas this summer.
"The summer training was amazing," said Winch. "Everyone was so focused on Orff and the teachers were fantastic. We covered everything — theory, practicals and we created our own pieces for implementation."
To encourage harmony, all of the barred instruments in Orff classes are on a pentatonic scale, explained Winch.
"The pentatonic scale is used so all the notes are harmonic," Winch said. "There is no dissonance so the instruments always sound good. Even when we improvise, the notes all harmonize."
Next semester students in third and fourth grades will get soprano recorder lessons where they will learn notes and songs on the instrument. Fifth and sixth graders will start theater class and students in kindergarten through second grade will learn creative movement.
Drumming maestro, tutor, linguist — Eddie Bruce wears many hats and has dusted off his educator cap for the JESS students.
Ethnic Drumming
Bruce has taught in various schools, mostly English acquisition classes, since 1969 and tried retiring in 1995. He's back at it for the Total Arts program for which he instructs ethnic drumming and theater arts classes for fifth and sixth graders.
The multi-lingual Bruce was introduced to the drum back in 1955 when he was a 14-year-old in St. Paul, Minnesota.
"I had always been drawn to the drum as a child," said Bruce. "Every time I heard it, my heart would start to beat and I had to see it and see who was playing it. I actually started playing with our neighborhood marching band when I was 14."
Since then Bruce has gone on to incorporate drumming into all aspects of his life. As an English teacher, he repeatedly returned to the drum as a way for students to visualize lessons.
"The drum is the perfect teaching tool," Bruce said. "It shows auditory retention, visual retention and time retention. I learned how to use the drum to teach reading prep classes."
Similar to creating a sentence from different clauses, drumming involves stringing a series of shorter movements together to create a beat — and remembering how each is connected, Bruce explained.
"Can students remember the whole sentence at once, or do we need to break it into shorter segments," he said. "Drumming has a vocabulary just like reading. If I demonstrate something on the drum, I can tell by how they play it back to me what their retention levels are like."
Bruce is also teaching a theater Arts class and while it is separate from the ethnic drumming, the instructor has a flair for blending educational opportunities and subjects.
There will be plenty of theater instruction in the class, but students will also learn a musical about an African boy who wanders away from his village, which Bruce wrote while studying at renowned Nigerian drummer Babatunde Olatunji's African Cultural Center in New York.
Theater arts students will learn original songs and drumming as well as dialogue and dance steps.
In true Bruce style, however, they will also be picking up lessons in problem solving, conflict resolution and self-discipline.
"Through teaching the play, the students will learn diction, pronunciation and stage presence," said Bruce. "They will have to work together and deal with various problems. And, of course, there will be drumming, singing and dancing."
After explaining how the drum is the oldest instrument in the world and the easiest to learn, Bruce adds that it's a vehicle capable of transporting the listener.
"The drum always had a magical effect on me and I learned how to achieve that effect on others," he said. "It is a vehicle that takes you on a spiritual and psychic journey. That's why I also call myself a magic carpet driver."
Quelbe With Koko
While mastering the arts of drumming and theater, JESS students will also have the opportunity of learning Quelbe from a true master, Mahlon "Koko" Pickering, of Koko and the Sunshine Band.
Quelbe, the official music and dance of the Virgin Islands, is a uniquely West Indian genre with influences of jazz, mambo, calypso and even country and western, explained Pickering.
"It's kind of a hodge-podge of a thing, but we took it and made it our own," Pickering said. "I started playing back when I was a kid on Tortola in the 1950s. I would listen to my family and my parents' friends play this music and I couldn't wait to try it out."
With industry and intelligence, Pickering found a way to obtain all the resources he needed to make his first instrument.
"I watched the older people making instruments and when the fishermen would return from the sea, I would volunteer to clean up their boats," he said. "They would give me bits of broken wire as my payment and then I'd look around for an old sardine tin and I'd make a ukelele. I didn't know what the heck I was doing, but I would just strum away."
Forming A Scratch Band
More than 50 years later, JESS students will have the chance to take advantage of Pickering's knowledge of the craft to create their own instruments and form a scratch band.
While Pickering is proficient on a number of different instruments, he prefers the piano and banjo.
"I love the piano — it's a nice instrument," said Pickering. "But the banjo is the sweetest accompaniment to my voice. The feeling I get when I'm playing is beyond explanation."
The Quelbe musician is honored to be sharing his craft with the younger generation.
"It's quite an honor for me to be able to contribute and share this culture with, not only the tourists who come see me play, but the young ones coming up," Pickering said. "I hope they will cherish this music and pass it on and share it with their friends and family too."
JESS seventh and eighth graders are lucky enough to have clothier and artist Karen Samuel teaching visual arts on the campus as part of the Total Arts program.
"It's a basic arts class," said Samuel. "The class will give students the foundation for high school art. We cover all the basic skills from drawing to painting to collage and crafts."
Students will hopefully walk away from Samuel's art class with a heightened interest and better understanding of basic art theory and technique, the instructor explained.
"I hope the students will be introduced to enough types of art to garner an interest in it," said Samuel. "They haven't had arts classes for years and that is an issue. I have to familiarize them from scratch and I hope that they gain an interest in art."
Being exposed to arts will help the students in all areas of their education, according to Samuel.
"Having art in their education is definitely important for their spirit," she said. "There is talent here and these students need art. They haven't had any opportunities to express themselves and doing this program they have a number of different venues in which they can do that."
"I hope some of them find art as their individual way of expressing themselves," said Samuel.
For more information about the program or SJSA call the arts school at 779-4322.
Go to:
www.stjohntradewinds.com/forum
to discuss this story on our forum