In July 2016, Peter Luterek, a 47-year-old jewelry shop owner, went into the hospital on St. Thomas for what should have been a routine hospital procedure, but something went fatally wrong.  In the following months, the door to his Wharfside Village shop remained shuttered as his widow, Melissa Luterek, absorbed the shock.
"Jewelry was Peter's passion," said Melissa, the owner and operator of Pilates Worx, a fully-equipped Pilates exercise studio now located above Moses' laundry in Susannaberg.
Guiding people through their exercise routines proved to be a therapeutic distraction following his death, but busy as she was, she felt compelled to keep Peter's enterprise alive.  When Sea Leathers vacated the prime retail space on the eastern edge of Frank Powell Park in Cruz Bay in December 2016, Melissa decided to open a jewelry store at that location and feature the jewelry Peter loved.
Island Dream Worx is the name she chose for the shop which opened in February 2017.  "I originally wanted to call it 'Livin' the Dream.' That was Peter's phrase.  When customers came to his old store, he'd always ask how they were doing, and when they returned the question, he'd always say, 'I'm livin' the dream.'"
Unfortunately, Peter's catchphrase was not available from the territory's Division of Corporation and Trademarks, but Island Dream Worx was, and she likes that the name connects to her Pilates business.
"At Island Dream Worx, we sell a well-known brand, Kro-Gu. They are all one-of-a-kind works of art that are handmade using 950 silver, which is purer than sterling silver," Melissa said.  "A lot of people are allergic to sterling silver because it has nickel in it, and this has no nickel."  Kro-Gu was the name of Peter's shop before he passed away, she added.
Island Dream Worx also specializes in jewelry made in the Virgin Islands.  Tracy Andersen's Beach Girl Designs feature freshwater pearls strung on leather; Katherine Stuart makes 14k gold necklaces stamped with special sayings; Daniel Benson fabricates hook bracelets of silver and gold with "VI" incorporated in the design; and Ania Poe produces custom bracelets with unique stones.
The shop also sells paintings by local artists, silk flowers, and fine cigars–something Peter particularly used to enjoy, Melissa said.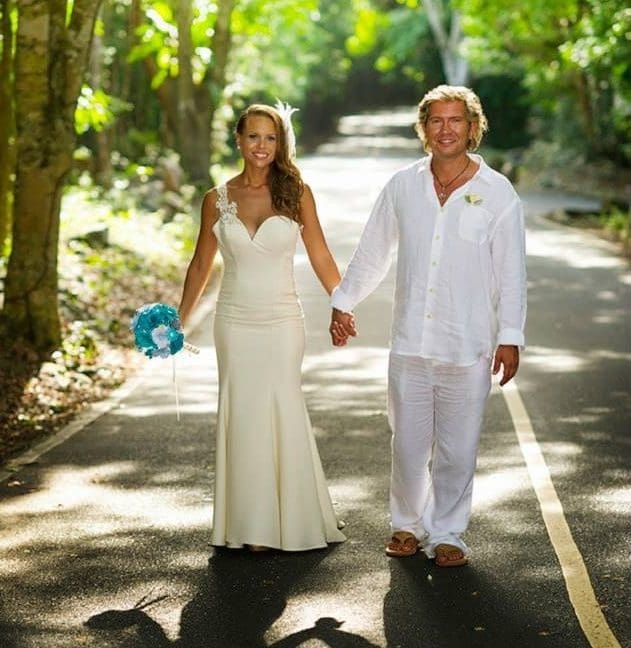 Peter, who was born in Poland and moved to New York at the age of nine, spent most of his last 20 years in St. Thomas and St. John working in jewelry and watch sales.  He owned a shop, Precious Dreams, prior to opening Kro-Gu. Melissa met him in the summer of 2012 when she had just arrived from LA to meet a friend for a vacation during St. John Festival.
The night before her friend was due to arrive, she went alone to Carnival Village. "I was standing in the Village, listening to the music, when it started to rain. I stepped under an awning and literally bumped into Peter."
They started to talk, and when the music stopped because of the rain, they took a walk to his shop.  "After showing me around, he pulled a ring out and put it on my finger," said Melissa. "When I offered to pay, he said, 'Just wear it.'  He also said, 'I hope you don't take this the wrong way, but I hope your girlfriend doesn't come down because I'd like to kidnap you for the week.'"
The next day, Melissa got a text message from her friend saying she was very sick and wouldn't be coming to the VI after all, so Melissa spent her vacation in Peter's company.
They continued to see each other over the next several months, and in November 2012, he proposed to her.  Their wedding in September 2014 was the cover story in the publication Virgin Islands Weddings and Honeymoons.
Melissa said she worked with Peter at his jewelry shop during her first six months on island, so she developed a feel for the jewelry business.
"A lot of people thought I was going to leave after Peter died and Hurricane Irma destroyed my Pilates studio in Cruz Bay, but St. John is my home," she said.  "I feel blessed that I have all this."