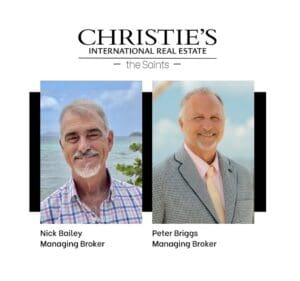 In the increasingly digitally driven, international world of real estate, the local firm of JF Virgin Islands Real Estate is an acknowledged leader in expanding market reach. In a continued effort to be at the forefront of these internationally connected markets, JF Real Estate, is announcing it will now be directly associated with Christie's International Real Estate. The rebranding of the company, Christie's International Real Estate | the Saints, will offer its clients and customers the next level of service, connectivity and outreach to the International real estate market, that is unequaled in the Virgin Islands.
JF Real Estate, formerly Briggs And Bailey Real Estate D/B/A John Foster Real Estate, has been providing clients with leading edge service on all three Virgin Islands for 50 years. The company of Christie's International Real Estate | the Saints, will continue to be managed by Brokers Peter Briggs and Nick Bailey, and support the team of highly experienced Brokers and agents, out of its recently expanded East End, St. Thomas location.
Christie's International Real Estate | the Saints is a member of the Island Living Collective, a real estate holding company which represents some of the most respected and sought-after real estate brokerages in the Caribbean, including Sea Glass Properties on St. Thomas and St. Croix, as well as, Islandia Real Estate, and Holiday Homes of St. John. By combining their unique areas of expertise, the Island Living Collective is made up of agents with an unparalleled commitment to providing the ultimate in extraordinary island lifestyle alongside a peaceful, welcoming Virgin Island community.
The public is invited to stop by and meet the exceptional team or visit online USVIRealEstate.com