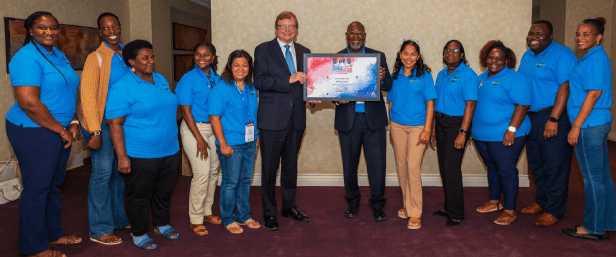 Jobs for America's Graduates in the Virgin Islands (JAG-VI), which is jointly administered by the Virgin Islands Department of Education (VIDE) and The Virgin Islands Department of Labor (VIDOL), has been recognized for achieving the "5 of 5" State Award for the class of 2021. The "5 of 5" State Award recognizes the highest-achieving states that exceed all five of Jobs for America's Graduates National's performance metrics aimed at graduation and employment. Performance metrics include employment rate, full-time employment, total full-time positive outcomes, and further education rate.
With a graduation rate of 94.4%, a further
education rate of 55.8% (one of the highest across the JAG National Network), and a noteworthy full-time jobs rate of 98.4% (one of the highest in the entire 39-state National Network), JAG-VI has achieved remarkable statistics throughout the course of many challenges in the 2021 program year.
Commissioner Gary Molloy said, "This accomplishment is huge for the JAG-VI because it means that our programs have been nationally recognized for empowering our young people with skills and support to be prepared for a future of success, whether it be in education, employment or life."
Jobs for America's Graduates (JAG) teaches performance competencies instrumental in students' succeeding in school and flourishing in the workplace. Twelve months of support is provided to help ensure participants' success with moving into jobs, post-secondary education and the military. The program assists participants as they seek to gain enhanced employment to secure a raise or promotion in the course of the 12 months of follow-up and ensures that those in post-secondary education are persistent in achieving their education goals.
A special thanks to the Department of Labor's Youth and Apprenticeship Director Shenika Sebastian; Territorial Coordinator Kevin Dixon, Ph.D.; the VIDE Office of the Commissioner and their team; St. Croix and St. Thomas District superintendents; principals of the four high schools; and, most importantly, the JAG-VI specialists Elizabeth John-Baptiste, St. Croix Educational Complex; Jenny George-Brathwaite, St. Croix Central High School; Camelia Febres, Charlotte Amalie High School; Josette Illis, Ivana Eudora Ken High School; and students of each of the high schools for all their hard work with the JAG-VI program.
Jobs for America also extends its thanks and appreciation to Ken Smith, president of JAG, and Gov. Albert Bryan for continuing to provide such a rewarding opportunity for America's graduates.