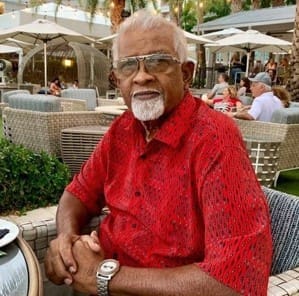 John Kenneth Logan, also known as "Bobby" or "Bob," of Estate Sion Farm died on Jan. 11.
He was preceded in death by his parents: Harry Logan and Elizabeth Soognie Logan; sister: Elaine (Dolly) Lowtoo; and brothers: David Logan, Ned Logan and Samuel Logan.
He is survived by his spouse, Paula Ayala Logan; son, John Robert Logan; daughter, Nicole Indira Logan; son-in-law, Dean Pond; daughter-in-law, Letricia Florencia Logan; grandchildren: Naphtali Agay Stevens, Paulita Elizabeth Logan, Paul Nicholas Logan and Arshad Jaron Pond; and sisters: Mildred Theroulde, Gloria Edward, Merle (Shirley) Solomon and Lena George.
He is also survived by brother, Kenrick Logan; sisters-in-law: Lillian Clunis and Eulalia Ayala; brothers-in-law: Flavian George and Carmelo Ayala Jr.; relatives: 45 nieces and nephews; many grand and great nieces and nephews too numerous to mention; relative of the Sedanees, Ramkisoons, Ramdass and the Ayalas; friends: so many close friends too numerous to mention; as well as other relatives and friends too numerous to mention.
Bobby had a way of making you feel that you were his best friend.
A viewing will begin at 10 a.m. followed by a funeral service at 11 a.m., Sunday, Jan. 24, at Sunny Acres Seventh-day Adventist Church. Interment will be at Kingshill Cemetery.
The family respectfully requests that attendees wear a face mask and adhere to the social distancing requirements.