The nation's capital is full of educational and interesting opportunities, and earlier this month 10 St. John youngsters took full advantage of all that Washington D.C. has to offer.
On Thursday, August 3, the students and their chaperones traveled to D.C. for the John's Folly Learning Institute's summer trip, where they toured a number of museums, monuments and even the White House.
JFLI is a non-profit after school mentorship program focusing on educational studies.
Fruitful Experience
"I think it was a fruitful experience for the students and the chaperones," said Idalia Scimeca, who volunteers at JFLI and traveled with the group. "The nation's capital is very impressive — the scale of the buildings and the gardens and everything else. It just made for a very worthwhile visit."
While in D.C., the students hit a number of attractions, including the Washington Monument, the Lincoln Memorial, the World War II Memorial, the White House, the Capitol Building and the National Cathedral.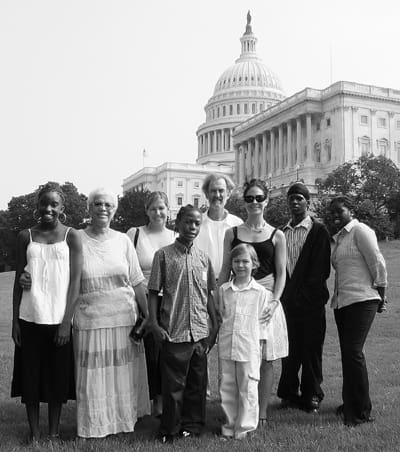 Visiting Numerous Monuments
The youngsters also toured a number of Smithsonian Institute museums, including the Museum of Natural History, the American Indian Museum, the National Air and Space Museum and the National Zoo. Visiting the Frederick Douglas National Historic Site was another highlight of the trip for busy the JFLI students.
"The kids saw a lot," said JFLI Director Alvis Christian. "We covered as many places as possible in terms of giving the youngsters exposure to the wealth of opportunities in the nation's capital."
The students were afforded some special treatment as well, thanks to the National Park, Christian explained.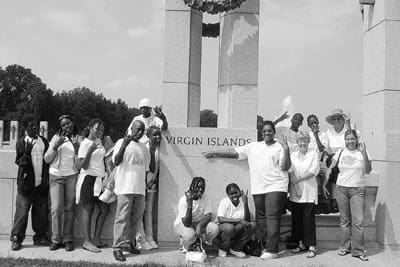 "We were given guided tours of all of the National Monuments and Museums," he said. "We must thank V.I. National Park Superintendent Art Frederick for arranging all of our tours."
Visit with the Delegate
V.I. Delegate to Congress Donna Christensen took time out from her busy schedule to lunch with the visiting St. John group.
"Delegate Christensen organized our guided tour of the Capitol and the White House and treated us to lunch at the Capitol Building," said Christian. "The children really enjoyed that part."
Another special lunch was organized by the managing partners of IRV Management, Inc., a Baltimore-based company that supports JFLI, Christian added.
Appreciation for Nation
"We covered a lot in the week that we spent there," the JFLI director said. "The youngsters gained an appreciation and understanding of the greatness of this nation and got a good understanding of the capital. I would say that the trip was a success."
"There was education, fun and it was good exposure for the students," Christian said.
The JFLI students who attended the summer field trip were: Irah Christian, Raquel Edwards, Loran Jackson, Ronald Jackson, Nicole Dalmida, Afrika Anthony, Travis Dalmida, Sylvester Anthony, Kristal Anthony and Oliver Oat.