Joseph Low of Chilmark, Massachusetts, and Cruz Bay, St. John, died on February 12, 2007, of natural causes at Long Hill in Edgartown, Mass. He was 95.
Low was an illustrator, children's book writer and graphic designer with a number of New Yorker magazine covers to his credit published from 1940 to 1980 and many children's books which he both wrote and illustrated, one of which, "Mice Twice," won the Caldecott Award in 1981.
Low and his wife Ruth Low lived in Cruz Bay, St. John from November to April for 24 years, allowing Low to sail throughout the year. During the summer months, they lived on the island of Martha's Vineyard off of Cape Cod, Massachusetts.
They first came to St John in 1974 at the invitation of John Anderson and his wife Dean, as she was an illustrator and had been able to work with the island as her base.
The next winter they rented a small house in Coral Bay with a motorcycle for transportation. Just before leaving to return to the states that spring, they purchased land in Cruz Bay overlooking the town and proceeded with plans to build their home and his studio. The following winter, they found themselves living on their boat until their house was finished.
Low was a very disciplined artist, rising early every morning to do his work so that he could follow his passion for sailing in the afternoon. Both Ruth and Joe joined the St. John Historical Society and were very supportive of the first museum set up at the Battery and then relocated to the Elaine I. Sprauve Library.
Ruth Low was dedicated to her research of primary sources of the first Europeans to settle on St. John, eventually gathering enough written and visual documents to consider publishing a book. She collaborated with Rafael Valls and her husband Joe and the Eden Hill Press published "St. John Backtime" in 1985, which is in its third printing and is available in bookstores on St. John and St. Thomas. A second book, "St John Voices" will be published posthumously (Ruth died in 2006) in 2008 with additional historical primary research of early day to day life on St John.
During the 1950s and 60s, Joe was commissioned by the Hayden Society to create more than 100 record covers for their classical music recordings, which he enjoyed not only for the artistic freedom it gave him, but also the expansive musical collection he was able to amass for enjoyment throughout his life.
In the 1950s, Low was able to purchase a Washington hand press and type from a small town newspaper in West Virginia and started printing lino cuts of his drawings as mailing pieces to exhibit his work to editors and publishers.
He established the Eden Hill Press in the 1950s after moving to Newtown, Connecticut and adding an electric press, a Colt's Armory Press. He then started publishing limited editions of his own work in book form, portfolio form, and large hand prints, often using handmade paper and multicolor print techniques, all in the letterpress technique.
This same press is now in the hands of The Indian Hill Press, of West Tisbury.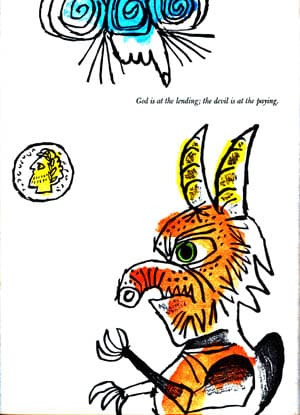 Joe admired primitive untutored artistic expression, medieval and baroque sculpture in Europe, traveling to northern Spain, visiting small Basque and Catalan towns and southern France in the Provence region, often seeking out shuttered ancient chapels and discovering dusty treasures which influenced his work.
Joe was born in Coraopolis, Pennsylvania, in 1911. His family moved to Chicago, where he attended the Chicago Art Institute. He recently bequeathed many of his collected works to the Newberry Library in Chicago, where he had been able to spend much of his time in his early twenties independently studying collections of illustrated books.
Joe's lifelong passion for sailing began as a teenager sailing on Lake Michigan.
Joe moved to New York City in 1937 to attend the Art Student's League, specifically to study with George Grosz, but found the visual wealth of the various museums a superior source of inspiration and was largely self taught. He met fellow student Ruth Hull at the League and they were married in 1940.
They collaborated on a book together, "Mother Goose Riddle Rhymes" with pictures taking the place of words, published in 1954 by Harcourt Brace.
Joe was still sailing solo until age 90 when his eyesight became too poor. A perfect day for him was sailing out of the Cruz Bay harbor on a clear day with a good wind, greeting his maritime neighbors as he passed. He participated in a number of yacht races with the St. John Yacht Club and enjoyed island hopping cruises as far south as Martinique.
He is survived by his daughter Jenni Oliver, and son-in-law Edly Oliver of Edgartown, Massachusetts, and his daughter Damaris Botwick and granddaughter Fiona Botwick of New York City.
A private celebration of his life will be held in the summer on Martha's Vineyard.
– Submitted by Family