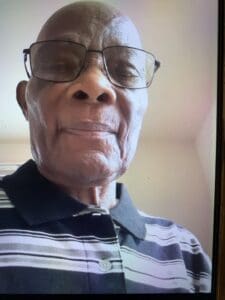 Joseph Samson, affectionately known as "Graysen" or "Samo," of St. Lucia and St. Croix, USVI, died peacefully at his home with his caregivers at his side.
He was preceded in death by his mother, Martina Samson; father, Julian Jongue; sister, Mariyann Jongue; and brother, Robert Flavien.
He is survived by his daughters: Evelyne Samson and Helen Charles; sons: Joseph Samson Jr., Nacaro Samson Sr., Sheldon Samson, Shevin Samson and Philbert James; and grandchildren: Jia Samson, Jayla Samson, Rhea Samson, Corey Samson, Richard Samson, Nacaro Samson Jr., Nazir Samson and Naavah Samson.
He is also survived by sisters: Paulette Adamson, Madrina Flavien and Patricia Ramine; brothers: Val Mathurin, Alvin Charlery and Gregory Emile; nieces and nephews too numerous to mention; and caregivers: Cecilia Gervais (Wanda), Frances Ferdinand, Rita Division and Yolene Marcelin.
Other survivors include daughters-in-law: Zemony Samson and Alyssa Samson; brother-in-law, Kenrick Adamson; sister-in-law, Barbara Mathurin; friends: Rita Division and Yolene Marcelin; special friends: Frances Ferdinand, Cecilia Gervais (Wanda), Viviane Mondesir, Lionel Mondesir, Lucy Doctrine and Urelca Jean Baptiste; as well as other relatives and friends too numerous to mention.
Family and friends are invited to celebrate the life of Joseph Samson on Tuesday, July 19, at St. Ann's Catholic Church in Barren Spot. The viewing will begin at 9 a.m. with a service following at 10 a.m. Interment will follow at Kingshill Cemetery.