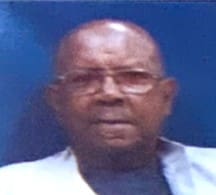 It is with great sadness that the family of Joseph Schulterbrandt announces his passing on Friday, July 9.  He died peacefully in Pembroke Pines, Fla., at the age of 78.  He was born on Aug. 20, 1942, on St. Thomas, U.S. Virgin Islands.  He comes from a large family of six sisters and seven brothers.
Joseph "Joe Pete" Schulterbrandt graduated from Charlotte Amalie High School in 1960.  He attended Hampton University in Virginia, graduating in 1966 with a Bachelor of Arts Degree in Accounting along with achieving the special distinction of cum laude.
He was a private person and always strict with following accounting procedures in his field of work.  During his leisure time, he loved watching Western movies and the news as well as reading the daily newspaper.  He eventually started a landscaping business and loved working alongside his landscaping crew.  As a devoted Roman Catholic, he would consistently spend time everyday reading and learning from his Bible.  He never ceased loving his favorite cuisine, which is the local island food and drinks.
He was preceded in death by his parents: Ernest Schulterbrandt Sr. and Eldra Leona Shackleton-Schulterbrandt; brothers: Ernest Schulterbrandt Jr. and Kenneth Schulterbrandt; sister, Isabelle Schulterbrandt; nephew, Vincent Schulterbrandt; niece, Pauline Schulterbrandt; brother-in-law, William Petersen; and sisters-in-law: Muriel Richardson-Schulterbrandt and Sheila Schulterbrandt.
He is survived by his aunt, Rita Schulterbrandt-Smith; brothers: Irving Shulterbrandt, Franklin Schulterbrandt, John Schulterbrandt and Kelvin (Schulterbrandt) Brewley; sisters:  Josephine Schulterbrandt-Ottley, Helen Schulterbrandt, Mercedes Schulterbrandt Brannigan and Marie Schulterbrandt-Osborne; sisters-in-law: Janet Shulterbrandt, Louise Schulterbrandt, Beverly Schulterbrandt, Barbara Blackman-Schulterbrandt and Deleta Brewley; daughter, Kiesha Schulterbrandt; adopted daughter, Sonia Pemberton;
He is also survived by the mother of his daughters, Mildred Thomas; and nephews: Gary Shulterbrandt, Kirk Shulterbrandt, Basil Ottley Jr., Vance Francis Jr., Ronald Bonelli, Turhan Berne, Ernest Verne Schulterbrandt Jr., Kenneth Schulterbrandt Jr., Kofi Schulterbrandt, Anthony Schulterbrandt, Sean Schulterbrandt, Benjamin Harris, John Schulterbrand Jr., Zebedee Schulterbrandt, Courtney Jacobs Jr., Kwodwo Brannigan, Kofi Brannigan, Kayode Lewis, Jhamed Babatunde-Bey and Akil Lewis.
More survivors are nieces: Deborah Shulterbrandt-Andalcio, Kim Shulterbrandt, Carol Shulterbrandt-Thomas, Sandra Shulterbrandt-Hall, Laura Hodge-Chesterfield, Loretta Hodge-Brathwaite, Linda Hodge-Huyghue, Thesla Berne-Anderson, Veronica Petersen, Lisa Petersen (godchild), Hazel Chavez, Jennifer Whitehead, Linda Schulterbrandt, Jartu Schulterbrandt, Roslyn McKenzie, Happy Schulterbrandt Jackson, Kishma Schulterbrandt, Zebiesha Callwood, Monique Jacobs, Celeste Jacobs, Ebonique Jacobs-Espirit, Orisha Osbourne, Deetria Thomas and Kayla Brewley.
Other survivors include godchildren: Keith Callwood Jr. Shawn Dore and Lisa Petersen; special cousins: Winthrop Maduro, Franklin Schulterbrandt Jr. and Gail Schulterbrandt; special friends: Allan Abbott, Victor George, Alphonse Stalliard and Ivo Steele; as well as cousins. great nephews, great nieces, other relatives and friends too numerous to mention.  He is also survived by a host of families: Maduro, Sebastien, Gabriel, Phillips, Shackleton and Francis.
The viewing will be held from 3-5 p.m., Thursday, Aug. 5, at Blyden Memorial Chapel. The funeral service will be at 9:30 a.m., Friday, Aug. 6, at Saints Peter and Paul Cathedral.  The interment will be held from 11 a.m. to noon, at Western Cemetery No. 2 (Frenchtown Gate No. 2).