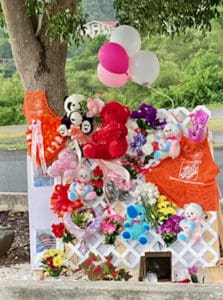 Justin Matthews – jailed on murder charges in the shooting death of Keoner Baron on Sept. 4 in the Home Depot parking lot on St. Thomas – has been denied a modification to his $1 million bail, with the judge noting that he was already free on bond in an unrelated stalking case when the slaying occurred.
Matthews, 23, has pleaded not guilty to first-degree murder and 10 other counts in the killing of Baron, 20, on a Saturday afternoon as she sat under a tree in the parking lot, waiting for a ride home following her shift at the store.
At Matthews' arraignment on Sept. 24, Territorial Public Defender Samuel Joseph wrote in a motion for bail reduction that "the Magistrate Court's order in this matter is tantamount to a denial of bond. Even with a reduction to $100,000, the defendant's bond would be substantial that he'd likely be unable to post it."
Joseph said Matthews would reside with a third-party custodian – his grandmother – in Estate Contant and would be subject to strict house arrest with electronic GPS monitoring 24 hours a day, seven days a week.
The V.I. Attorney General's Office opposed the motion, and on Oct. 12 Superior Court Judge Denise Francois issued an order denying Matthews' request to convert his bail to an unsecured bond or reduce it to $100,000.
"Matthews is charged with a long list of violent crimes, including using a firearm to commit a murder in a public parking lot utilized by members of the community. Matthews has admitted to shooting and killing the victim in this case. Notably, during the commission of this crime, Matthews was already on bail from a previous case … where he is accused of stalking and disturbing the peace. Matthews has shown he is a danger to the community, and he cannot abide by less stringent bail conditions. His request will be denied," Francois wrote in her order.
Matthews was free on an unsecured $2,000 bond on charges of stalking and disturbance of the peace/threats in an unrelated case from June 20, 2020, when the Home Depot shooting occurred, according to court documents. He has pleaded not guilty in that case.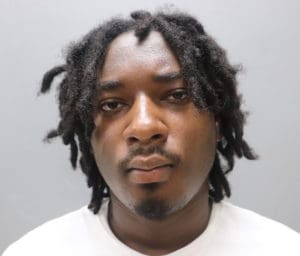 According to an exhibit filed by V.I. Attorney General Denise George in opposition to the bail reduction request, Matthews repeatedly engaged in threatening behavior towards the woman in the stalking case, starting in December 2019 when he overtook her vehicle as she was driving her daughter to school, "stopped directly in front of her, took out a duffle bag from his trunk, pulled out what appeared to be a gun, and demanded to know where her boyfriend … was located."
Several more incidents followed, where Matthews would see the woman and trail or circle her in his car and in one case, stop and stare at her for a long period of time, according to the exhibit.
According to an affidavit filed by V.I. Police Detective Shenika Simon in the murder case, Matthews and Baron had been dating for about two years, and she had broken off the relationship three days before she was killed.
Home Depot surveillance video showed a silver vehicle approach Baron in the parking lot and stop.
"She appeared to be having a conversation with the individual inside of the vehicle and then she walked off and walked towards the area where she was shot," said Simon.
"The individual inside the vehicle rolled up the window and drove in the direction where Ms. Baron was sitting. The vehicle was in the area for about five minutes before traversing Southward in the Home Depot parking lot and heading in an eastern direction (left turn), towards Donoe roadway," said Simon.
"I observed that at about 1710 hrs, an unknown individual attired in a black shirt, stone wash short jeans pants, ran in the direction where Ms. Baron was seated. The individual approached Ms. Baron and fired a shot at her and she raised her hands and she fell on the ground. The individual continued to fire several more shots at Ms. Baron" before running off, Simon wrote in her affidavit. She said officers collected 11 9mm shell casings at the scene.
Witnesses to the shooting gave police a description of the vehicle and its license plate, said Simon.
Detective V. Carr heard the 911 call and, realizing he knew the car and its owner, traveled to Matthews' residence in Estate Contant and took him to the Criminal Investigation Bureau for questioning, said Simon.
Matthews at first said his vehicle was stolen at gunpoint as he stopped on the side of the road in the Donoe area to remove a bucket from the trunk and that he reported it in a call to 911, according to the affidavit.
After further investigation revealed no such call had been made, Matthews was brought back to the police station the following day and admitted to shooting Baron after they got into an argument over her speaking to another man, the affidavit said.
Along with first-degree murder domestic violence, Matthews is charged with second-degree murder domestic violence, four counts of unauthorized use of a firearm, first-degree assault domestic violence, third-degree assault domestic violence, unauthorized possession of a firearm, unauthorized possession of firearm ammunition, and reckless endangerment in the first degree.
His trial is set for Feb. 14 in Superior Court on St. Thomas.