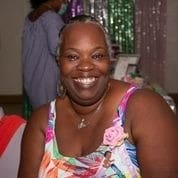 Judith M. Ward-Hall of Estate Ruby died on Jan. 22. She was 53 years old.
She is survived by her mother, Janet Francis; stepfather, Harcott Joshua; sons: Jivaun and Jared Hall; sisters: Janine McDonald and Jodie Donawa; brothers: Daryl Ward, Shawn Edwards and Rev. Dr. Jeremy Francis; nieces: Jarilyn, Jillene and Jeneida Donawa, Trisha Victorine, Jynylle Piggott, Jarena Francis and Sjodin Hughes; nephew, Jhonathan Francis; great nieces: Jilea Hypolite, Indea Ramos and S'niyah Joseph; great nephews: Jayden Osorio and Shaquan Ramos; aunt, Maxine Joseph; and uncles: Darrell and Myles Bartley.
She is also survived by brother-in-law, Clarence Donawa Jr.; sister-in-law, Rena Warner-Francis; godchildren: Shanoya Hendrickson, Jamal Rogers, Keyon Edwards and Kaedyn Greaves; and cousins and other relatives: Leslie Hendrickson, Chris, Christine, Christy, Leslieann, Lesville and Max Yarwood, Gregory, Robert, Michael and Steven Bastian, Shantel Bartley-Garcia, Jillian Abraham, Jason and Shawn Bartley, Abigale Ward-George, Florette Ward-Eugene, Carol Felix, Ursula, Ira, Aaron, Michael, Marilyn and Barrymore Ward.
Other survivors include special friends: Carla Jarvis, Celia Simmons, Diane Ventura, Karen Chapman, Karen Blyden, Leah Christian, Terrence Joseph, Steven Bryan, Jeffrey Petrus, Henry Schjang, Kymn Bazil, Lorroley Hall, Kenneth Alleyne, McArthur and Clytie Jarvis, Lyn Jarvis-Sanders, Lucan Hansen, Hubert Alexander, Charles Goodings, Jr., Sheldon Turnbull and the 107.9 Da Vybes family, Keshyande Bright, Marsha Sealey, Debbie and Burton Peterson, Rolando and O'keisha Huertas, St. Croix Classes of the 80s, coworkers at The Superior Court, the bowling alley crew, and Kenneth Perkins; as well as many other relatives and friends too numerous to mention.
The viewing will be held at 9 a.m. followed by a funeral service at 10 a.m., Saturday, Feb. 19, at City of Refuge Worship Center. Interment will be at Kingshill Cemetery.
Due to the COVID-19 pandemic, all attendees must wear a mask and adhere to social distancing guidelines.