Team Arawak wins the race!
It was practically standing room only on Oppenheimer Beach on Sunday, August 28, as the St. John community came out in force to support Team River Runner's Wounded Veterans USVI program fundraiser.
A total of 16 teams took part in what was the first annual St. John Chaotic Kayak race at 1 p.m. on Oppenheimer Beach. After four heats of competition, it was Team Arawak who walked away the day's champion.
But it is the 30 wounded warriors who will enjoy a week of healing in St. John waters this November, along with their spouses, who were the real winners of the day.
TRR, founded at Walter Reed Army Medical Center in 2004 by Washington, D.C. area kayak enthusiast Joe Mornini, has been hosting trips to St. John for members since 2007. While the group was forced to cancel its 2008 trip due to lack of funds, that will not be the case this year.
With $150 minimum entry fees, a private donation, raffles and additional fund raisers at several St. John bars and restaurants, the Chaotic Kayak race garnered about $25,000, and money is still coming in, explained race organizer John Schuld.
"At the end of the day we had raised $15,000 when at the last second a resident came down and handed me a personal check," said Schuld. "Lisa de Kooning donated a $10,000 check to TRR which made our total $25,000. I couldn't believe it."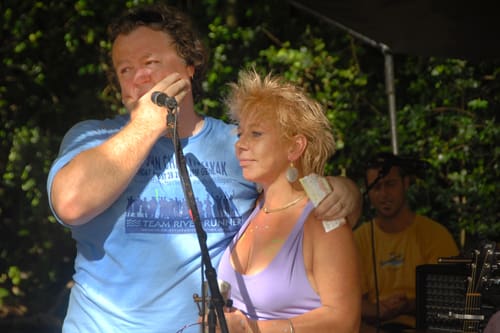 Event organizer John Schuld got emotional after accepting a $10,000 personal donation from Lisa de Kooning, right.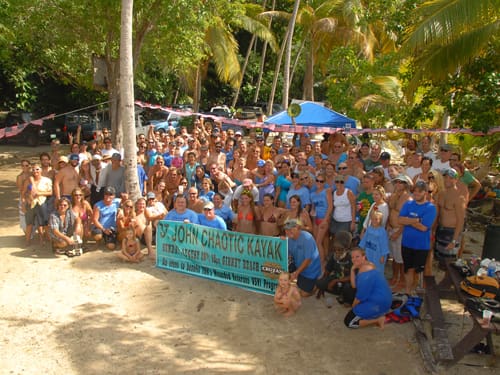 Supporters for TRR enjoyed the event for wounded veterans, above.
"That moment was very emotional because everyone was there gathered around and watched it unfold," Schuld said. "It was a surprise to everyone."
The final donation capped a wonderful day at Oppenheimer Pavilion, which exceeded all expectations. Organizers at first were hoping to just cover their expenses and raise awareness, explained Schuld.
"We started out with the idea for four boats and a little BBQ," he said. "We were hoping to raise maybe $1,000. Joe [Mornini] said if we broke even it would be enough for raising awareness."
Schuld organized the event along with his wife Brandi and Amy and Tom Larson of Sadie Sea, along with many other helpers. While the day's fundraising total was a success, the outpouring of support was the most exciting part of the event, explained Brandi Schuld.
"It was an absolutely amazing day," said Brandi Schuld. "It was more than we could have ever imagined. The support of the St. John community was overwhelming."
"It was amazing how many people were on the beach from participants, to spectators, sponsors, musicians, everyone," she said.
As a premier kayak guide company on St. John, it's not a surprise that Arawak Expeditions took home the grand prize of a 37-passenger sunset cruise on Sadie Sea and a gold oar. In addition to the team's kayak skills, Arawak also used a brilliant strategy, Brandi Schuld explained.
"Arawak used their mad kayak skills and employed the ingenious strategy of using a child in the boat to lighten their load," she said.
Other standouts of the day included Team High Tide, who showed their spirit with face paint and uniforms, the Beach Bar, which hosted a Jukebox for GI's fundraiser before the event and Cafe Roma, Brandi Schuld added.
"Cafe Roma was hands down the most chaotic boat of the day," she said. "They dumped three times before they even started the course."
Food donations from Skinny Legs and Michael Garbo, Bloody Marys from Woody's, refreshments from St. John Brewers and transportation assistance from St. John Community Foundation all contributed to the event's success, Schuld added.
The Schulds are already looking forward to next year's race, which is scheduled for the last Sunday of August and will take place at Maho Bay.
"This was the first annual race and we are already looking forward to next year," said Brandi Schuld. "It's going to be even bigger and better so we're going to move it to Maho Bay to accommodate the larger crowd."
TRR, which hopes to expand its St. John program to two weeks in the future, continues to need donations of all kinds. To find out how to help the organization, check out www.teamriverrunner.org.