Recently returning to the island from a trip to Africa, Cristina Kessler shared one of her favorite places, cultures and passions with a group of nine St. John residents who had the opportunity to discover what draws the award-winning author to the country and its people over and over again.
"I love Africa and my goal was to take some people there to share my love of the continent and respect for the cultures and the wildlife, and I think I was successful – everyone had a great trip," said Kessler.
Kessler first went to Kenya in 1975 as a Peace Corps volunteer with her husband, Joe, who is now president of Friends of the V.I. National Park. "I lived there for 19 years but I've been back twice every year since moving to St. John," said Kessler. "I usually travel alone so going with a group was a big challenge for me, but it was a very good group."
Souvenirs and Memories
The St. John crew of nine left on October 12 and came back on October 31 with souvenirs of amazing experiences and memories.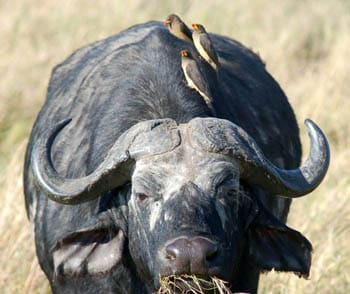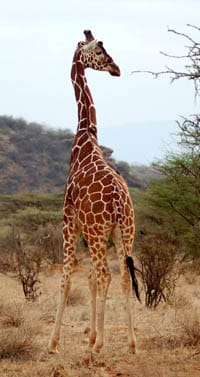 The trip began with a six-day safari adventure Kessler qualified as a success. "We saw the big five – lions, leopards, hippo, cape buffalo and white rhino," said Kessler.
Many members who accompanied Kessler to Africa have been supporters of Kakuta Ole Maimai Hamisi, who is from Merrueshi, a village in Kenya.
Kakuta first met Kessler when he assisted with her latest award-winning novel, "Our Secret, Siri Aang." The young adult novel received the Henry Bergh Book Award 2005 from the ASPCA (American Society for Prevention of Cruelty to Animals) for "excellence in humane literature for young adults."
Most recently, her book was chosen for the "2005 Notable Books for a Global Society" by the International Reading Association. "Both are big honors that I am very proud of and happy about," said Kessler. "To get specially recognized in a very competitive field by these two great organizations is a really big honor for me."
Kakuta and St. John
Kakuta has made several trips to St. John over recent years, sharing insight about his culture, the Maasai of Kenya and his own efforts to create a better quality of life for his community while garnering the love and capturing the hearts of the St. John community each time.
The clean water now available at the Merrueshi Primary School, located in southeastern Maasailand on the savannah 200 miles southeast of Kenya's capital, Nairobi, is partly the result of Julius E. Sprauve School students' dedicated efforts, according to Kessler.
Before the availability of fresh clean water at the school, the nearest available source was seven miles away until JESS students raised more than $8,000 and members of the community generously contributed to the Kenya Well Project to reach Kakuta's goal of $10,000.
The Merrueshi Primary School is the only school in the village and has approximately 140 students. "And 80 are girls, which is a major breakthrough," said Kessler.
After six days of African safaris, Kessler's group visited Kakuta's village for four days to work on a variety of projects. "We made cement blocks that will be used when they start building their high school, we met with a group of elders to discuss Maasai life and the way of the world and we also met with the women's group and they asked us questions and we asked them questions," said Kessler.
The women in the village are extremely skilled at beadwork, and the St. John group had the opportunity of witnessing them firsthand, transforming their art into belts, necklaces and arm bands which they can either sell or wear for personal adornment.
"Maasia women are very good with beadwork – there have been generations of mothers teaching daughters specific patterns, the art of beadwork and there is a lot of creativity involved in the entire process," said Kessler.
The St. John group spent some time in the school, and Kat Sowa, a local painter, taught art classes to first graders. "The building ended up being filled with about 80 students total – it was great," said Kessler.
The group also purchased a cow for the school program, which serves as a "revolving fund" in the village.
"The family that is given the cow benefits from all the milk and the first calf," explained Kessler. "And when future calves are born, they are placed with another needy family in the community."
When the school is in need of funds, the original cow is sold and the school receives the money. The St. John group experienced a variety of cultures and ecological habitats during their trip to Africa. "We ended up on the island of Lamu, off the east coast of Kenya, which is a little Islamic island," said Kessler. "We also got to see Mt. Kilimanjaro; it was very amazing."
Members of the group who traveled with Kessler said they enjoyed the memorable activities that they got to experience. "I wanted to go for a million reasons," said Sowa. "I'm an artist so I was really intrigued with the different landscapes and the wildlife, but the opportunity to go with Cristina Kessler to a place she's lived and to be introduced to that culture was the main reason I was excited to go."
Sowa, who said she hopes Kessler will do the trip again, said she did a great job planning the trip. "She was awesome – she's so knowledgable and so in love with Africa and its people and the animals," Sowa said. "She's a wealth of information about that world, about where to go and how to interact with other cultures." The trip far exceeded her expectations and could not have gone any better, added the artist.
The group traveled in open safari vehicles during the first half of their trip, allowing them to come within ten feet of some animals, according to Sowa.
"If they've already fed that day, you can drive right up to big male lions as they lounge around in the grass," she said. "Because the vehicle is a non-aggressive thing that they don't understand as predator or prey, they ignore you."
During their stay in the Maasai village on the second part of their trip, they participated in walking safaris led by warriors, said Sowa.
While the children of the village speak three languages including English, the adults don't speak English very well, so Kakuta acted as a translator. Sowa shared her love of art with the local schoolchildren, which she said was a very important moment for her. The artist led the schoolchildren in a project which allowed them to use materials they had never worked with before – crayons and drawing paper – to draw lions, cows, elephants and monkeys.
The finishing touch to each drawing was a pair of "wiggly eyes," a material Sowa brought with her that she found appropriate for Halloween.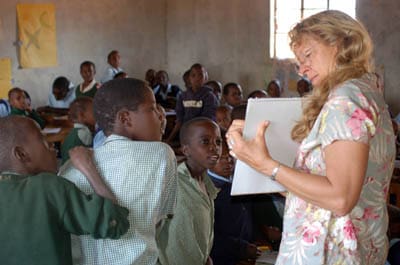 "They barely had pencils, so it was quite an extreme teaching situation," she said. "They are very bright and intelligent children, and they were very excited, receptive and appreciative." Sowa said she was very pleased with the trip to Africa, and added that it would be hard to resist a return trip. "Our experience I felt was pretty epic – being able to experience a whole other kind of culture firsthand and to have a better understanding of how other people live in other parts of the world," she said. "It's really exciting to be involved in a whole other kind of world – it was quite a gift that she (Kessler) gave to all of us."