The four contestant wait to hear the winners of each segment, below, and finally, this year's St. John Festival Queen is named — Khadijah Lee, at above.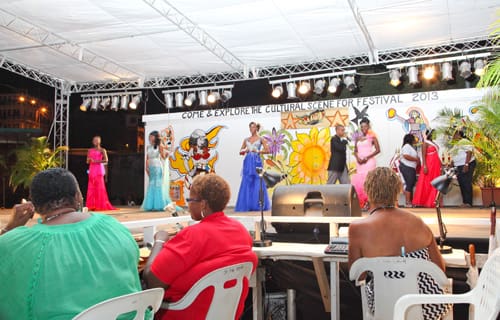 The huge crowd in Winston Wells ball field was screaming for their favorite contestant well after Saturday night, June 22, turned into early Sunday morning, June 23, waiting to hear who would take home the crown of St. John Festival Queen 2013-14.
Drawing out the anticipation, the emcee finally announced "…and the St. John Festival Queen 2013-2014 is….Khadijah Lee."
The audience burst into applause — and there were more than a few tears — as University of the Virgin Islands freshman, 19-year-old St. Johnian Lee waved to her family members and fans.
Receiving their sashes, trophies and bouquets of flowers, Lee and her fellow contestants, Tyeefah Lynch, Monee Edwards and Charisma Hypolite had to be exhausted at the end of such a high-energy show which had the crowd on their feet and sitting on the edge of their seats.
With Cultural Segments whisking the audience from Asia to Africa and across the Caribbean, all four contestants wowed in their elaborate costumes and skillful dance moves.
Talent segments of the evening also did not disappoint. From showing how to strut your stuff in Festival Parade to shimmying her way from island to island and from getting an expert show on baton twirling to enjoying a beautiful song on saxophone, all four St. John Festival Queen contestants impressed the crowd.
The judges had no easy task, as all of the beautiful ladies looked dashing in their swim wear, modern in their sports wear and absolutely elegant in their evening ware.
Lynch brought energy and excitement to her ball gown. She was a picture of beauty in soft pink, bright fuchsia and warm orange. Lynch's dress was a mermaid style number, fitted through the bodice and hips and cascading into a wave of ruffles as it swept away from her body.
Hypolite, who was named the St. John Festival Queen Runner Up, looked regal in a navy blue gown emblazoned with glittering crystals and embellishments. Her timeless dress featured thin straps crusted in crystals and a soft, flowing silky skirt covered with a cloud-like layer of tulle.
Edwards was reminiscent of the tropical ocean itself in her silver and turquoise confection. A fitted bodice bedecked in crystals and sequins gradually deepened from shimmering silver to soft azure and flared out into layers of soft, billowing tulle.
There was no mistaking Lee in her bright fuchsia dress set off with feminine sparkling crystal pin dots. It was difficult to take ones' eyes off Lee as her one-shoulder dress was accented with a perfect splash of warm orange fringe where it just swept the edge of the stage.
The judges had no easy task as each of the four intelligent young ladies showed true poise and confidence while thoughtfully answering during the Q and A segment of the evening.
Cool Session Brass kept the energy level high in the ball field all night long as the different contestant's fans cheered each girls name in turn and showed their loyal support.
Yet in the end there could only be one St. John Festival Queen 2013-14 and when Lee's name was finally called, the eruption of the audience seemed to show agreement with the judges' final decision.
Congratulation St. John Festival Queen 2013-2014 Khadijah Lee and all the St. John Festival Queen Contestants!