Pictured above: Animated conversations at the Dec. 2 Kimberly Boulon Art Gallery event.
Photo courtesy of Amy Roberts.
Last Friday, Kimberly Boulon Art Gallery hosted an event featuring St. John Sublime: A Series of Paintings by Kimberly Boulon Commemorating the 206 National Park Service Centennial and Virgin Islands National Park 60th Anniversary.
The Marketplace was happening as residents and visitors gathered at the gallery to view the art on display as well as a live performance by the St. John School of the Arts Youth Ensemble and the St. John Women's Ensemble.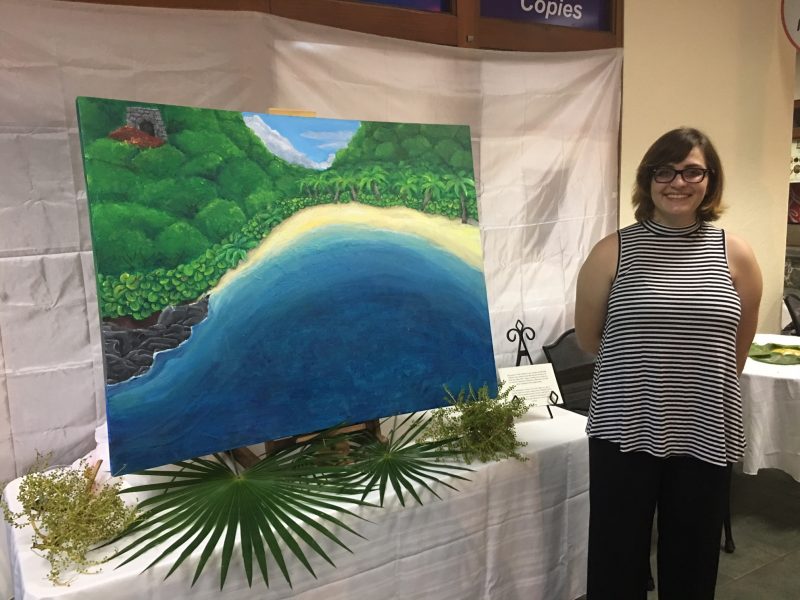 Raffle tickets for a 12″ x 16″ oil painting with frame by Kimberly, valued at $1,850 were sold during the event with 100% of the ticket sales benefitting SJSA. St. John School of the Arts Executive Director, Kim Wild, attended the event and shared the following thank you with the Tradewinds: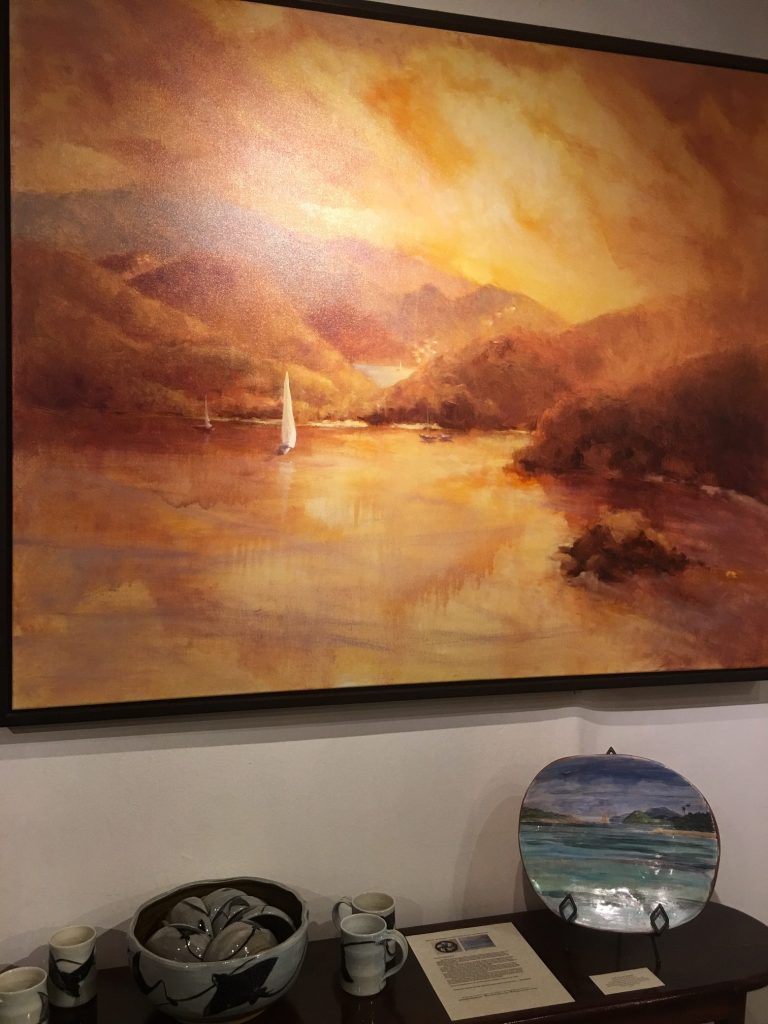 "A special thank you to Kimberly Boulon who had another amazing art opening last night! Lots of beautiful art work and yummy appetizers by Chef Jim McManus and yummy sweet treats by Liz Lowe of Queen of Tarts! We had about ten 3rd graders who performed an earth song in celebration of the VI National Park's 60th Anniversary, which was part of the theme for the event, ending with the St. John Women's Ensemble joining the children. Our amazing SJSA Youth Ensemble set an ambient tone for the evening along with Mr. Eddie Bruce, SJSA Music Education Director and new on faculty Mr. Dennison Blackett who is directing the ensemble. Thanks to Kimberly for choosing the arts school as the beneficiary to receive 100% of the raffle sales and everyone who bought a raffle…we made $1100 which will go toward our "Enhance the Arts Experience," a $25,000 Matching Grant through the Marcia Speinson Memorial Fund. Thank you!"