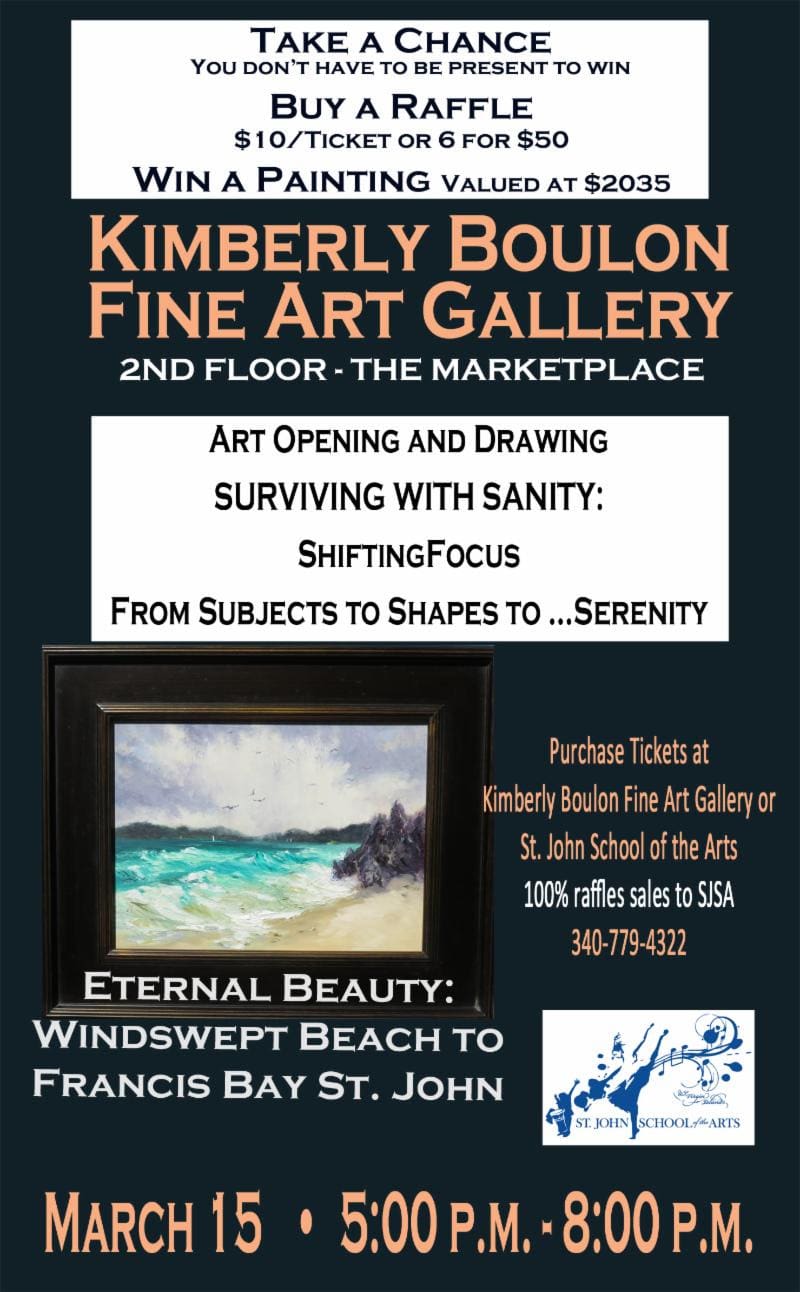 The Kimberly Boulon Fine Art Gallery will hold a visual and performing arts event at Market Place, 2nd floor, St. John from 5-8 p.m., Friday, March 15. There will be music, wine and appetizers for an evening of art and entertainment as well as a performance by the St. John School of the Arts (SJSA).
"This event expresses the continuation of the recovery process that artists are experiencing of 'Surviving with Sanity: Shifting Focus From Subjects to Shapes to Serenity.'
Two Category 5 hurricanes in 2017 wrought havoc to our precious island, St. John. My subjects had necessarily changed in either substance and/or spirit; subjects that I painted or related to in one way or another. I observed instead fractured aggregates that took on identities and forces of their own — their shapes of color, texture, value and personality, over time recomposing and reforming into different, perhaps unique, entities.
Evident in landscapes, seascapes, structures, "things," people, relationships and communities, the transitions moved/move at various speeds, from explosive to crawling, and perhaps still dragging. The practical act of creativity involved in this re-envisioning of bits and pieces, of our essence, is transformative.
As unimaginable as it may be, from the insanity of "Irmaria" may emerge… serenity." — Kimberly Boulon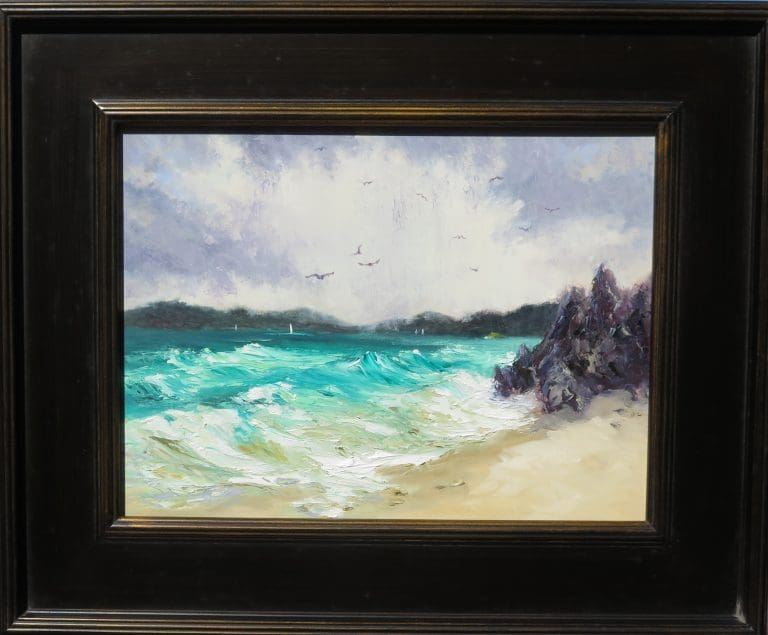 "Eternal Beauty – Windswept Beach to Francis Bay, St. John" is a 12" x 16" oil painting with frame by Kimberly Boulon valued at $2035 and on view at the gallery. It will be raffled off at the end of the event, Friday, March 15. One-hundred percent of ticket sales will go to SJSA. The raffle tickets cost $10 each or six for $50, and they may be purchased ahead of time at the gallery (Tuesday, Thursday, Friday between 10 a.m. and 4 p.m.), or from SJSA 779-4322. The ticket holder need not be present to win.
For more information, contact Kimberly Boulon at 690-3332 or Rafe Boulon at 690-5588, by email at kimberlyboulonart@gmail.com or at www.kimberlyboulon.com.