Cute, cuddly kitties are waiting at the St. John Animal Care Center to be adopted.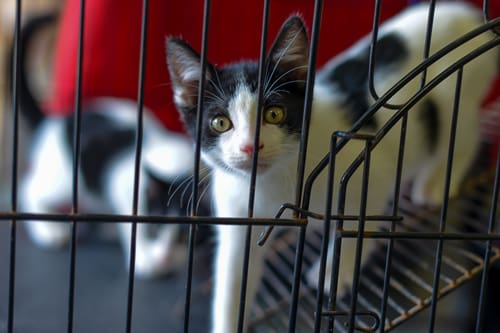 The St. John Animal Care Center shelter on the library road in Cruz Bay has recently been celebrating the Harvest Season, including Halloween. 
Teenage Intern Carmen Coffer industriously decorated the shelter both indoors and out with giant spider legs, ghosts, pumpkins and seasonal pictures. There was a treasure trove of sweet treats for Halloween visitors.
In addition, there is a treasure trove of baby kittens who have just arrived at the shelter. Ranging in age from four to seven weeks, the little boy and girl kitties represent several litters. One litter of four tiny kittens is still too young for shots and adoption, but there are 13 (a lucky number) more now old enough to be adopted into loving homes. 
"Loving" is the operative word. It would be impossible not to love these newcomers who represent all the colors in the kitten repertory:  black, gray, white, spotted and striped. They all will be needing loving homes soon.
Not to be forgotten among this embarrassment of riches are the 30 faithful adult cats, some of whom have waited for a forever home for over a year or two.  In contrast, there are currently only 15 dogs in residence so the spotlight is on the feline population.
There has never been such a fabulous selection of cats and kittens from which to choose a lifelong companion, according to Shelter Manager Ryan Moore.
"Even though our homeless cat program has been successful, we are still getting kittens in," said Moore. "Fortunately, they are all healthy. Most are brought in by Good Samaritans and some are caught in our traps." 
The babies are housed in large, spacious cages with litter mates cuddled together for companionship. Val Donahue is the shelter's kitty specialist. Donahue has worked as a volunteer at the shelter for several years and has always made keeping the cat cages immaculately clean her primary task. 
Now Donahue has become a formal member of the shelter staff, entitled to wear the ACC T-shirt marked "STAFF" on the back. She has joined the staff just in time to care for the little newcomers.
The shelter could use a few special supplies to help care for the youngsters, Moore added.
"We need lots of kitten chow," he said. 
Kitten chow is small-sized dry kibble that most pet supply companies stock. Please bring donated kitten food to the shelter, which is open Tuesdays through Saturdays from 10 a.m. until 4 p.m. Feel free to ask to visit the babies, who are housed in a separate area to protect them from germs.
You may end up losing your heart to a very small creature who will always mark 2013 as a special year in your life.