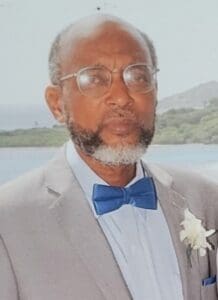 Kwame Osei Motilewa died on June 19 in Philadelphia, Penn., at the age of 72.
He was preceded in death by his parents: Beulah "Muddy" Hodge and Edward "Eddie" Francis; brother. Louis "Bobby" Sanchez; and sisters: Oriecia "Recie" Hodge and Pearl "Sherry" Swan.
Kwame is survived by his sons: Musomi Motilewa, Nkrumah Motilewa and Nkosi Motilewa; daughters: Ngozi Motilewa and Njeri Motilewa; grandsons: Jahmore Meyers, Mekhi Motilewa and Macaire Motilewa; granddaughters: J'Nyah Ward and E'Yani Esannason; son-in-law, Javed Roberts; daughter-in-law, Suzette Kelly; brothers: Emile "Junior" Greaux, Edric Francis and Edson Francis; sisters: Dr. Cynthia Francis, Delicia Francis Love and Celia Francis; brothers-in-law: Kenneth Love and Kelvin "Bojo" Malone; adopted brothers: Albert "Butty" Callwood and Ashley "Tully" Callwood; adopted sister, E. "TinTin" Hart; goddaughter, Sen. Janelle Sarauw; godson, Richard Harrigan; stepmother, Dominga Francis; and special friend, Ina Georges.
He is also survived by nephews: Shelbert Williams, James Greaux, Husani Thomas, Morani Malone, Makil Malone, Christopher Sanchez, Robert Sanchez, Louis Sanchez, Jalen Love, Nathan Love, Jayvoni Francis, Juwan Francis, Bernard Williams Jr. and Brandon Williams; nieces: Nzenga Hyman, Shani Thomas, Monifa Malone, Malika Malone, Laura Sanchez, Lucita Sanchez, Akia Martin, Kaia Love and Shevonya Francis; great nephews: Xerron Mingo, Zion Daniel, Jah'Sani Thomas, Jah'Asim Thomas, Me'Koi Malone, Devin Williams and Sean Williams;  great nieces: D'Zhanya Richards, T'Shani Anderson, Jah'Millia Maloney, Jah'Kyla Thomas, Shotomei Greaux, MyKada Greaux, Sharifa Malone, Shausmae Malone and Tiffany MacTavious; great-great niece, Aniya JohnLewis; and great-great nephews: Jalen JohnLewis and Zyaire Mulkey.
Many cousins, including: Troy "Bahiy" Callender, Bernard Francis, Ethel Francis, Floyd Williams, Al Williams, Liston Davis, Alicia Davis-Bell, Patricia Davis-Hadley, Alrick Davis, Leonille Hodge, Audrey Smith, Milagros Burke, Carol Molyneaux, Clara Romney, Correen Long, Larry Sewer, Judy McCoy, Leonie Francis Callender, Leo Francis, Dr. Leyha Callender Gharib, Leo Fell, Isa Francis, Kiesha Hill, Vernon Finch, Vida Finch, Patty Francis Finch and Jasmine Francis Moore.
Close friends and family members, including: Clement "Blanco" White, Dr. Ronald "Husky" Harrigan, Hildred Henry, Barbara Isaac, Bernard "Kahki" Francis Esq, Stylish Willis Esq, Desiree Gumbs, Levron Sarauw, Berniece Sarauw Turnbull, Randolph "Junie" Raymo and Mabel Maduro; Members of the Francis, Hodge, Shulterbrandt, Forbes, Sebastien, Gomez and Williams families; and other family, friends and loved ones too numerous to mention.
Family and friends are invited to celebrate the life of Kwame O. Motilewa. The first viewing will be held from 2-4 p.m., Sunday, July 10, at Turnbull's Funeral Home. The second viewing will be held at 9 a.m., Monday, July 11, at St. Andrew's Episcopal Church followed immediately by the funeral service at 10 a.m. Interment will be at Western Cemetery No. 3.
Due to COVID-19 pandemic and public health guidelines, masks or facial covering must be worn at the gathering.
Arrangements are by Turnbull's Funeral Home.