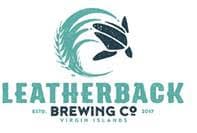 Sunshine and Rain Mango Double IPA are made at Leatherback's now energy-independent brewery on St. Thomas with mangoes harvested in Frederiksted, St. Croix.
The St. Thomas brewery is now fully off-grid and is operating on 100% solar power. The Havensight location makes specialty beer and explores new beer innovations under the direction of brewmaster David Bronstein and Jose Flores, Leatherback's newest brewer. The St. Thomas operations are now under the leadership of Flores and Jerah Coviello, the new St. Thomas Tasting Room manager.
Leatherback Brewing Company is deeply committed to sustainability and is working closely with West Indies Power to convert the St. Croix production brewery to 100% solar power in the near future. West Indies Power works with USVI commercial facilities to provide stand-alone solar and battery systems that provide clean, reliable and affordable electricity.
Founded in 2017, Leatherback Brewing Company is locally owned and operated and is focused on making craft beer with authentic Caribbean ingredients and influences.  Leatherback continues to increase the production and diversity of beer products to support the growing market presence. Products are exported from the USVI to Puerto Rico, Florida and the British Virgin Islands.