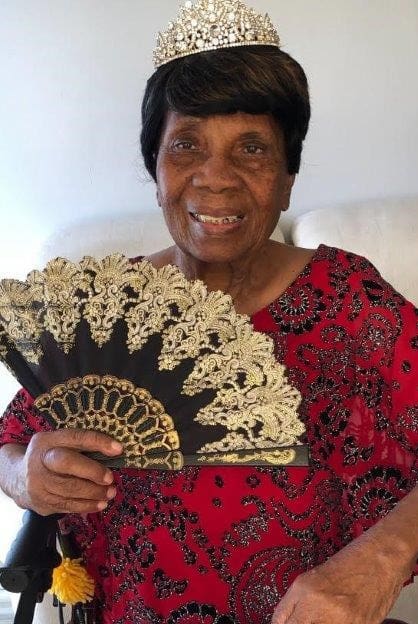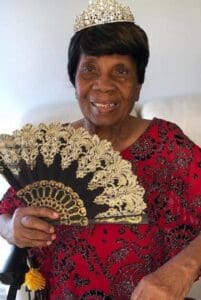 Christophine Salomie, who was also known as Loma King, died on Sept. 3.
Loved ones:
Father, Samuel Martin (deceased),
Mother, Victoria Martin (deceased)
Husband, Clifford King (deceased)
Sons: Julio U.B. King 1, Delvin King, Dr. Rudolph King
Daughters: Naomi (King) Penn, Judith (King) Botchway, Norine King
Adopted Daughter, Renee (Pinky) Rogers
Grandchildren: Cherise Penn, Shenita Penn, LaVelle King, Norine T. King, Julio U.B. King, II, Gary Xavier, Gregory Xavier, Lauren King, Denise Botchway
Great-grandchildren: Shiloh Xavier, Syair Xavier, Gabriel Xavier, Sion Xavier, Cameron King
Former-sons-in-law: Dale Penn (deceased), Nii Adjiri Botchway
Daughters-in-law: Shirley Lake- King, Phyllis King Brothers: Lorenzo Lawrence (deceased), Albelto Martin (deceased), Joseph Martin (deceased)
Sisters: Glendora Martin, Catherine Anthony, Idona Jacobs, Melvina Joseph (deceased), Winnifred Martin (deceased), Estella Hunte (deceased)
Brothers-in-law: Phillip Anthony, Caswall Jacobs, Hugh Marshall, Dr. Peter King, MD (deceased), David, Nattie King (deceased), James King (deceased), Leonard King (deceased), Edmond King (deceased)
Sisters-in-law: Lola King, Blondell King, Viola Gloade (deceased), Ernestine Techeira (deceased), Eileen King (deceased), Daisy Bellony (deceased)
Nieces: Vanessa Edwards Caleb, Cynthia Joseph King, Lorraine Joyce, Judith Joseph (deceased), Lovina Joseph, Valerie Joseph, M. Zerilda Joseph, Sonia Martin, Burnelle Hunte Bradshaw, Junella Allen, Priscilla Allen (deceased), Judith Joseph, Avondale Fabien, Antoinette Jean, Jollene Jacobs Imhoff, Toy-Anne Jacobs Frederick, S. Toriah Jacobs
Nephews: Radfield Lawrence, Conray Lawrence, Bradley Joseph, Eugene Joseph, Earl Martin, Leon Forde, Byron Hunte, Bertwin Hunte, Beresford Hunte, Brantley Hunte, Bevon Martin (deceased), Bertwin Martn, Anthonyson Anthony, Alwin Anthony, Judson Martin, Jeffrey Martin, Homer Jacobs
Other Relatives: great nieces, great nephews and other relatives too numerous to mention.
Special Friends: Margarita Allen, Delia Barrott, Mr. and Mrs. Cannonier, Norma Edwards, Aline Francis, Mr. and Mrs. Emmanuel Letang, Gertude Spratt, Corene Thomas and Marinella Walwyn
The first viewing will be held from 4-6 p.m., Monday, Sept. 12, at Turnbull's Funeral Home.
The second viewing will be held from 9-10 a.m. followed by a funeral service at 10 a.m., Tuesday, Sept. 13, at Shiloh Seventh-day Adventist Church. The interment will be at Western Cemetery No. 1.