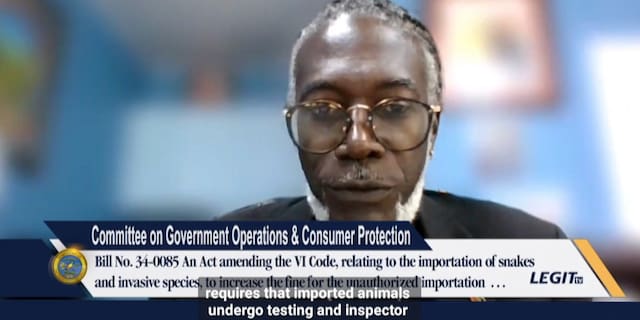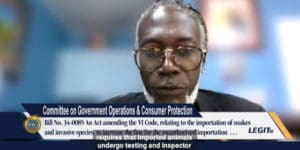 Piggybacking off recent legislation offering a bounty for serpents, the Senate Committee on Government Operations and Consumer Affairs on Friday advanced legislation to increase snake importation fines and use those collections for regulating the population growths of invasive species in the U.S. Virgin Islands.
Should the legislation be signed into law, importing a snake without prior written consent from the Department of Agriculture and the Department of Planning and Natural Resources would draw a fine of as much as $10,000 instead of the $500 currently being assessed. It would also require any animal brought into the territory without a valid veterinary certificate to be quarantined at the expense of the owner until a certificate is issued.
But implementing these changes comes at a fiscal cost that Department of Agriculture Commissioner Positive Nelson said he's not sure the government can cover, because of questions about the account that is supposed to fund the program.
Nelson said while the department supports the bill to a degree, historically Agriculture has had to contend with empty accounts after being tasked with new mandates.
Most recently, Nelson said during the March 22 Senate hearing, "It was stated that there is currently a balance of over $67,000 in the Animal Fund." This fund was identified to use for the implementation of the snake bounty law, but he said they have not been able to draw down any funds from the account.
"The territorial veterinarian has requested information from Department of Agriculture administration many times regarding the Animal Fund and has been consistently told that it has no monies in it and is unavailable for use," Nelson said. "To my knowledge, nothing has been appropriated to the Department of Agriculture from this fund as required by law and no information or request was sent to the department about using the fund for non-Department of Agriculture-related use."
The empty account is not an isolated event, as Nelson told committee members three other animal-related funds exist by law, but the department has no "access to funds balances or the ability at this time to receive the funding at this time."
The listed funds were the Animal Abuse Fund, Stray Animal Fund, and Racino Fund.
Though Nelson articulated the department's needs clearly in his testimony, the committee did not acknowledge nor address Nelson's concerns about funding or the various empty accounts.
Separately, the committee advanced two additional bills honoring community figures, St. Clair Alphonso "Whadablee" DeSilvia for the development of Calypso music in the territory and Athniel "Addie" Ottley for keeping radio waves open and informing the public of key information during times of community crisis.
Sens. Marvin Blyden, Novelle Francis Jr., Alma Francis-Heyliger, Javan James Sr., Franklin Johnson, Carla Joseph, and Milton Potter were present for the hearing. Additional non-committee members also attended the hearing.