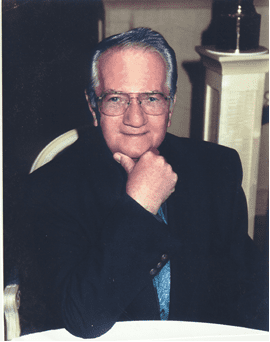 Leo Anthony Carlo, also known as "Lee Carle," of St. Thomas U.S. Virgin Islands died May 8. He was 92 years old.
He was born June 23, 1930, in Albany, New York, the son of the late Colonel Leo Tamamian (Army) and the late Margaret Centerbar.
Leo Carlo had one truly fascinating life. Leo joined the Navy and becoming an aviation mechanic control tower operator and was later trained in radio broadcasting. After Leo left the military, he began his broadcasting and DJ career in Troy, N.Y.  He dropped the "o" on both names and added "e' and now people know him as "Lee Carle."
Lee was an entertainment emcee and danced with the troupe performers who included Roy Schneider, Sonny Davis, and his future wife, Jewel Jeppesen. She was the daughter of Arthur Jeppesen and his Band of Renown.
Lee's distinctive voice was known by many. He made sure the people of the Virgin Islands were fully informed of all news events even if it put him in danger.
Lee embraced the Virgin Islands and it was truly his home, and in turn, he was embraced by the people of the Virgin Islands. He will be missed.
Lee is survived by his daughter, Athena; her husband, Michael; and his two grandchildren: Monique, 28 and Alexander, 23.
Memorial services for Leo Anthony Carlo will be held at 10 a.m., Saturday, May 27, at Turnbull's Funeral Home.
Expressions of sympathy to the family may be made online at www.turnbullsfuneralhomevi.com. Professional services have been entrusted to Turnbull's Funeral Home and Crematory Services, 3815 Crown Bay, Suite 10, Charlotte Amalie, St. Thomas, U.S. Virgin Islands 00802.