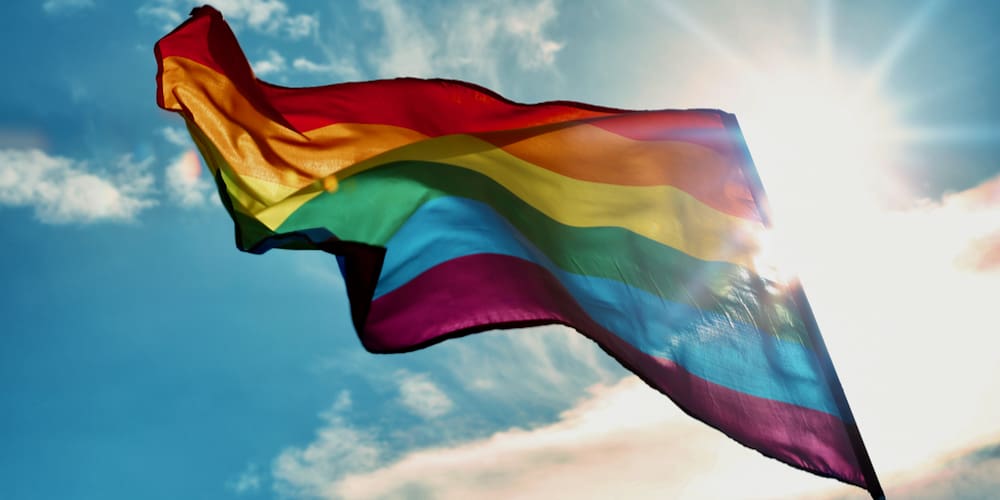 A Pride Walk will be held starting at 7 a.m. Saturday at Emancipation Garden on St. Thomas to mark LGBTQ+ Pride Month in the nation, including the U.S. Virgin Islands.
The walk, which is free and open to the public, will take participants from Emancipation Garden, along the waterfront sidewalk, through Yacht Haven Grande and back. Gov. Albert Bryan Jr. and first lady Yolanda Bryan will attend the event, and Rabbi Michael Feshbach will offer brief remarks.
The event, slated for 7 a.m. to 9:30 a.m., is appropriate for both children and adults and will include music, photography, free rainbow masks, stickers, and temporary tattoos, organizers said in a press release. Participants should feel free to bring signs, wave flags, and dress in their favorite rainbow-colored clothing, they said.
"This event is intended to be peaceful and provide a safe and joyful space for LGBTQIA celebration," the press release stated.
Muria Nisbett, founder of both Inside-Out Wellness Center and the Healing Marketplace,  organized the community walk that she hopes will spark conversation and expand the territory's collective knowledge of what the LGBTQ+ community stands for and who their allies are.
"I want people in the Virgin Islands to acknowledge the presence of our LGBTQ+ population and humanize their existence," Nisbett said during an interview in early June, when the event was first announced. "I am doing this for the little girl who may feel that she is a lesbian, but terrified of having this conversation with her parents. The young man who may be gay, but afraid of being beat up if anyone finds out. I am doing this because LGBTQ+ rights are human rights."
Pride Month commemorates the Stonewall riots which took place in June 1969, during which demonstrators protested police raids of a gay bar called the Stonewall Inn.
"Representation is important, and I believe that everyone should be treated fairly and humanely," Nisbett said. "I do not like to see any population mistreated, and I have made it my personal responsibility to ensure that everyone has a voice and an outlet. Pride Month, to me, is a celebration of every type of love, and I welcome this celebration. As a queer Virgin Islander, I have taken it upon myself to ensure that the LGBTQ+ population in the Virgin Islands is recognized and celebrated."
The event is for everyone in the community because, as Nisbett puts it, "The LGBTQ+ community is a part of the larger community."
Nisbett said it may be easy for people to categorize others into a five-letter acronym, but the reality is that many of them, "myself included, have served in the armed forces. They are our teacher, our local business owners, our family members, and our friends. They contribute to the growth and success of our islands, and their existence should not be dismissed or discounted."
But in many ways the LGBTQ+ community in the territory has been dismissed and discounted, even by local government.
"The LGBTQ+ community is a part of the larger Virgin Island community and their voices matter. There would be many who would disagree with me, but acknowledgement from the government level would help to address the stigma and discrimination faced by the LGBTQ+ population," Nisbett said.
This stigma is something Nisbett remembers well having been born on St. Thomas and raised in the Caribbean, but even after a 21-year hiatus from island life, she said she finds the same attitudes persist.
"When I left in 1999 the attitude towards the LGBTQ+ population was that it was a sin, against the Bible, and was something that would be shameful to the family. People who openly expressed any behaviors that were not heterosexual were teased, called derogatory names, and in some cases faced physical violence from their peers," Nisbett said.
"When I returned 21 years later, I could sense a slight change with the younger population, but not so much with the older generation. I feel that the local LGBTQ+ population still have fear about being themselves in public, and this is why I am hosting this event. Humans should never have to hide who they are or who they love."
All members of the LGBTQ+ community, including allies and family members, are welcome to attend, support, and celebrate. While attendees should dress comfortably, Nisbett said rainbow garb is definitely encouraged.