Liberty USVI testified about the many hurdles it has faced as it tries to expand services in the U.S. Virgin Islands during Monday's hearing of the Senate Committee on Housing, Transportation, and Telecommunications.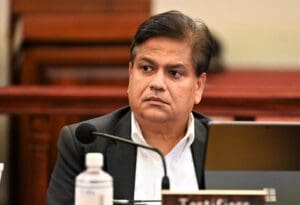 According to Liberty General Manager Bala Balakrishnan, the mobile communications company has faced serious delays due to issues with several government agencies, including the V.I. Water and Power Authority regarding a pole attachment agreement.
"Liberty's first communication to WAPA regarding the pole attachment agreement was sent on June 3, 2022, with a follow-up email on June 22, 2022," Balakrishnan told senators. "Then on July 26, 2022, we wrote to Mrs. Dionne Sinclair, general counsel at WAPA, asking to start negotiations on a pole attachment agreement. Additional follow-up emails were sent on Sept. 2, 2022, Sept. 30, 2022, and Oct. 31, 2022. Unfortunately, no response to these communications was received," he said.
Balakrishnan said that on Nov. 7, WAPA responded with a nondisclosure agreement, or NDA, and a Memorandum of Understanding for providing GIS information from a 2009 study. Liberty provided comments to the NDA and sent WAPA a draft Pole Attachment Agreement for their review on Nov. 9, he said.
WAPA's response was that the authority intended to undertake a survey to inventory pole attachments and that "blanket authority" for Liberty was premature, according to Monday's testimony. Additionally, it said that if Liberty had "targeted identifiable poles for which data is available as to location and present attachments, then we can discuss," said Balakrishnan. Liberty followed up with a submission of individual locations for pole attachments, but got no response, he said.
Based on the Federal Communication Commission's mandate, "A utility shall provide a cable television system or any telecommunications carrier with nondiscriminatory access to any pole, duct, conduit, or right-of-way owned or controlled by it." Additional language from the Federal Communications Act states that "the utility is required to grant access within 45 days of a written request, and if it cannot be granted for permissible reasons, the utility must deny the request by the 45th day."
The pole attachment agreement is critical in order to meet federal mandates under the Connect USVI Fund — an FCC effort to promote advanced, hardened voice and broadband networks in Puerto Rico and the U.S. Virgin Islands, according to Monday's testimony. Liberty said it submitted a letter to WAPA on Aug. 29, but has yet to receive a response.
"Unfortunately, in most instances, WAPA is unresponsive to our communications, and even when they have responded they have been unwilling to provide the agreement. This is certainly an area where we need assistance from the Senate. Liberty wants to maintain a good working relationship with existing utilities, and to improve the communication and responsiveness with those relationships," Balakrishnan said.
Liberty also faces hurdles in clearing the permitting processes with the Department of Planning and Natural Resources and Public Works.
Liberty began working with DPW on necessary permits to start the Connect USVI buildout as early as March/April 2022, and the first set of permit applications was delivered in August, however, DPW did not approve the first permit in that package until January, according to testimony.
DPW blamed the delays on a shortage of staff to review and approve the permits; excavating in areas where WAPA and the V.I. Waste Management Authority also plan to do work; and challenges over responsibility for covering the cost of relocation of the Liberty/Broadband V.I. underground facilities when government-owned utilities plan to construct and are in conflict, to name a few.
According to both Liberty and Public Works, the first set of permits required several meetings to coordinate and multiple location changes. DPW also requested a warranty of 5 years and insisted on the right to verify every location to monitor exactly how the company lays conduits. Due to their collaborative efforts, an agreement was reached with the hope that the process moves along expediently in the future.
"We have been meeting monthly, and in some cases weekly, and more applications have been submitted as of last Thursday. And due to construction, we prefer to keep the permit approval in-house instead of outsourcing," said Public Works Commissioner Derek Gabriel.
DPNR also cited a lack of personnel for some delays, such as the loss of its groundwater program manager. Other issues have included misplaced documents or applications, in which case Liberty said it had to return with evidence of submittal.
"We have had simple permits such as a 'soil boring permit' take more than 15 weeks and scheduling a public hearing for a building permit has taken up to 20 weeks. Among the reasons behind the delays were repetitive meetings to review documentation required to build interim sites, and the exceptions provided in the regulations," said Balakrishnan.
Prolonging the permitting process, Liberty missed its building deadline with AT&T — which sold its USVI operations to Liberty in October 2020 — and the FirstNet Authority, but an extension was negotiated, said Balakrishnan. The sites are designed, and locations have been secured for all but two, but he noted that these issues will only get worse as other major construction projects begin.
Sen. Marvin Blyden inquired about the timeline for funding guidelines and the requirements to be met before the loss of federal funds.
Permit approvals from both DPW and DPNR are needed within the next four to six weeks, in addition to the completion of servicing 10,000 houses by the end of 2023, and 20,000 by the end of 2024 to keep FCC funding of $84.5 million for the overall expansion to avoid penalties, said Balakrishnan. Failure to comply could ultimately result in the potential loss of all funding, he said.
Senators present were Marise C. James, Angel L. Bolques, Marvin A. Blyden, Samuel Carrion, Dwayne DeGraff, Ray Fonseca, Carla Joseph, Novelle Francis Jr., and Donna Frett-Gregory.