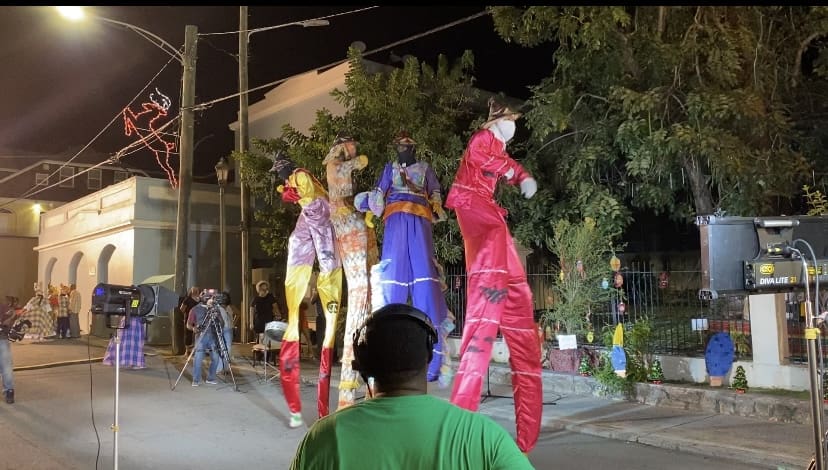 On Friday night at Limpricht Park in downtown Christiansted, trees lit up in holiday spirit for "Ah Glow in the Park – Light Dem Up! Festival of Trees."
The Crucian Cultural Group, in partnership with the Christiansted Community Alliance, held the event that featured local music selections, storytelling, cultural models and dancers, and other Crucian holiday traditions.
The event is the group's third year lighting trees at Limpricht Park and was not open to the public because of COVID-19 restrictions. It was, however, welcomed to a small group of about 60 participants who took part in making sure the park was set aglow for the community. Families interested in viewing the event were able to tune in on the WTJX Virgin Islands Public Broadcasting System Facebook page.
The master and mistress of ceremonies, James Weber and Sandra Gerard Leung, guided the cultural-themed program as the small group of attendees looked on and cheered.
Music selections included hits from Stanley and the Ten Sleepless Nights, who played live, and others from vocalists like Sacha Alexander and the "Golden Voices" Choir, Gentlemen of Jones Choir, and Eliza Combie. The fashion show featured modern and traditional cultural looks from Territory V.I., V.I. Pride Tees, Wilfredo Guzman, Anthony R. Kiture, Esquire of Kiture Law Firm, We Deh Yah Cultural Dance Company, and AY-AY Cultural Dance Company, Inc.
The AY-AY Cultural Dance Company's Cultural Moko Jumbies also made an appearance to provide some good spirit and entertainment through dance.
After the performances were over, the hosts joined the crowd in a countdown that resulted in Limpricht Park being left all aglow, each tree intricately designed by a sponsor. If you are interested in visiting the park, it is open from 6 p.m. to 10 p.m. daily.
The 13 tree sponsors for "Ah Glow in the Park – Light Dem Up!" included WTJX, Night Ventures, LLC, Alpha Kappa Alpha Sorority, UVI Research, and Technology Park, AARP of the V.I., Zeta Phi Beta Sorority Inc. (NuChiZeta), V.I. Partners for Healthy Communities, Mirocha Law Firm, Eddie Ortiz Annual Three Kings Tradition, Inc., Caravelle Hotel and Casino, Banco Popular, Munity Island Vodka, and Thomas Bakery in downtown Christiansted.
On Dec. 17, they will also be hosting a "Mobile Lantern Motorcade." Participants are asked to register before Dec. 16 on the Crucian Cultural Group's Facebook page.