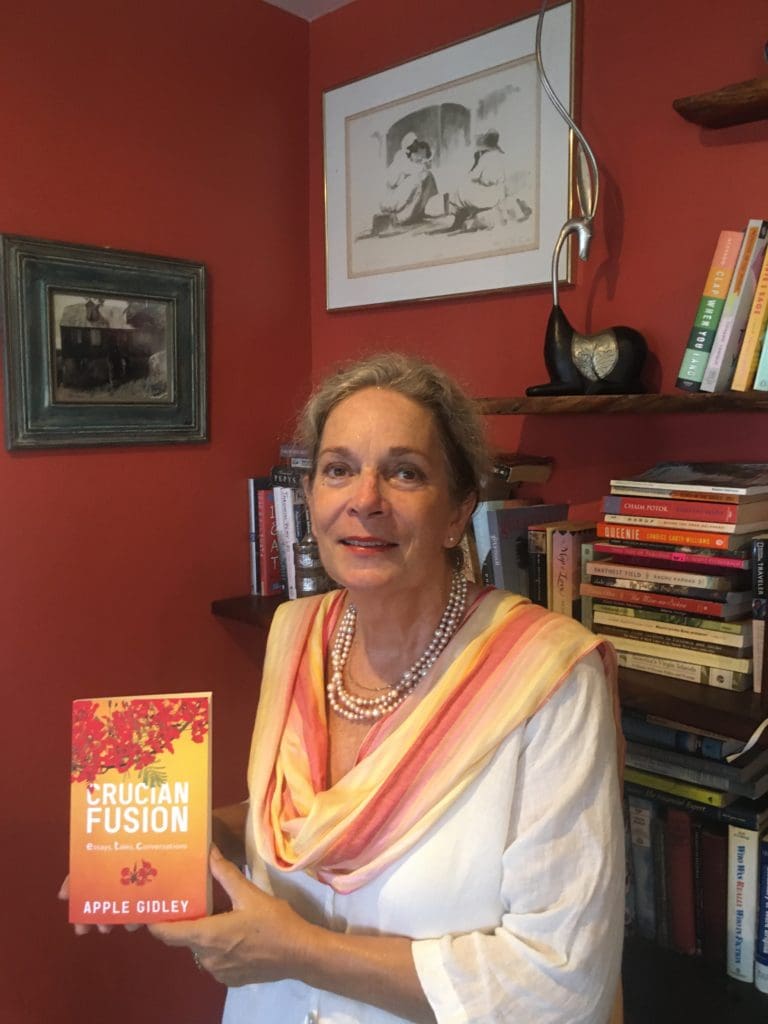 Everyone who can read and lives on St. Croix can glean some insight or just a smile from Apple Gidley's latest book Crucian Fusion, Essays, Tales, Conversations released in October.
Those who have been here all their lives or for many years will reminisce about days past – even if the "past" is just before we experienced the pandemic in 2020.
Gidley writes about the carefree days before COVID of the Ironman Triathlon, concerts at Whim Museum, Transfer Day ceremonies, The Freedom March, and the St. Patrick's Day Parade.
"It's my tribute to St. Croix for being so welcoming. Everywhere I've lived, it's about the people," the author told the Source.
In the book, an interview with Stanley Jacobs helps people remember the importance of music to the joy of the holidays and island life as one reads about the man behind the band The Ten Sleepless Knights. Jacobs talks about playing music all night long in New York City and his years of military service. When he returned to St. Croix, he worked at the Herbert Grigg for the Aged, and with a band of co-workers, they learned Quelbe and Quadrille.
Another multi-talented icon Gidley talked with was Eugene "Doc" Petersen. Now a retired veterinarian, at one time, he kept busy as a vet with his own business, managed the racetrack, and sang calypso for events. Occasionally, his velvet voice can still be heard for special events, and now he focuses on regenerating Island Center for the Performing Arts, which has seen decay and destruction over the years.
Gidley said she was a little nervous before her interview with Bob Apfel, known internationally for his securities and banking sector work. She had seen him deftly lead an interview about a Greek television station and avoid subjects on which he didn't want to speak. Her interview with Apfel took place partly on a tractor ride at Raising Cane in Estate Prosperity – where he is growing sugar cane to fuel a rum factory in the future. Readers can learn about the island's rum industry, including how the V.I. Government earns money from it.
Crucian Fusion's short stories and essays are sprinkled among the interviews, covering everything from watching leatherback turtle eggs hatch and her painful experience with chikungunya.
Newcomers to St. Croix can learn a lot about the island from Crucian Fusion – how and why some things are done, why St. Patrick's Day is a big deal, the history of the organs at the St. John's Episcopal Church, and the joy in searching beaches for shards of fine china called chaney and sea glass. She also talks about some of her favorite Crucian characters and hurricane experiences.
With no writing courses to fall back on, Gidley said that she stops reading for pleasure once she starts writing because she doesn't want to lose her cadence.
"I'm not a plotter. I write by the seat of my pants."
She takes her time researching and developing fictional characters' life stories before she writes about them. She said she knows everything about them – their favorite colors and about their parents before she commits her characters to print.
For Crucian Fusion, Gidley interviewed people whom she wanted to know. They all had editorial rights, so her writings have been blessed by the subject. She asked about 20 people for interviews, and eight responded that they would talk to her.
"I've met so many interesting people on this island. I wanted to get to the nut of people," she said. "It's meant to be a fun read, and I wanted to see the warmth in them."
Gidley said she couldn't think of an author she emulates, but one of her favorites is Pico Iyer, the philosopher and travel writer. He is mentioned in Crucian Fusion. Her literary taste is "eclectic." She lists other favorites as Jamaican Marlon James, American Amor Towels, and Monique Roffey, a Trinidadian-born British writer.
People say writers' experiences influence their writing, and Gidley has had some interesting experiences.
She was born in the United Kingdom and spent the first seven years of her life in Nigeria. Since then, she has lived in 12 countries, including Singapore, Australia, Holland, Trinidad and Tobago, Thailand, Scotland, and Equatorial New Guinea. Now, she spends her time between St. Croix and Houston, Texas.
Her occupations have been as diverse as her home bases. An interior designer for years, Gidley was employed by the British Government when she lived in West Africa. She said her most challenging job was as a magazine editor in Singapore, where several languages were spoken and written.
Gidley's other books include Fireburn, Transfer, and Expat Life Slice by Slice. Gidley will give a lecture at Good Hope Country Day, where students will read Fireburn. Transfer is the sequel to Fireburn.
Crucian Fusion – some might call it a history primer of the big island – is available at Undercover Books and will soon be available at Eden South, Caribbean Museum Center for the Arts, Amazon, and Barnes and Noble.