The Queen Bee
Story and photos by: Eliza Magro
Francis Jackman and Nico Marius arrive on the scene like the ghostbusters, turning a problem into valuable product. Jackman and Marius, originally from St. Lucia, are local beekeepers, finding and removing hives to produce honey and beeswax products. These two bee warriors met on St. John a year ago and have collaborated to make their hobby a profitable one.
[adrotate group="6"]
Marius has some prior experience with bees, while Jackman has been keeping bees, processing honey, and making beeswax products, such as hair butter, oil, and body lotion, for the past 32 years.
"I'm always happy when I do bees," Jackson said. "It is relaxing,"
Jackman's mother taught him the trade of beekeeping as a boy on St. Lucia, as it was her full time occupation. She also taught him to use wax on his skin and in his hair to keep it healthy. He now travels back and forth between St. Croix and St. John, maintaining 58 bee boxes on St. Croix and 15 boxes on St. John. He and Marius are growing the number of boxes they maintain on island, and intend to sell their honey locally, as well as offer their services to remove hives that are in undesirable spots.
"I just love to do this because it's part of nature, and I'm connected to nature," Jackman said.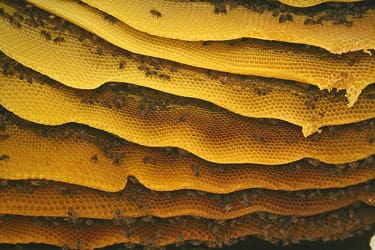 Last week Peter Laurescin, who lives in Grunwald, called the bee warriors to come to his home and remove a very noisy hive. They arrived on scene and like surgeons with a GPS, and diagnosed where the hive was in the ceiling. Jackman craftily remov-ed a large piece of sheet-rock revealing an impressive amount of honeycomb buzzing with bees. The two of them continued to smoke the bees out of the hive with a smoker, and remove large sheets of comb. The two put the honeycomb in vertical frames, securing it with string, and then placed it in a box to continue the honey-making elsewhere. Finally, they found the queen bee, and once she was in the box, all the other bees calmed down and wanted to fly in also. "The queen bee controls everything," Jackman said.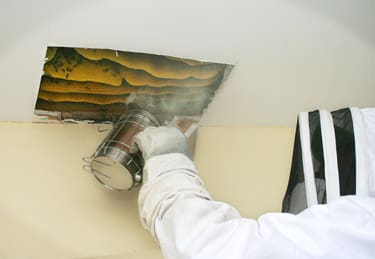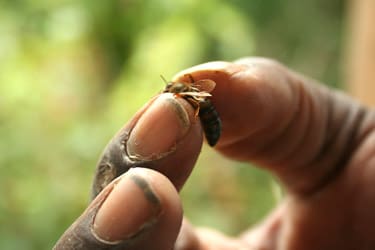 About an hour later they were cleaning-up the room, and the ceiling was hive-less. They placed the box outside to let all the bees settle into their new home, and relax. They left the box there for the night, and picked it up the following day. The bee warriors extract about 300 pounds of honey from each hive.
"The most difficult part of my job is not knowing where the hive is in the wall," Jackman said.
Honey is a wonderful substitute to sugar, and far more nutritious.
"I don't use sugar, I use honey for everything," Jackman said.
Honey also has various medicinal benefits. It seals open wounds, and is used on cuts. Honey is currently being used on children who have been burned in Iraq. Honey contains many vitamins, particularly B vitamins, that we all need in our daily diets. About one half of the human diet comes from crops directly or indirectly pollinated by bees.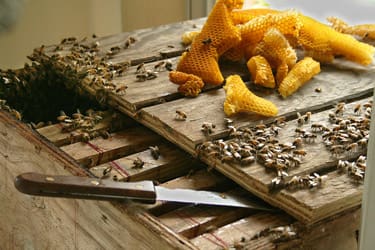 "As soon as bees disappear, man will disappear three years later," Jackman said. "If you kill a bee you kill yourself, because we are all dependent on them and what they do."
Jackman is willing to teach the trade to others who are interested, because if his mother had not taught him, he wouldn't know how, he explained. He recently taught a woman in St. Croix to keep bees and make honey. She takes care of Jackman's boxes when he is here on St. John.
"She does a really great job," he said.
The queen bee lives seven years, while the worker bees live about three years, Jackman added. Here on St. John the species is a cross between European and Italian strains. There are a small percentage of German bees on island as well, which can be distinguished by their color, as they are black.
African bees cross with European bees, changing their genes just like all living things, and they offer a model of how to live together and coexist, Jackman explains.
"Why can't humans live together as peacefully as these mixed gene bees?" he asked.
Keep an eye open for the bee warriors' honey in the near future as they continue to produce more. Substitute that refined white sugar with some natural bee nectar, and remember to coexist with your neighbors.