Yummy Yellowfin
On St. John we have the good fortune of being able to buy fresh tuna steaks right in Cruz Bay. For $6 a pound you can walk home with a yellowfin tuna that was swimming deep in the sea the day before.
If your timing is right and you find a local fisherman with a fresh catch, your evening dinner plans are complete.
Found in Tropical Waters
Yellowfin are found worldwide in tropical and subtropical waters, from latitudes of about 40 degrees North to 35 degrees South. They are generally found in the upper 330 feet of the water column at temperatures of 65 to 88 degrees Fahrenheit. Yellowfin tuna are a highly migratory fish, and swim in large schools that are a similar size to the skipjack, bigeye, and other tunas.
Distinct Yellow Stripe
The body on a yellowfin is metallic dark blue or greenish, while the belly and lower sides are a silvery white. They also have a very distinct yellow stripe that runs along their side. The second dorsal and anal fins and finlets are bright yellow, and the finlets are bordered with a narrow band of black.
The maximum reported length of a yellowfin tuna is 110 inches long, and the maximum weight reported is 880 pounds, however they most commonly weigh around 380 lbs. These big tunas eat smaller fish near the surface, during the day, as they swim.
Yellowfin tuna reproduce year-round, but most frequently reproduction occurs during the summer months in each hemisphere, while each female tuna spawns several million eggs per year.
High on Food Chain
These big tunas swim high in the food chain yet still have to watch out for their predators: the blacktip shark, the cookiecutter shark, the bignose shark and other large bony fish as well.
Parasites are also a known pest in these tunas, and can be a problem to their health.
Commerical Commodity
The yellowfin tuna is a popular target for commercial fisheries. In the U.S., yellowfin catches have grown to nearly 45 percnt of the U.S. North Atlantic tuna catch. The yellowfin tuna is not considered endangered, and is still fished and pursued all over the world.
In the Caribbean, yellowfin tuna run from June to February. You may see one here or there at other times in the year, but they are scarcer in the late winter and early spring months.
At this time of the year, you will see more mahi mahi, also called dolphin here in the islands, than tuna. The most popular fish in the Caribbean now, mahi is a good fish to grill, and the head is often used for soup.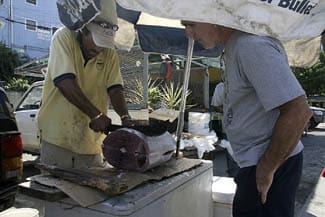 Fresh Catch
These magnificent fish are available on St. John when Philip Fredericks pulls his boat up and unloads his catch.
Fresh tuna, mahi, wahoo, and anything else that is worthy of bringing to the public will be on the chopping block next to Nature's Nook, in Cruz Bay, when Fredericks opens for business. Fredericks, originally from St. Croix, has been meeting the St. John demand for fresh fish since 1993.
"Everyone fishes on St. Croix, but here I'm like a king," Fredericks said. Local Fisherman
You will see Fredericks in town depending on the fishing that day; he usually fishes one day and then sells the next.
Fredericks also provides fish to local restaurants such as Caneel Bay Resort, Morgan's Mango, Tage, and ZoZo's Ristorante.
He fishes mostly alone from Cruz Bay, during the season, which runs from November to April. He is generally at least 30 miles out to sea when fishing.
Fredericks tuna steaks look so fresh and colorful, because immediately after catching a fish he guts it, removes the head, and shoves a rod up the vein next to the spine, which stops the nerves and keeps the meat firm and bright in color.
Fredericks provides a gift to the island with his fairly priced, fresh-out-of-the-ocean tuna and other fish.
Look for him in town if you're wondering what to cook for dinner, you won't be sorry you stopped.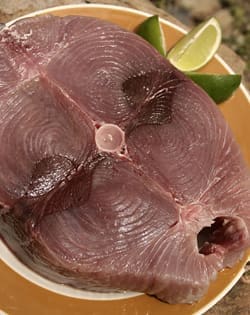 Tuna Preperation
How to prepare this beautiful tuna steak? Well, begin by soaking the tuna in lime juice, this will clean the steak as its color shifts, a mild version of ceviche (raw fish cooked in lime juice.) Then after a few hours pull the tuna from the lime juice and season it.
There are a variety of fish rubs and spices, so you must find the one you like, and then season your fish — the longer the better.
The tuna steaks can sit in the refrigerator seasoning for several days, and you can pull out a bit at a time, or just go for it, and cook it all—have a fish fry with friends.
When you are ready to cook the tuna try breading the steak with Italian Progresso bread crumbs, prepare your hot corn or vegetable oil, drop a piece of garlic in the oil to test the temperature, and when it's hot enough, drop your tuna steaks in to cook. Let them fry on both sides and cook to your desired temperature.
Enjoy them with a bit of fresh lime juice squeezed over the fish, and maybe a little local pumpkin pepper hot sauce that Trinidad Charlie makes, if you want some spice.
Give thanks for this amazing creature, being able to buy it right from the fisherman, for keeping your money in the local community by supporting Fredericks, and for the delightful dinner you're about to experience. Yeah, yummy yellowfin!