Not many people volunteer with enthusiasm to work extra hours. National Park Service (NPS) Fisheries Biologist Jeff Miller did just that, and in return, he was recently named the Natural Resource Professional of the Year by the NPS.
"Last July, Jeff was tracking the 2005 bleaching event, and when he started seeing water temperatures going through the roof, he called me and said, 'Instead of annual monitoring, I need to increase the frequency and sample more often so we can watch the bleaching,'" said Miller's supervisor, NPS South Florida/Caribbean Network Co-ordinator Matt Patterson.
"Not many employees call their supervisor to say, 'Excuse me, is there any way I can work a lot of extra hours?'," added Patterson. "At that point, I figured it would be worth putting in Jeff for this award."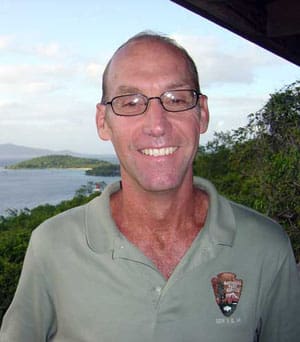 Attention and Funding
Miller's dedication to his job helped the NPS gather research on last year's coral bleaching event, which was compounded by coral disease.
Although such events cannot currently be prevented, the attention Miller generated with his research will likely help to bring in more funding, Patterson said.
"Jeff has been extremely successful in letting the public know about the problem," said Patterson. "When you make that kind of an impact, hopefully the resources will come in to do more research for problems on coral bleaching and diseases."
"Disease work can take decades, but raising the level of attention will help make progress," he added.
Miller dedicated many hours to researching the bleaching and disease event because it provided a unique opportunity, he said.
"We always said that the protocols we have would be very useful during this type of event, and here it was, so it was time to react to it," said Miller. "We are ideally positioned with the knowledge, skills and ability to monitor exactly what was going on."
"I am very driven by the questions, like 'what's going on' and 'what's happening,' and monitoring is how you learn the answers to those questions," the biologist added.
Through his research, Miller explained, he discovered the bleaching did not cause of the coral death in the V.I. last year.
Bleaching Not Cause
"What we've actually learned is the bleaching event wasn't necessarily what caused the mortality; it was the disease that came after that," said Miller. "We don't know if there is something we can do about coral disease."
"My hope is that by making it known that the bleaching wasn't necessarily the problem, we can focus our efforts now on the bleaching and disease connection," Miller continued.
By raising awareness about the possible connection between bleaching and disease, Miller hopes to bring in funding for more research, he said.
"My hope is to raise awareness of that connection so when the money is available and people are looking for research to be done, they will see that we have identified a pretty critical problem," said Miller. "I'm a monitor, but I don't know how to manipulate my research on the reefs."
Attracting Researchers
"If we keep talking about this, and with the assistance of the media, we can get the word out and try to target people who can help us answer some of these questions," he continued.
Miller's dedication to his job helped him beat out more than 18,000 Park Service employees to be named Natural Resource Professional of the Year, according to Patterson.
"He is very passionate, and he inspires our whole team with his dedication to do the right thing," said Patterson. "It makes me happy to hear that he got it because our whole team is doing a great job; we're doing some neat science."
Local Celebrity
Winning an award was the last thing on Miller's mind when he was notified that he had been chosen, he said.
"This is a very busy time for us, so I wasn't thinking about anything like that at all," said Miller. "I really enjoy what I do. I feel a great deal of passion for the resource."
Miller has become somewhat of a celebrity within the V.I. National Park since being honored, according to Patterson.
"It's been fun walking around with him," said Patterson. "Everyone in the park has been coming up to him and really congratulating him. It's a special thing to be chosen by your peers."
Miller and his wife will travel to Arizona in September for the awards ceremony.
"That will be a blast," said Miller. "It will be a great trip."