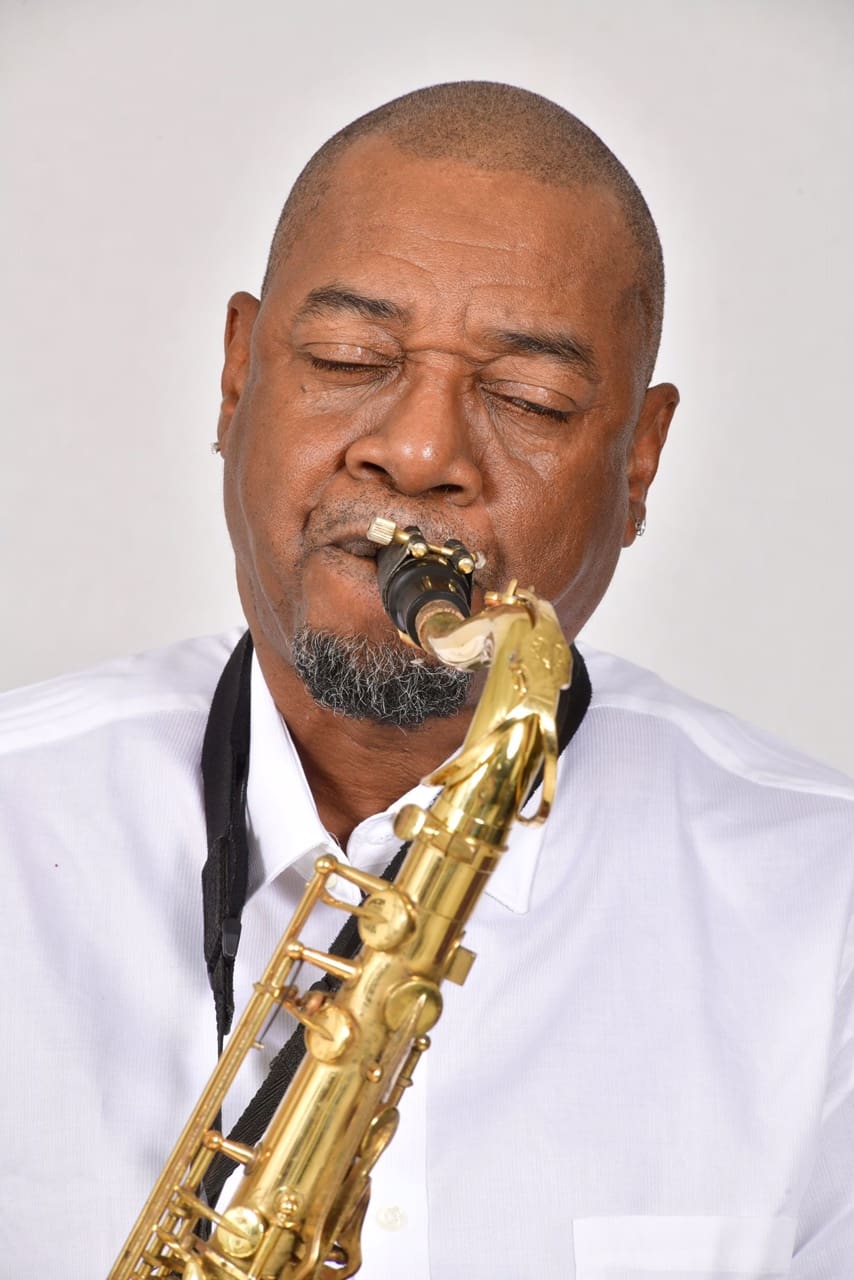 Mekiel Reuben has been playing his saxophone for decades and most folks recognize his familiar sound. Recently, at the opening of the Artists Guild's, "Art Show 2023" at CMCArts, patrons were "wooed" and "wowed" at Reuben's huge sound reverberating from the balcony above the courtyard. 
It was an occasion to remember — for the art, for Reuben's musical genius and for the strategic location of his performance. High above the crowd, Reuben blew song after song, entertaining the patrons, and one could hear the early musical influences he grew up listening to — the likes of Motown and Philly.
"Just Like the Radio" is Reuben's new CD. It was created with a bit of nostalgia emanating from "the tunes I used to hear on the radio," Reuben said. "It's a reflection of some of the music that inspired the writing for the album." Reuben grew up in Chicago and eventually pulled up some roots on St. Croix and spent a great deal of time in both places, listening to music on the radio.
Reuben's favorites on the radio were musicians like Sly and the Family Stone, Archie Bell & The Drells — anything from Motown and Philly, and many others, he said.
"Just Like the Radio" displays a variety of Reuben's unique writing styles. There are cuts of funk, Latin flavor, Reggae, R&B, and a few ballads, Reuben shares.
According to the smoothjazz.com radar chart, the first single, "Sly Jungle," is a foot-stomping, funky groove that debuted at #56 in September. The second single, "F B Maze," debuted at #58 in November.
Reuben promises his audience that "Just Like the Radio" will take the listener on a musical journey through different styles of music that Reuben heard and enjoyed from his childhood through adulthood. "This album will bring back memories and will make new ones when one cruises down the highway listening to the tunes all written by Reuben," he said.
Reuben is the executive producer of "Just Like the Radio." David Vasquez is the co-producer and the genius behind the arrangement of the album, Reuben said. 
The duo has co-produced six albums over the past 20 years for MekMuse Records at the Moonlight Studios in Los Angeles.
A native of Chicago, Reuben became interested in music at the early age of eight years when his mother gave him a guitar for Christmas. By age 15, he began studying music and woodwinds under Louis Gray, the band director at Richard T. Crane High School in Chicago. Reuben's first performance was at the high school graduation. At that time, he was greatly influenced by Grover Washington Jr.; Stevie Wonder; Chicago; The Crusaders; and Earth, Wind, and Fire.
At the age of 18, Reuben moved to St. Croix where he continued to pursue his musical career. He had the good fortune to study privately with the legendary jazz woodwinds musician Jimmy Hamilton, who was a 27-year-veteran with the Duke Ellington Orchestra. Reuben also studied jazz with Benny Jacobs El, a graduate of the Juilliard School of Music in New York. While living on St. Croix, Reuben learned calypso, reggae, and other Latin and Caribbean rhythms. 
After years of working and playing with several bands and theatrical/dance companies on St. Croix, Reuben later moved to Los Angeles and studied with saxophonist Bill Greene and learned improvisation. He studied music and marketing at Los Angeles City College and West Los Angeles City College.
Reuben's career has covered tours of Europe, North America, and Canada. He has played with "Ike Turner and the Kings of Rhythm," and Blues icon Pinetop Perkin. He was awarded Top Music Artist at the 2006 Temecula Valley International Film and Music Festival. 
For over two decades, Reuben has dedicated his time and shared his musical talent, bringing great joy to disabled students at the Benjamin Banneker Special Education Center in Los Angeles. 
Reuben resides on St. Croix where he plays and continues to produce music for the world. He performs regularly at the Fred, the Buccaneer, the Deep End, and on Lyric Sails.  Reuben encourages listeners to keep their eyes open and their ears tuned for his music on Spotify; Amazon; Soundcloud; iTunes; Apple; YouTube; and other digital platforms.
For more information:
mekielreuben.com
mekmuse4u@gmail.com
213-840-9354 (serious inquiries)
Mekiel Reuben Production, P.O. Box 2496, Frederiksted, VI 00841
"Just Like the Radio" musicians:
Mekiel Reuben, Alto & tenor sax, percussion; David Vasquez, Keyboards; Synth Bass, percussion;
Phil Martin, Drums; Mauricio Guerrero jr., Guitar