While the hot days of summer lull some residents into the slow-paced swing of the season, about 150 children have been busy exploring the land and sea by the remote south shore V.I. Environmental Resource Station over the past month.
Sponsored by the Friends of the V.I. National Park, the VIERS eco-camp program is in its seventh year educating kids from St. John, St. Thomas, St. Croix and the states.
"One of our program initiatives is educating children, specifically in the natural sciences," said Karen Brady, Friends' development director. "This is an excellent summer-time opportunity to enhance their education in science. Our whole plan is to provide a continued education throughout their school years and college."
Students take part in a variety of activities over the three-day camps, including snorkeling, VINP ranger-led shoreline hikes and even organic jewelry making.
Seine Nets and Parasites
About 30 students from the St. Thomas-based Total Camp Experience were in the midst of one of the last camps of the summer on Tuesday, July 24. The excited students had just completed a lesson on seine net fishing and were learning about sea parasites at Great Lameshur Bay on the second day of their eco-camp.
"We caught six fish, two crabs and a sea urchin in the nets," said Daimonique Durant, 12, who was at VIERS for the second summer in a row. "Swimming is my favorite thing to do out here. I love the water and snorkeling — I saw a baby octopus and a bunch of sea urchins."
"We also learned about parasites," Durant continued. "We learned how they can hold on to fish and kill it and even make you sick if you eat it."
Jewelry making was eight-year-old Christopher Murphy's favorite activity and the proof was on his wrist.
Snake Plant Bracelet
"I made a bracelet out of a snake plant," said Murphy, who was also returning to VIERS for his second time. "I was excited to come back this summer because I had so much fun here last time. I also like going to the beach because it's fun to get wet."
Ten-year-old Darren Evans was excited for the third evening's activity.
"My favorite thing is going to be tonight — the camp fire," said Evans, who was enjoying his first time at VIERS.
Julien deJongh, 10, was looking forward to more swimming after lunch.
"This is my first time here and I love the swimming at Lameshur Bay," said deJongh. "I've seen a lot of fish and am having a lot of fun."
Next Generation of Conservationists
While the kids were having a great time, the Friends of the VINP hope they also take away a sense of conservation, explained Brady.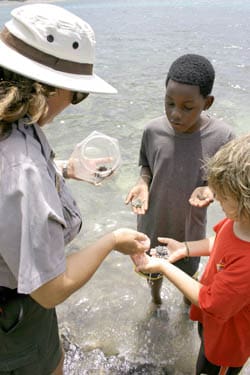 "We hope to foster the next generation of conservation citizens," she said. "Through the park study grant, we encourage teachers to bring students into the park and use it as a living classroom. We also provide transportation funds so teachers can take field trips and bring kids to the park."
"But it doesn't end there," Brady continued. "We also have a college scholarship for students to continue their educations and a summer intern program."
The eco-camp costs $250 per child, and Friends picks up the tab for all local children, explained Brady.
"This year, we raised $40,000 which enabled us to send 140 local kids to camp," Brady said. "We have all of our fabulous major sponsors again this year including the Prosser Foundation, Disney, the Lana Vento Charitable Trust, St. John Rotary and First Bank."
Curriculum Expands Yearly
Friends even hopes to improve on their successful fund raising next year, giving more children the chance to spend a few days amidst VIERS' beautiful natural surroundings.
"We've had a wonderful summer with our funding level but we hope to continue to increase that number," said Brady. "I've brought many of the funders out to see the camp and they have been very pleased with what they've seen. The curriculum gets stronger and stronger every year and the eco-camps are definitely something we hope to continue to sponsor in the future."
Teens Enjoy the Quiet
If the smiles on the camper's faces weren't enough, a 15-year-old girl extolling the virtues of nature is proof that a few days at VIERS can make a big difference in these students lives.
"This is my fourth time out here and I'm a junior counselor now," said Kellyn Nelthropp. "I like hiking and swimming and seine fishing. But what I like best of all is how it's so quite and pretty and calm out here."
For more information about VIERS call 776-6721.
To contribute to the Friends of V.I. National Park and help support natural science education call 779-4940.