"Living the Dream," above, illustrates the month of December and "Island Romance," below, takes the cover in Estern's new 2012 calendar.
Right from the cover painting of the iconic alabaster shoreline at Trunk Bay, Elaine Estern's 2012 St. John Calender is full of images which harken that special something about Love City.
The watercolorist, who owns and runs Coconut Coast Studios in Frank Bay, has been releasing an annual calendar since 2000. The first several calendars depicted images from St. John, St. Thomas and even Tortola. Since 2003, however, Estern has been keeping her focus closer to home and her calendars dedicated solely to St. John.
"It was really fun to do the paintings from Tortola and St. Thomas, but they just didn't sell that well," said Estern. "So I thought I would just stay home and focus on this island."
Estern's decision proved to be the correct one. Her widely popular calendars jump off the shelves and she has sold out all 3,000 copies of the calenders for the past four years.
The painter's twelfth calendar is themed "Surf and Turf" and includes both underwater and landscape scenes of St. John as seen through Estern's distinctive eye.
"The 'surf' is for the underwater images I painted and the 'turf' is for the landscapes and the trees," said Estern. "I really wanted to emphasize the trees this year. We have some beautiful trees which I really found inspiring for this year's calendar."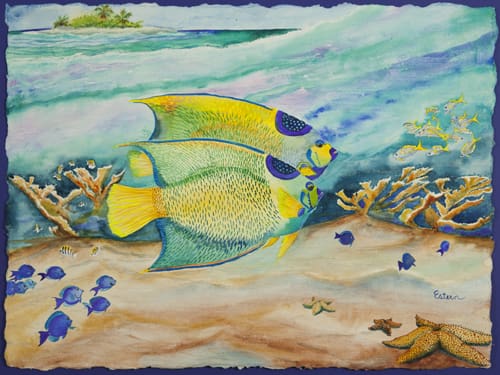 Elaine Estern's "Pair of Queens" painting illustrates the month of November.
While underwater images of fish and corals are a recurring theme in Estern's work, the 2012 calendar images are the first she has dedicated to local trees.
"The inspiration for this year's calendar were really the trees," said the painter. "I love the water and I love painting underwater images, so I included those paintings. But for the rest I wanted to do something new and these trees are just so beautiful."
"I have always wanted to paint the Caneel Bay Resort tree and that kind of started my tree inspiration," Estern said.
"In all I did six major trees that people who know St. John will recognize."
Although Trunk Bay is one of the more photographed and painted beaches on St. John, Estern doesn't use that as an excuse to over-look the well-known locale.
"Every seven years or so I force myself to do a Trunk Bay painting," said Estern. "The beach is just drop-dead gorgeous, so it's not that difficult."
Estern's 2012 calendar cover image of the popular shoreline is titled "Island Romance," and is full of pink and orange hues, giving the well-known locale an entirely different feel. Not every painting Estern completes finds its way into her calendars, she explained.
"Basically I do a painting and if it's good enough, I'll put it in the calendar," said the artist. "But it has to be really good."
And so far the feedback to the calendar and the original paintings has been great, Estern explained. The watercolorist has already sold six of the original paintings from her 2012 Calendar.
"I love it," said Estern. "I was just so inspired this year and I think people can really feel that."
Estern has been painting from her St. John ocean-front studio for almost a quarter of a century. Far from being bored by her work, the more Estern paints the more she finds inspiration.
"I've been painting here for 24 years," said the watercolorist. "I just love what I do. The more I paint, the more I think 'I need to paint this a different way,' or 'I need to paint that.'"
Look for Estern's calendars, $25 each, at retail venues across St. John including Mumbo Jumbo, Island Fancy, Papaya Cafe and the St. John Spice Shop. The calendar is also available at the artist's Coconut Coast Studios in Frank Bay and online at www.coconutcoaststudios.com. For more information call the studio at 776-6944