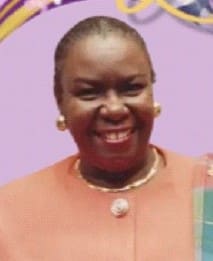 Loraine Agatha Jackson Gibbs died on Tuesday, May 17.
She is survived by her brothers: Lauritz E. Gibbs Jr., James A. Gibbs, Otis L. Gibbs, Arthur E. Gibbs, and Roy L. Schneider, former governor, sisters: Ann Marie E. Gibbs, Gerarda C. Gibbs, G. Theresa Gibbs-Harris and Louise M. Gibbs; brother-in-law, Ohanio A. Harris; sisters-in-law:  Yvonne Williams-Harrigan and Patrice Gibbs; nephews: Brandon Lee A. Spencer, Yaneem Anwar, Arthur K. Harrigan, Kenneal A. Harrigan, Noah Cebedo, Kevin Gibbs, Aaron Lang Sr., Aaron Lang Jr. and Ali Lang; and nieces: Asha Lee B. N. Cadogan, Jennah-Li E. Jackson, Eyma Anwar, Yvelle L. Henry, Kelly Gibbs, Azalia Lang, Shelima Ramberjam, Angelina Lang, Avision Lang, Jeannette Huggins and Arianishka Lang.
She is also survived by cousins: Shelly Thomas and Juliette Thomas; nieces and nephews: Ronald Schneider Sr., Vicky Schneider, Victor Schneider Jr., Dean Schneider, Alvis Schneider, Marjorie Schneider, Sherri Butts, Deseree Wills (Schneider) and Vivian Dixon (Schneider); great nieces and and great nephews: Chani Schneider, Chanil Schneider, Ronald Schneider Jr., Roni Schneider, Chanelle T. Schneider, Harry Maysonet Jr., Vania Maysonet, Dean A. Schneider, Dwayne Schneider, Denisia Schneider, Marissa Schneider, Anthony Schneider, Denilia Schneider, Deshaun Schneider Sr., Edward Schuster Jr., Latrice Schuster, Christina Schuster, Christopher Schuster, Letticia Schuster, Carisma Nabor (Shearn), Elise Dixon, Nina Dixon, Evan Dixon, Arianna Gibbs, Ashir Gibbs, Alexander Gibbs and Noah Gibbs.
She is also survived by great-great nieces and nephews: Samuel Maysonet, Makayla Maysonet, Kennedy Cortes, Natacia Schuster, Mykhai Gill, Jahkim Santiago Jr., Dominic Roundtree, Dean Schneider III, Deshaun Schneider Jr., Vincent Ashmore, Brite Acoy, Journey Acoy, Victoria Larsen and Celine Nabor; and godchildren: Stephen Brown Jr, Stephanie Chalana Brown, Kimberly C. Chiverton, Ayana David, Adrian David, Nicholas De Chabert, Burton Edney, Michelle Grant, Ori Heath, Imani Heath, Travis-Clayton Matthew, Dureama Moorehead, Rodney Moorehead, Ernest Morris Jr., Quinana Quinland and Vanessa Smith.
Other survivors include special friends and extended family: Marie Christian, Fern McAlpin and family, Charlene Abramson Joseph, Felicia Bro, Desi Rodriqez, Hugo Moorehead, Carmen Mill, Juliette Thomas, Melanesia Encarnacion, Fraline Moorehead, Debra Chinnery, Carver Farrow and family, Larry Bough, Gloria Gawrych, Remit Charles, Rohalia Nesbit, Sheryl Soto, Frank Johnson, Joseph Patre, Angela Isaac, Richard Cornelius, Robert Camacho, Freddy and Amy Joseph, Lusia Petersen, Tyrone and Hallarie Michael, Stephen Brown, Jean Cruise, CHS Class 1968, Liz and Miguel Nico, Gloria Joseph and family, Luz Rivera Armstrong, Donna Edney, James J. Rodger, Olaf Hendricks, Vaughn Hendricks and family, Andreas and Debra Tutein, Jackson family, Gibbs family, Lorgren family, Victor Somme and family, Miller family, Williams family, Henneman family, Kye Martin, Richard Lockhart and family, Wallace Phaire, Dian Knight, and Alice Wise and family, former students of John H. Woodson Jr. High school and St. Croix Central High School; and their relatives and friends too numerous to mention.
Funeral service will be held on Friday, June 3, at Holy Cross Catholic Church. Viewing will begin at 9:30 a.m. with service at 10:30 a.m. Interment will follow at Christiansted Cemetery.