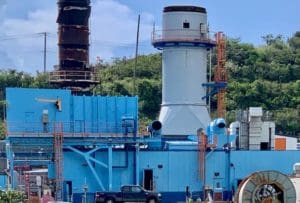 A preliminary review of data from four of the Water and Power Authority's generating units points to a loss of or significant drop in fuel pressure at the time of an electrical service interruption in the St. Thomas-St. John District early Thursday morning.
"Personnel have reviewed data files from Unit 15 as well as three Wartsila generators and have noted a significant fuel pressure drop, which tripped the units and resulted in the major power outage," said Noel Hodge, interim executive director. Customers on St. Thomas, St. John, Water Island and Hassel Island were affected.
Hodge said management and operations teams at the Randolph Harley Power Plant are working through the issues that led to the fuel pressure drop.
"We want to fully understand the circumstances that contributed to the pressure loss and, more importantly, how a reoccurrence can be avoided."
He said the dispatched propane-powered units were operating normally and the pressure loss "essentially fuel-starved the units leading to their tripping offline. It was a sudden loss of all generation."
Prior to today's outage, which occurred at approximately 3 a.m., the plant had not experienced a districtwide outage since Jan. 11.
Approximately 30 minutes after all customers were restored, at about 5:40 a.m., two of the three dispatched generators tripped, resulting in an outage to customers on six feeders across the St. Thomas-St. John District. After resolving operational issues with the tripped units, plant personnel rebuilt generation capacity and restored service to all customers at approximately 7:55 a.m.