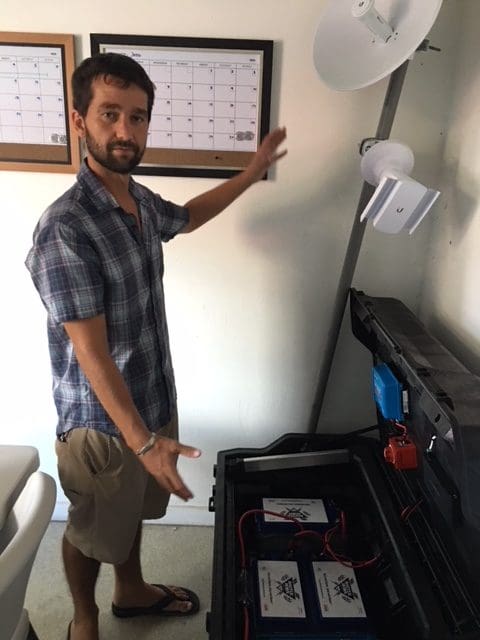 Love City Community Network (LCCN,) the community-based St. John internet service provider that grew out of the destruction of last September's hurricanes, wants to continue working with the Virgin Islands Next Generation Network, allowing St. John businesses and residents to keep the service they have come to depend on.
"We would like to work with viNGN. Their mission lines up with our mission," said Ivan Jacobs, LCCN's outreach and development director.
Jacobs' words appeared to contradict a press release sent out Wednesday by viNGN that stated, "On April 6, 2018, the non-profit Internet Service Provider (ISP,) Love City Community Network (LCCN,) has agreed with the Virgin Islands Next Generation Network (viNGN) to end its disaster relief Internet services on St. John on May 7, 2018. As agreed by all parties, the LCCN network will be completely deactivated and placed in a stand-by non-active mode in the event of another natural disaster."
But Jacobs said that to his knowledge, nobody at LCCN had made such an agreement.
"We've invested too much time and energy to consider this," said Jacobs. "More importantly, our mission is the delivery a resilient communications network for St. John that can function in the wake of our next disaster. There's still too much to do. We're absolutely not going away."
LCCN came out of an ad hoc association of IT consultants, engineers, and volunteers who came together to re-connect St. John to the internet after Hurricane Irma struck on September 6, knocking out power, phone and internet service across St. John.
Immediately after the storm, the group's priority was to provide connectivity support to disaster relief agencies and to establish Wi-Fi hotspots for the public.
These IT experts and volunteers worked with NGOs with disaster-relief experience, including HELP.NGO, and with philanthropic organizations sharing a common goal: building resiliency to the islands' communications systems by bringing innovative technology to St. John.
Over the next several months they formed LCCN, a non-profit corporation now providing 400 residents and businesses with an internet signal that varies in speed and reliability. In some areas where there was no phone or texting service available from any other provider after the storm, they supplied basic service temporarily.
On April 1, LCCN's signal went out when viNGN cut off their bandwidth following failure to reach an agreement after months of negotiations to establish a permanent contract, according to Jacobs. The sudden cessation of internet service brought howls of protests from St. John residents and business owners.
"I have a husband who is trying to run a business and settle his mother's estate," said long-time resident Patricia Mortenson. "I have a son who's severely disabled and needs 24/7 care. My only link to the outside world is my [LCCN] phone and internet. When we were abruptly cut off, it seemed heartless, especially considering that we're all still recovering from the hurricane. They have the ability to give us this service, but they were denying it."
Frustrated residents started internet petitions and took to social media to publicize their plight. Many wrote letters and made phone calls to public officials.
In face of the public outcry, viNGN agreed to restore LCCN's bandwidth for a month but urged LCCN customers to find other internet service providers by May 7.
Mark McGibbon, viNGN's director, said his company never has had a legal agreement with LCCN, but only with HELP.NGO, which provided technical and logistical assistance to the volunteers who later incorporated into the non-profit LCCN.
"viNGN made a legal temporary agreement with HELP.NGO," said McGibbon. "viNGN does not have a legal agreement with LCCN and it has no intentions of making an agreement with this non-profit organization because as agreed with HELP.NGO, once the local ISPs restored their networks, viNGN would claim emergency disaster mission success for HELP.NGO's good work and the non-profit organization would cease its activities with viNGN. Thus, the time has come for LCCN and viNGN to part ways. LCCN has the right to seek their non-profit mission wherever they see fit."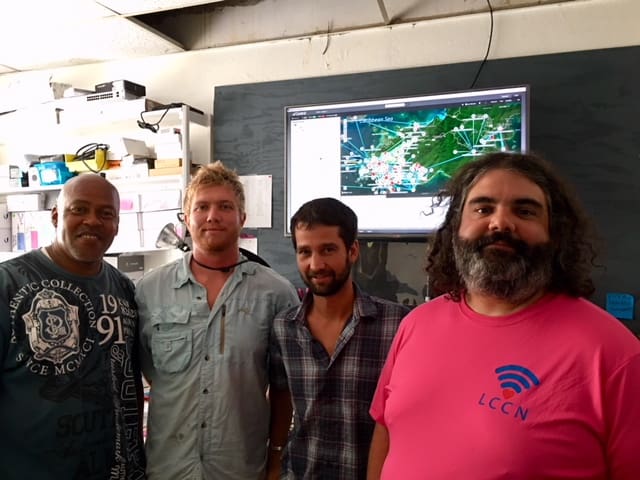 The vast majority of St. John residents, however, have no other options for internet service. The hurricane knocked down hundreds of utility poles, and Viya, the utility company that provides telephone, cable television and internet service through fiberoptic cables, has re-strung its wires only in the area around Cruz Bay.
Several other internet service providers (ISPs) have warned would-be St. John customers that waiting lists are long. Satellite communications service is available, but the initial costs are unaffordable to many residents.
During the week that LCCN went dark, St. John also experienced a two-day power outage when a Water and Power Authority substation in Cruz Bay caught fire. Matt Gyuraki, one of LCCN's co-founders, said the power outage would have given LCCN an opportunity to show how resilient their system is if viNGN hadn't cut off their bandwidth. Much of LCCN's system runs on solar energy, and the rest operates with generators.
Most of their equipment is self-sustaining and can be taken down and re-deployed relatively easily in the face of a storm. They now have 12 sites they call "sectors," placed at various points around St. John, including the top of Great Cruz Bay, Ditleff Point, Bordeaux Mountain, and Lovango Cay. These sectors are equipped with antennas that distribute internet signal to anyone who is within line of sight and has purchased a receiver known as a NanoBeam.
LCCN isn't charging a set fee yet for its services, but it's asking for donations to help the organization purchase equipment and hire additional staff who can program and install the NanoBeams.
LCCN initially gave priority to government, military, and rescue services, then to businesses providing infrastructure, including suppliers and contractors, and then to other businesses.
"We're now at the point where we can hook up residents," Jacobs said.
Despite the fluctuations of internet speed, most of LCCN's clients agree that what it offers is preferable to making a trip into Cruz Bay to find a free public WiFi hotspot.
In the future, LCCN is hoping to produce and distribute mobile "pods" that will provide enough solar energy with battery back-up to run a household and provide communication. LCCN is planning to train high school students to assemble the components.
"We want to be here whether a WAPA transformer blows up and you lose power for a day, or for two months after a storm," said Gyuraki.
Shared content for Virgin Islands Source and St. John Tradewinds.