A small but heart-felt gathering in Coral Bay kicked off Love City's Rev. Dr. Martin Luther King Jr. Day observance aimed at "Rekindling the Dream."
About 30 residents gathered at the Guy Benjamin School's basketball court at 9 a.m. to mark the day with inspiring words, prayers and songs before heading across the island for the Cruz Bay portion of the day's activities.
N Harmony began the ceremony singing both the U.S. National Anthem and the Virgin Islands March before Alvis Christian led the group in prayer.
Ronnie Jones offered thoughtful words about following the righteous path and being true to oneself. St. John's youth got involved, with Ronald Jackson reading from scripture and Krystal Anthony reciting "I Still Have a Dream."
Words of Hope and Unity
Guest speaker Yvonne Wells recounted King's life and interspersed stories of her own time as a young girl at a small college in the south during the fight for equal rights.
Rev. Lillette George, from both the Bethany and Emmaus Moravian Churches, offered the benediction and Coral Bay Community Council president Sharon Coldren shared words of hope and unity for the community of St. John.
The entire crowd joined in singing moving renditions of "This Little Light of Mine," "Bind Us Together," and "We Shall Overcome."
The group then took to their vehicles for the motorcade to Cruz Bay where many residents were gathered to participate in the second portion of the King day observance.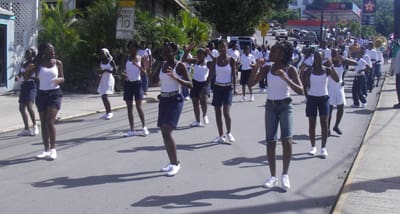 Lively Parade in Cruz Bay
The Cruz Bay celebration kicked off with a parade from the tennis courts to the Franklin A. Powell Park Sr., featuring a lively performance from the Juvenile Delinquency Prevention Program Marching Band.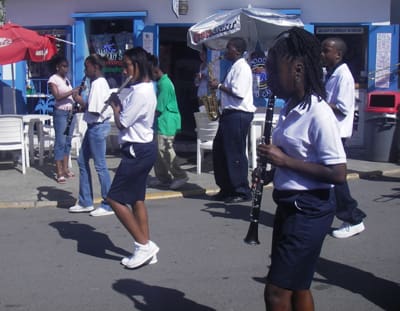 Members of the Sigma Theta Omega Chapter of Alpha Kappa Alpha Sorority, and several other community members, including former Senator at Large Craig Barshinger and Gifft Hill School head Ben Biddle and his family, marched in the parade.
As the parade concluded in the park, the Love City Pan Dragons played the National Anthem and the V.I. March.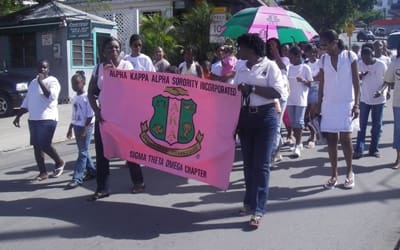 Rudolph "Pimpy" Thomas gave a rousing performance of King's "I Have a Dream" speech, prompting the crowd to applaud and call out "amen."
Island of Beauty
Jones spoke about the importance of following God, just like King did.
"Dr. King decided to save himself from the world before saving the world from itself," said Jones. "The ways of God are love, joy and peace."
"Today, we have a community filled with all races of people, all colors of people, loving each other," Jones continued. "We are truly an island of beauty, peace, love and joy. All we need to do is trust in God and love one another."
Once the seeds of hate are planted, it takes generations for that hate to be eradicated, explained Jones.
"When a person is taught to hate, it takes generations to remove," said Jones. "It has to be untaught."
Keep King's Dream Alive
St. Thomas resident Millicent Carpenter shared her experience meeting King, who later helped her stage a protest in Massachusetts.
"Dr. King's dream is still a dream for some of us," said Carpenter. "We have to work together, pray together, love each other together. Don't let his dream die; tell your kids so they can tell their kids."
Idalia Scimeca, who delivered her speech in both English and Spanish, encouraged children and parents to follow King's example by getting a good education.
"Martin Luther King had a desire for knowledge that I would like our children to emulate," said Scimeca. "I would like the parents to stress how important it is to follow Martin Luther King in their quest for education. It's education that will keep us from falling into the danger King talks about — sincere ignorance and conscientious stupidity."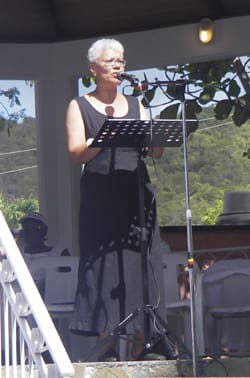 Songs, Readings, Community Luncheon
Interspersed among the speeches were songs performed by various church choirs, and readings of King's quotes by various St. John children.
Following the program, Inner Visions performed for the crowd and a community luncheon was served by American Association of Retired Persons volunteers.