There's nothing like a Category 4 or 5 hurricane to show a community just how well prepared it is to deal with a disaster.
The people of St. John learned this lesson following the twin storms – hurricanes Irma and Maria – in 2017.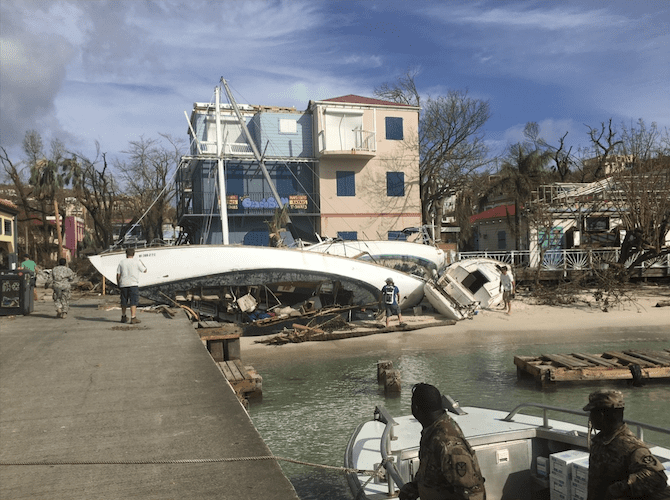 In addition to severely damaging the clinic, the public school, the power grid, hundreds of homes, and St. John's major resorts, the powerful winds blew out VITEMA's disaster communication center and sent a container full of crucial emergency supplies tumbling down a steep hill.
It was a couple of days before the first emergency supplies arrived by helicopter, weeks until regular ferry and mail service were restored, and almost two months before the first street light went on in Cruz Bay.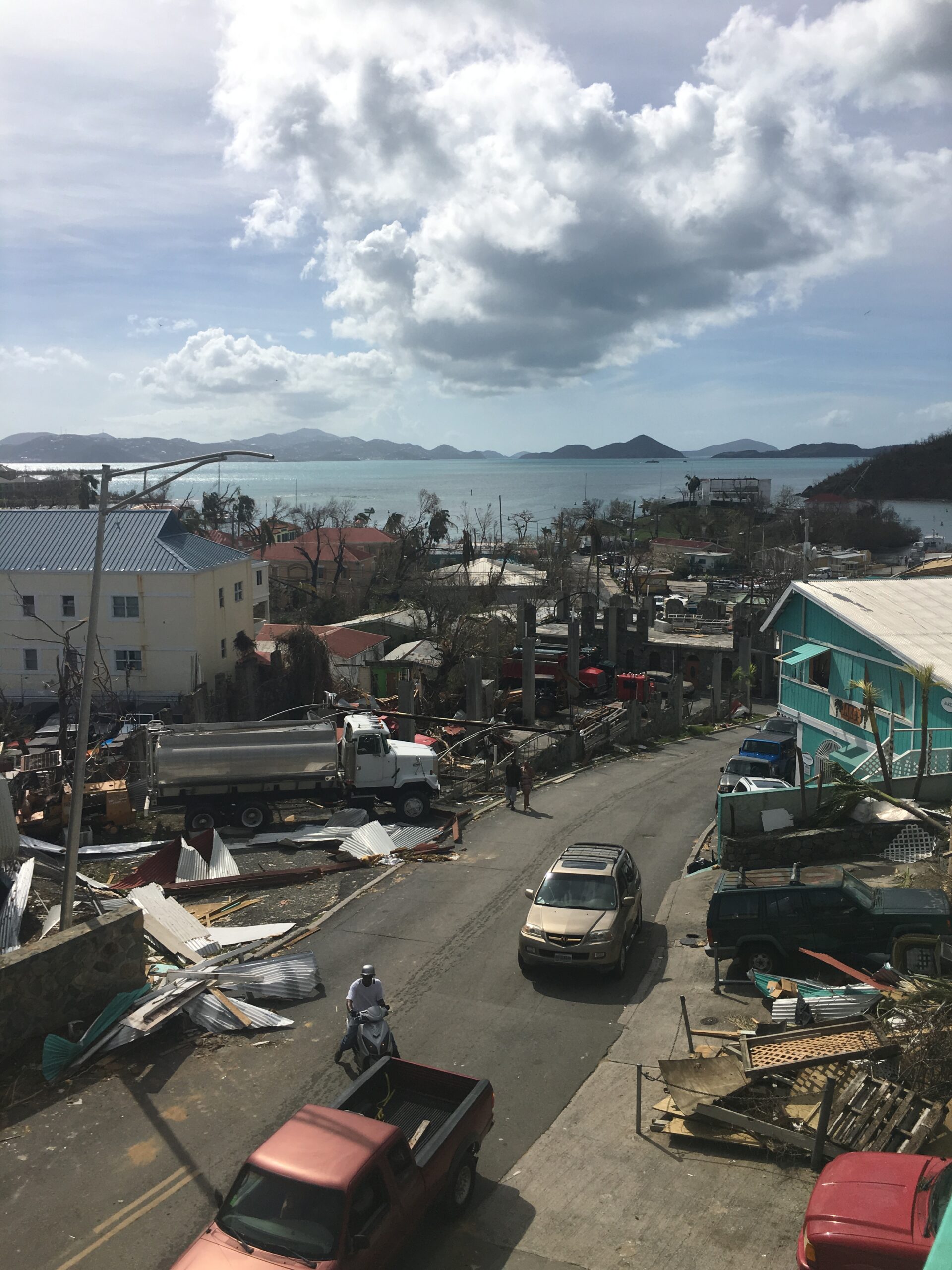 Almost five years later, there are still people struggling with the damage left by these storms. Now, as the 2022 storm season gets underway, the good news is St. John is much better prepared to deal with whatever the 2022 storm season puts forth.
One of the reasons for this is the on-island presence of Love City Strong, a non-profit organization that grew out of daily briefings held by emergency responders in Cruz Bay following Irma and Maria.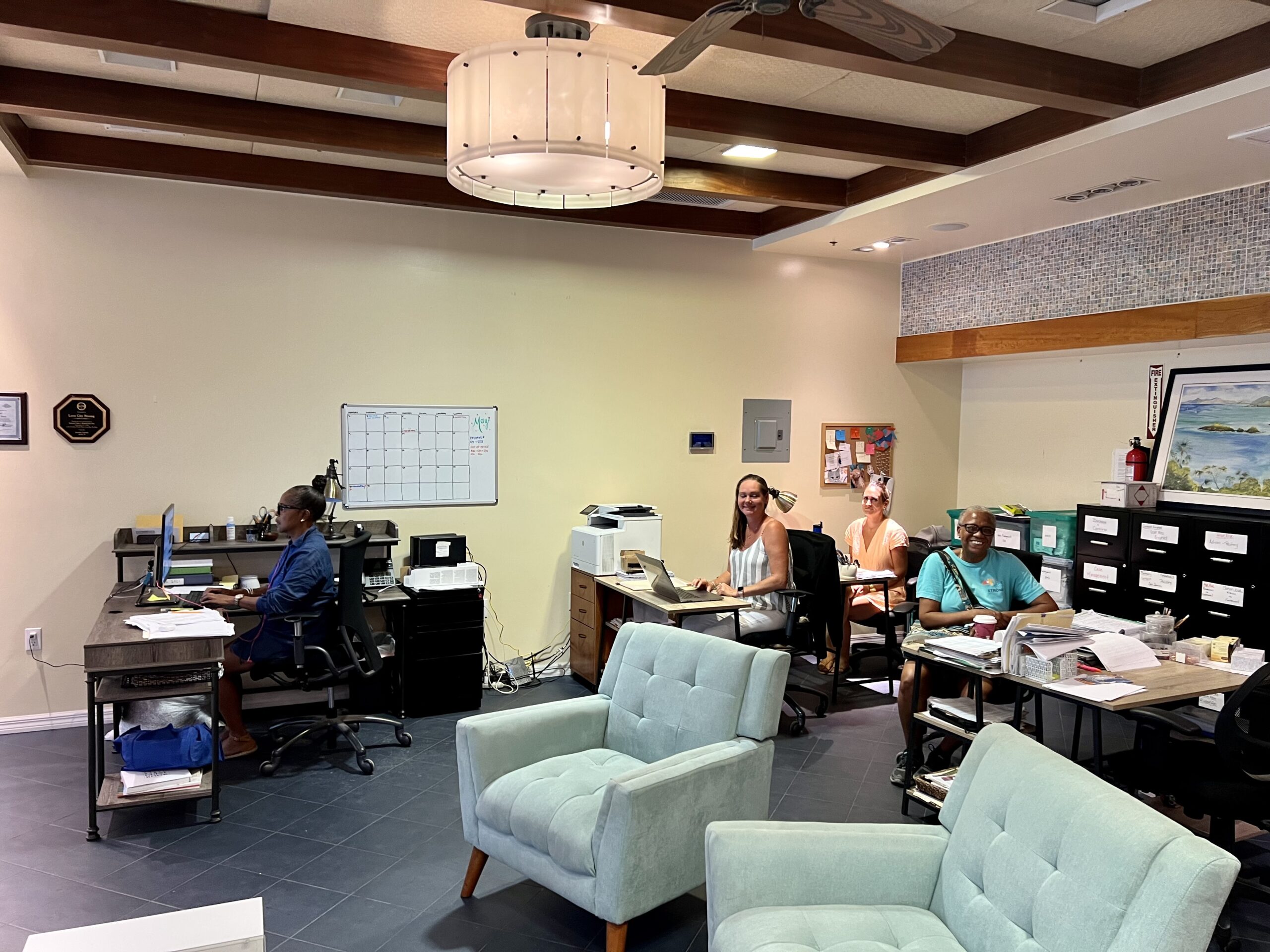 In the days following September 2017, community leaders on St. John mobilized local residents and emergency workers from St. John and abroad to contact every household to determine their immediate and long-term needs. Residents who had lost their jobs because of the storm were paid stipends to find out who needed medication, a tarp, a generator, or even help removing a neighbor's roof that landed in their driveway.
Volunteers organized evacuations by boat or air for people who lost their homes, or needed medical care, or couldn't adequately cope with the barrage of challenges following the storms.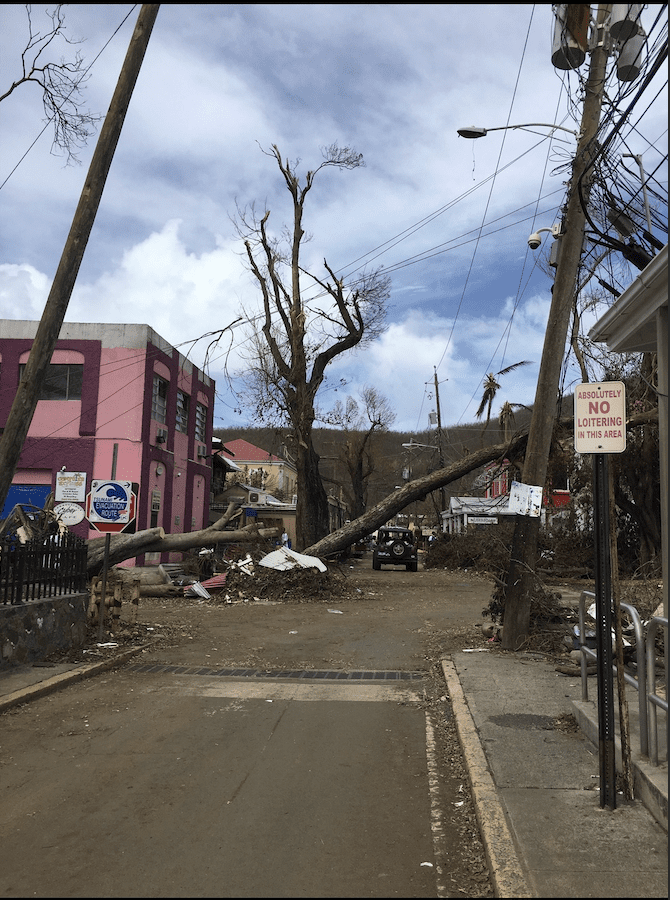 Their efforts immediately got the attention of Bloomberg LP co-founder Tom Secunda and his wife Cindy, who own a home on St. John. With funding from the Secunda Family Foundation and Bloomberg Philanthropies, over the next year, the loose group of volunteers morphed into the non-profit organization now known as Love City Strong.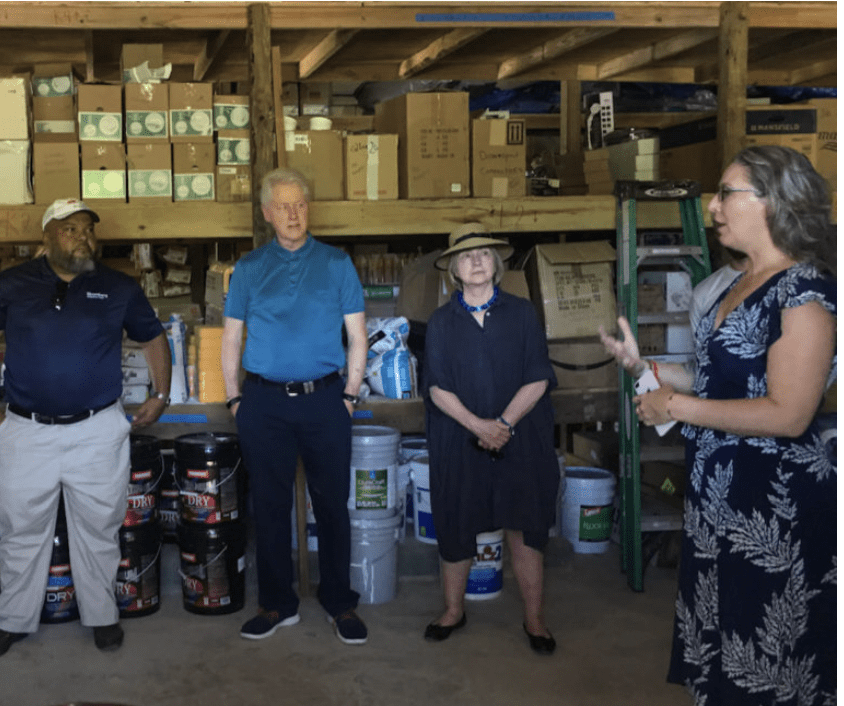 LCS has grown throughout the years – there are now nine employees working out of a comfortable office in the Marketplace. Their programs include rebuilding storm-damaged homes, distributing food during the COVID lockdown, and assisting households in maintaining safe drinking water.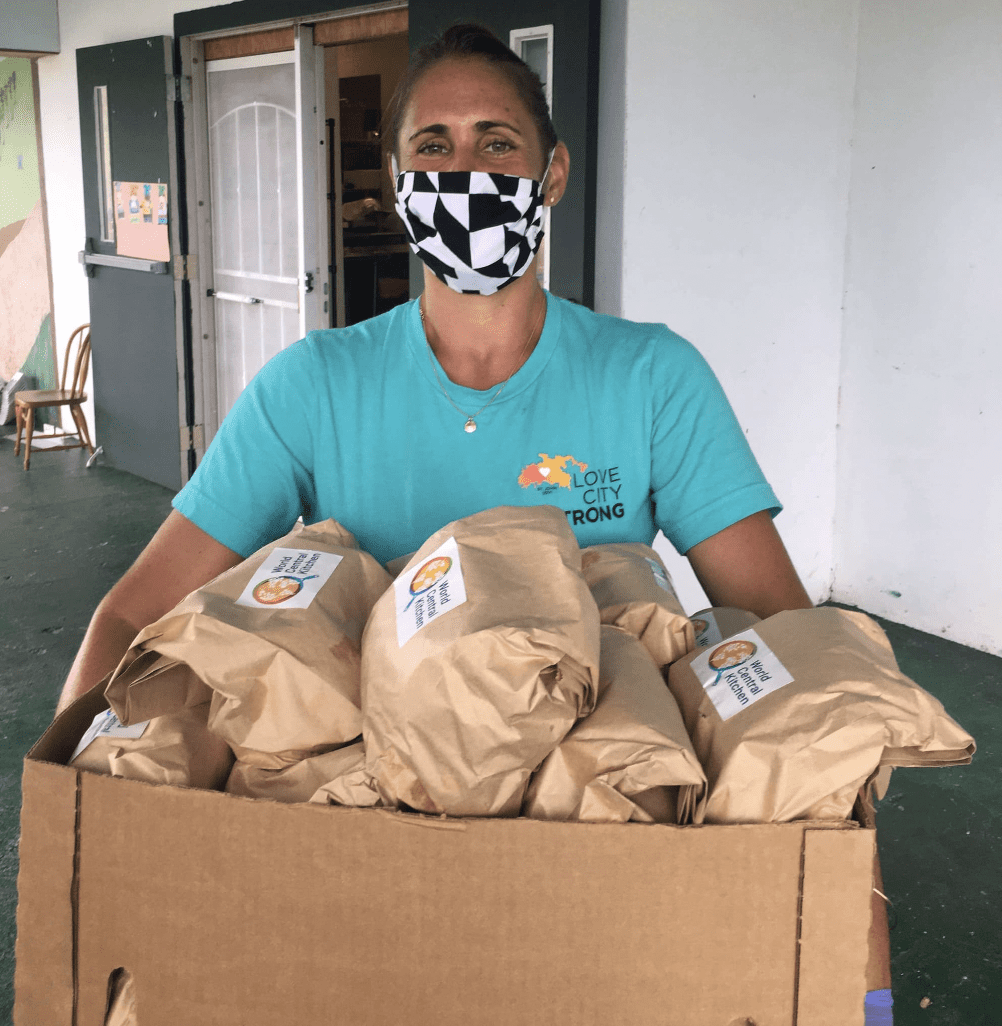 But preparing for disasters and assisting the most vulnerable members of the community remain among their highest priorities.
Since January 2022, Love City Strong's Go Team members have been making phone calls to households they first assessed five years ago; it's the first step in conducting a thorough assessment of between 500 and 700 households throughout the island that will continue throughout the summer.
"Data is incredibly important for equity," said Meaghan Enright, Love City Strong's executive director. It's also critical to providing an effective response to a disaster and to developing programs that build resilience and address long-term community needs.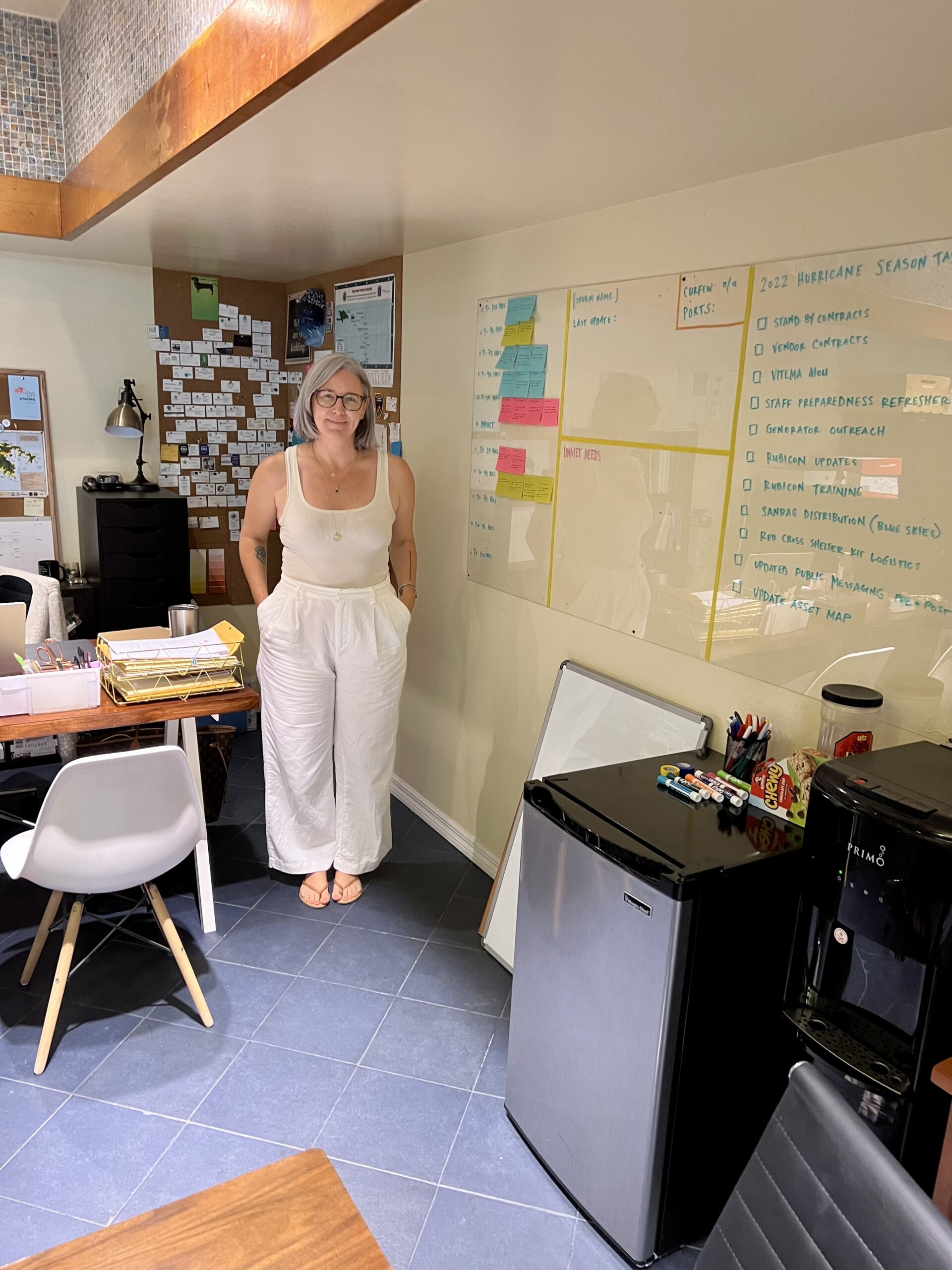 But finding accurate data that's specific to St. John isn't easy.
St. John is often lumped with St. Thomas for administrative purposes. Many government departments, including Labor and Planning and Natural Resources, have no offices on the island. Producing data that distinguishes St. John from the other Virgin Islands does not appear to be a priority.
The 2020 Census was an opportunity to get reliable data, but the counting was hampered by COVID pandemic lockdowns and politically motivated changes in deadlines.
Data from the 2010 Census is pretty much obsolete; the island has changed in too many fundamental ways. In terms of population, there's been a noticeable increase in Spanish-speaking residents, primarily from the Dominican Republic, and Creole-speaking residents from Haiti. Native St. Johnians are now a small minority.
Meanwhile, tourism continues to boom. Entire neighborhoods have altered to meet the demands of the short-term rental market, and affordable housing is scarce. The changes – intensified by the rebuilding frenzy following the hurricanes – continue to reverberate through the island in countless ways.
So Love City Strong relies on its own surveys to find out where people are in the process of recovery from 2017 and how prepared households are to deal with 2022.
Almost five years after hurricanes Irma and Maria, Enright knows there are still people struggling with the damage left by these storms. Although it may not be apparent to visitors staying in upscale villas, there are still plenty of homes with boarded-up windows, rickety stairways, and tarps covering roofs.
"The image of St. John as a vacation destination is important to our tourism product, but an unintentional consequence is that local communities are glossed over," she said.
LCS focuses on the most vulnerable members of the community, including seniors, many of whom are healthy but homebound and may lack family support nearby. Kenisha Small, community relations manager for LCS, says she pays close attention to around 20 seniors who say they want someone to check on them on a regular basis.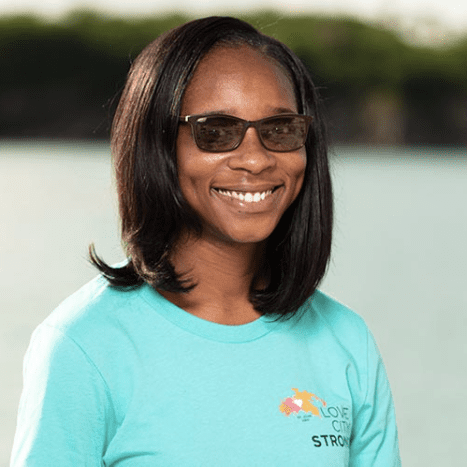 "In my conversations with seniors, they say they don't have confidence in government systems," said Small. "They feel services are only available for a short time, or they don't qualify, or they can't get to them. They wouldn't open their doors for the Census. It boils down to a loss of faith."
Enright added, "We've spent a lot of time building trust by saying we're going to do something and then doing it."
Love City Strong's Resilient Housing Initiative is one program that has succeeded, while some other rebuilding programs have fallen short. They have avoided putting strain on the limited housing market by hiring local contractors and kept money circulating throughout the island's economy by procuring supplies through local businesses.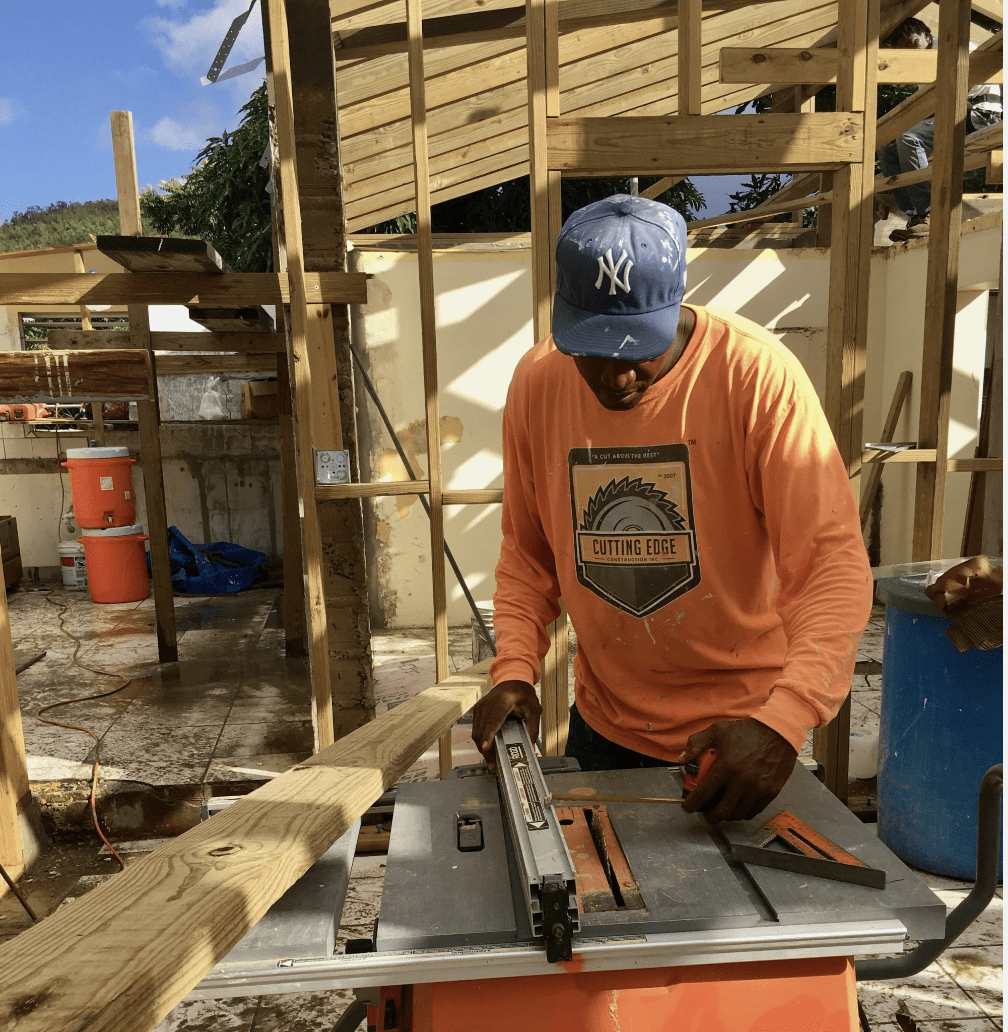 The Resilient Housing Initiative has resulted in the reconstruction of 36 homes for people who didn't qualify for federal programs because of questions regarding property ownership or because of complexities that arose during the rebuilding process.
LCS also serves as a subgrantee for the FEMA Hazard Mitigation Grant Residential Retrofit Program administered through the St. John Community Foundation. That program has retrofitted 97 homes on St. John.
This summer, as the Go Team members fan out seeking data for their surveys, they're also providing information, letting residents know of services available through government and non-profit organizations.
Go Team members are also inviting residents to participate in their new "Ready In a Flash" program, which allows renters and owners to scan and upload important documents for easy retrieval following a disaster.
As hurricane season ramps up, LCS is looking to supplement their regular Go Team with additional bilingual staffers who will fan out throughout the island.
"Our Go Team really is intrepid," said Enright. "They know the roads and the neighborhoods inside out. They're definitely the heart of everything we do here at LCS."
Patricia Mortenson found out just how intrepid they are during the peak of the COVID-19 pandemic lockdown. Mortenson is a retired teacher who lives with her adult disabled son, Earle, in a remote part of St. John's Bordeaux Mountain.
One day she was surprised to hear someone calling her name. When she stepped onto her porch, she saw two Go Team members climbing the 100-plus stairs to her home carrying boxes of fresh food. Her phone hadn't been working, so they just came by, and while they were there, they also conducted a wellness check.
During the pandemic, LCS collaborated with World Central Kitchen, the Gifft Hill School, and local restaurants to deliver 12,000 meals to seniors, first responders, and families.
Now Love City Strong is embarking on a new initiative. They're forming a partnership with Tropical Health to provide hospice services to residents of St. John.
"Our programs are targeted to filling the gaps," said Enright. "Tropical Health has already existed on St. Thomas and St. Croix since 2018, and we're working to overcome the additional barriers to working on St. John." Kenisha Small is spearheading this initiative.
Tropical Health is just at the beginning stages of establishing a presence on St. John, according to Tropical Health's CEO Nichole Richardson.
The company will be holding a community health fair on Saturday, June 25, from 10 a.m. to 6 p.m. at the Emile Griffith Ball Park on St. Thomas. There will be a kickball tournament, food, games, and wellness packages for the community to enjoy.
The company is now seeking registered nurses, licensed practical nurses, chaplains, and certified nursing assistants, according to a press release. Applicants are required to have a valid professional license and must be current on all certifications. "Sitters and concierges are only required to have a high school diploma and prior experience in sitting services. Those wishing to apply can do so on the Tropical Health job's board, according to the release.
"Our mission is to provide quality care and services to any terminally ill or elderly clients on the island of St. John," Richardson said.