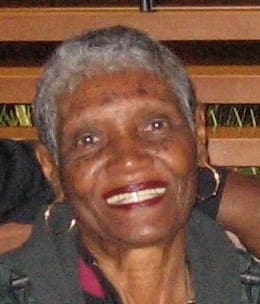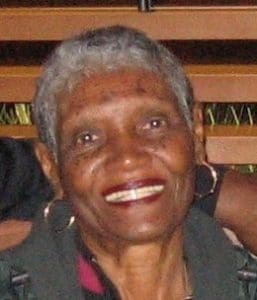 Mabel M. Richardson, also known as "Maychie," of Estate Strawberry, Christiansted, died on Monday, July 30. She was 95 years old.
She was preceded in death by her parents: Elma Boussant Gumbs and John Richardson.
She is survived by her daughters: Carmencita Chemont, Claudette Forsythe LaBega, Janice Labega Lewis, Cheryl Labega, Ingrid Richardson, Erica Jacqueline Gray, Barbara Youngblood, Ilva Richardson and Lisarose Bough (adopted daughter).
She is also survived by grandchildren: Kevin Dekkers, Thomas Dekkers, Kaisha Peters, Khalilah Peters, Damien Horvath, Mariska Richards, Tadzio Bervoets, Ayumi Bervoets, Sean Critchlow, Chanadaye Krind, Christopher Richardson Skerrit, Gregory Robinson, Keith Conteh, Ilsa Tang How, Gina Tang How Jeffries, Anthony Langley, Nicole Langley, LaJeune Clar and Nicolas Richardson-Jackson.
More survivors are her great-grandchildren: Malachi Dekkers, Raphael Dekkers, Aidan Dekkers, Sadbh Dekkers, Kaie La Touche, Tiana Horvath, Isiah Horvath, Dominic Conteh, Jaden Conteh, Rylen Parker-Clar, Tristan Clar and Geniyah Silverio; sister, Irma Lake; sons-in-law: David Forsythe, Elton Lewis, Leonard E. Larsen Jr., Paul Youngblood and Zachery Jackson; and special friends: Lucy Bough, Theresa "Terry" Beck, Vena Henry, Claudia Matthew, Kathleen Mark, Joseph Mark, Melvina Albert, Sandy Adams Picchierri, Edris Smith, Rita Schuster, Linda Burton and Corene Hurley.
Other survivors include cousins and other relatives: Bishop Ambrose Gumbs, Cale Gumbs, Octavia Lake, Caroline Adams Fawkes, Clement Adams, Cleone Hodge, Cathrine Adams, Ruby Adams, the late Drucilla (Cynthia) Hodge and many others too numerous to mention.
The viewing will take place at 9 a.m. followed by a funeral service at 9:30 a.m., Tuesday, Aug. 10, at St. Ann's Catholic Church. Interment will follow at Kingshill Cemetery.
Due to the COVID-19 pandemic and public health regulations, all attendees must wear a mask and adhere to social distancing.