Malcolm Campbell's boat Grace sitting in Fish Bay, above.
St. John Tradewinds photos by Amy Roberts.[hr gap="1″]
Cruising sailboats are little worlds to themselves.  As we look out at them bobbing peacefully in one of our bays or gliding by one of our shores, we can only imagine the lives aboard:  Who are these sailors, and what were they doing before they took to the life at sea? What lands did they leave behind? How do they sustain themselves? And why do they do it?
Although you may know many, or few, or none of the cruisers who pass through the islands, there's no doubt that each brings something unique to our "small place."   We are made more cosmopolitan by their presence.
One such sailor is Malcolm Campbell who arrived in the Virgin Islands in the spring and left at the end of July to continue on his round-the-world solo sail.  Technically, he's not alone:  Bebe, his faithful dog–also a seasoned sailor– is accompanying him.
Campbell has crossed the Atlantic seven times, four of them by himself.  "I've always wanted to circumnavigate—I made two previous attempts.  I'm turning 70 this year, and my boat is getting on, too.  You have to decide to put your world on hold and go."
But Campbell has another reason for sailing around the world.  He hopes to raise funds for Cancer Research UK.   "I lost my younger sister, Constance Grace, to cancer in 1999, and my other sister, Audrey, is recovering from breast cancer.  Without advances in research and drugs, she would not be with us now."  He has set up a website http://www.solosailforcancerresearchuk.co.uk where supporters can donate to the cause and also track his progress as he travels the world.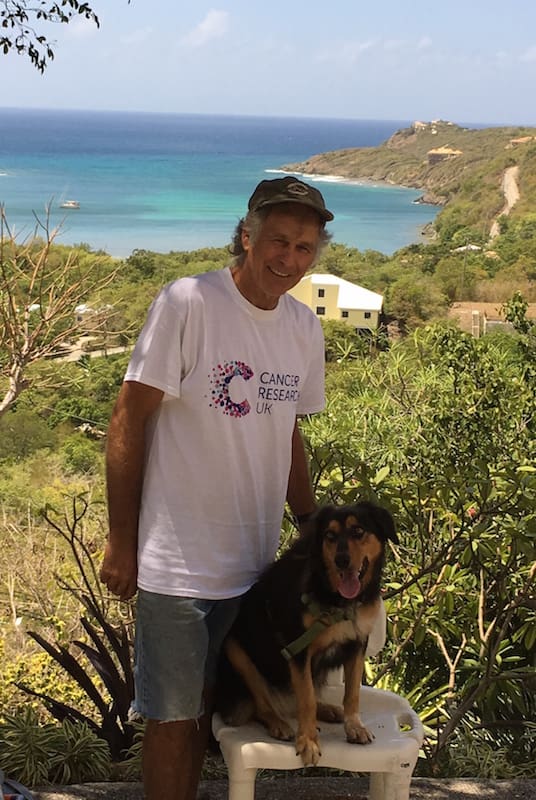 Although Campbell does not currently live in the United Kingdom, he chose Cancer Research UK because it's the leading cancer research center in the UK where charities are strictly scrutinized.
Campbell now calls Kefalonia, Greece, home, but he could best be described as a world citizen.  He was born in Zimbabwe (when it was still known as Rhodesia) to a father from Bechuanaland (now known as Botswana) and a mother from Scotland.
"I left shortly before Mugabe came to power.  [Robert Mugabe became prime minister in 1980 and has served as president since 1987.] It was still a beautiful country then, vibrant, well governed.   We grew food for the whole of Central Africa. Rhodesia's maize yield was the highest in Africa."
Campbell worked for the city engineering department, but sensing political changes that would make life difficult to sustain, he looked for a way out.  "The government had no foreign currency.  You couldn't take out pounds or dollars, but people built boats," he said, explaining a choice that might seem puzzling in a land-locked nation.
Campbell bought a 32-foot sailboat and trucked it to Durban on the northeast coast of South Africa.  There he set sail for Cape Town with his then-wife Penny, daughter Fiona, sister Grace, and her partner.
From there he went to Southwest Africa (now known as Namibia) where he worked as an engineer in a uranium mine, and in 1979 he and his family sailed across the Atlantic to Florida where he sold the boat. (And presto-magico, that's how you get the currency out of a nation with a no-foreign-currency-export policy.)
When his wife became pregnant with a second child, the family decided to return to South Africa where Campbell started a furniture factory.  But with life under the apartheid system becoming untenable, after six years he bought another boat, and again the family sailed to the States.   Eventually they migrated to the United Kingdom where his mother and sister had settled.
Fortunately, all the skills Campbell developed as an engineer and woodworker have served him well as a sailor.  His current boat Grace – named in honor of his sister—was originally built 40 years ago by designer Ted Reynolds.  The boat had been stripped down to the deck by her owner who became who terminally ill and was looking for someone to continue the rebuilding process. Campbell took it on.
Campbell started his circumnavigation in Kefalonia, Greece, in September 2015 and was only two weeks into his voyage when the boat was dismasted in a storm off Gibraltar.  Grace was towed to Majorca where Campbell built a wooden mast and replaced all the rigging, and in April, he and Bebe set off once again across the Atlantic.
St. John was an important stopover because Campbell's daughter Fiona (aka "Foe") now lives in Fish Bay with her husband Justin Rudwell and their two small daughters.  After spending time with his daughter's family, he skirted the storm that turned into Hurricane Earl and set out for the Panama Canal. No doubt further adventures await him and Bebe as they make their way across the Pacific.