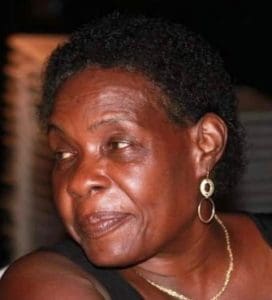 Maralyn O'Halloran, 75, of LaGrande Princesse, St. Croix, died on Sept. 25 in Atlanta, Ga.  She was born on July 20, 1946, in Liberta, Antigua, to the late Iris and George Greenaway, and she relocated to St. Croix, USVI, in 1971.
She is survived by her husband, Richard O'Halloran; sons: Gennar Gillead,  Brian Gillead and Robert O'Halloran; daughters: Natasha O'Halloran-Smith and Nneka O'Halloran-Richardson; sons-in-law: Bevan Smith Jr. and Lyle Richardson; daughters-in-law: Birgit Gillead and Charlene Gillead; grandchildren: Darnell, Nevaeh, Caitlin and Bryan Gillead, Michael and Gabrielle O'Halloran, Taylor Chavis, Tamia and Ahmir Richardson, Deshaun Webbe, Adonai and Adaina Smith; great- grandchildren: Nala and Amani Webbe; and granddaughter-in-law, Leah Sargeant-Webbe.
She is also survived by her sisters: Genett Greenaway-Browne, Loleta Camacho, Jasmine Greenaway and Ernestine Greenaway; brothers: Withfield Greenaway and Arthnell Greenaway; and nieces and nephews: Hurchell, Shayla, Lance and Khalid Greenaway, Nichole Greenaway-Hinds, Alleda Greenaway-Beadle, Varona, Marcus and Monica Jackson, Lucia Jackson-Chapman, Rufilo and Ruleo Camacho, Ruleta Thomas, Mariska Browne-Lafleur, Geneker Lassalle, Juhn-Luke Browne, Bernice Greenaway-Chavez, Boyce, Boyd, Bernard, Kimberly, Keila, Sanchia, and Tricia Greenaway, Caren Greenaway, Janil Greenaway-Jancevski, Deon and Desroy Maile, Andy Watts, Kerry George, Kemieko Scotland and Kayle Scotland-Williams.
Other survivors include special great nieces and nephews: Wenica and Brandon Brodie, Terrol Marsh and many others too numerous to mention; brothers-in- law: Vasil Jackson, Rufus Camacho and Macmillan Lewis; sisters-in-law: Vivianne Greenaway, Patsy Greenaway, Ionee Scotland, Lydia Lewis-Sookran, Althea Lewis-Khan, Maude Lewis-Edwards, Kay Lewis-Phillip and Shieldvan Lewis-Marshall; and special friends: Ursula Roberts and the members of Church of the Nazarene in Golden Rock.
She was preceded in death by: Helen Jackson (sister), Hurchell Greenaway (brother), Molviar Jackson (niece), Bernard Rodriguez (brother-in-law).
The funeral service will take place at 11 a.m. (EST), Oct. 9.  It will be officiated by Dr. Hugh Connor at the Gus Thornhill Funeral Home Inc. located at 1315 Gus Thornhill Jr. Drive, East Point, Ga.
Flowers and tributes can be sent using the following link https://www.gusthornhillsfuneralhome.com/ or by contacting the funeral home directly at 404-768-2993.