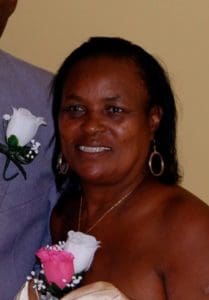 Marjorie Pemberton Kelly of Estate New Works died on Dec. 26. She was 74 years old.
She leaves to cherish her memory her loving children: Carl, Michael and Nicole; brother, Stedroy Pemberton; sister, llease Pemberton; son-in-law, Jerome Hodge; daughter-in-law, Benita Bermudez; and grandchildren: Michael Jr., Sade and Brooklyn; great-grandchild, Michayla Powell.
She is also survived by adopted grandchildren: Solvana, Kendra, Kylie and Kinsley; 10 nieces; 13 nephews; countless generations of cousins and extended family and friends; and closest friends: Dahlia, Elvina, Diane, Teresa, Sherry, Katherine Ward and her family.
There will be a viewing at 2 p.m. followed by a funeral service at 3 p.m., Thursday, Jan. 14, at St. Peter's Episcopal Church. Interment will be at Kingshill Cemetery.