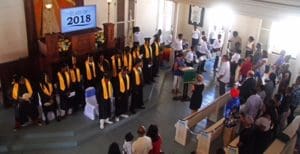 My Brother's Workshop (MBW) will host its  022 graduation with trainees receiving high school diplomas and other certifications in the following programs: culinary arts, hospitality, carpentry, CNC machine shop, heavy equipment, marine and welding. The graduation will take place at 10 a.m., Saturday, June 25, at the St. Thomas Reformed Church.
Arah C. Lockhart will provide the keynote speech. Light refreshments, provided by the MBW Café and Bakery, will follow. Members of the community are invited to attend and show their support.
MBW is a non-profit program that has been organized to provide hope, faith and purpose to at-risk and high-risk youth in the Virgin Islands by offering mentoring, counseling, career and technical training, education and job placement. To learn more about My Brother's Workshop, visit www.mybrothersworkshop.org,  email communications@mybrothersworkshop.org or call 715-2765.