Kayakers guide Jeff into Cruz Bay.
Photos courtesy of Amy Roberts. [hr gap="1″]
Shortly before 3:00 am on Saturday, September 24, as Jeff Miller and his support crew were about to set off in the moonlight for Miller's non-stop swim around St. John, two police cars rolled up to the seaplane ramp in Cruz Bay. The officers were there, they said, just to make sure everything was going okay.
In fact, everything at that moment was more than fine, and aside from some boat problems and a failed tracking system, the swim was a wild success. Miller completed his circumnavigation of St. John, a distance of about 23 miles, in 12.5 hours, establishing a record that will be hard to beat.
No one, to anyone's knowledge, has swum around St. John nonstop before this. Miller's accomplishment is especially extraordinary as he did it according to the Marathon Swimmers Federation rules, which required that he swim "unassisted"—no mask, snorkel, fins, thermal protection, and no touching anyone or anything along the way.
[adrotate group="6"]
The kayakers and power boat operators who accompanied him as he swam knew these rules well, but as Miller stroked his way back into Cruz Bay under a shimmering afternoon sky, someone shouted to the small group of cheering onlookers, "Whatever you do, don't touch him till he's walked on dry land!"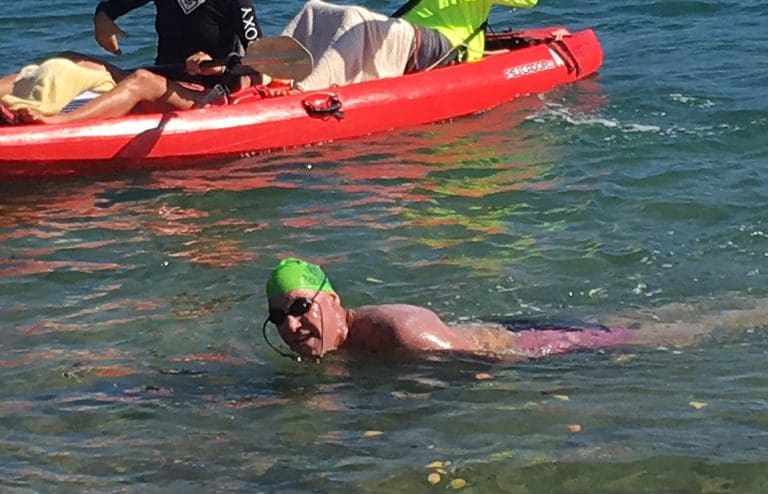 The group that gathered to witness Miller take his first steps on the slippery seaplane ramp would have been larger, but Miller had underestimated his pace. Thinking the swim would take him 13 to 16 hours to complete, Miller had expected to arrive back in Cruz Bay closer to sunset.
Instead, well-wishers had to catch up with him at a celebration following the swim at the Tap Room. It was there that Miller's support team set up a thickly padded lounge chair where he could recline amid ice bags to soothe his sore muscles and chafed skin. Fellow Landsharks, St. John's loose group of swimmers, runners, bikers, and paddle boarders, hovered in attendance.
Miller, 55, is a fisheries biologist with the National Park Service. A former triathlete, he had been dreaming about the swim for years and training intensely for over a year with the assistance of his wife Jude Woodcock, also a former triathlete.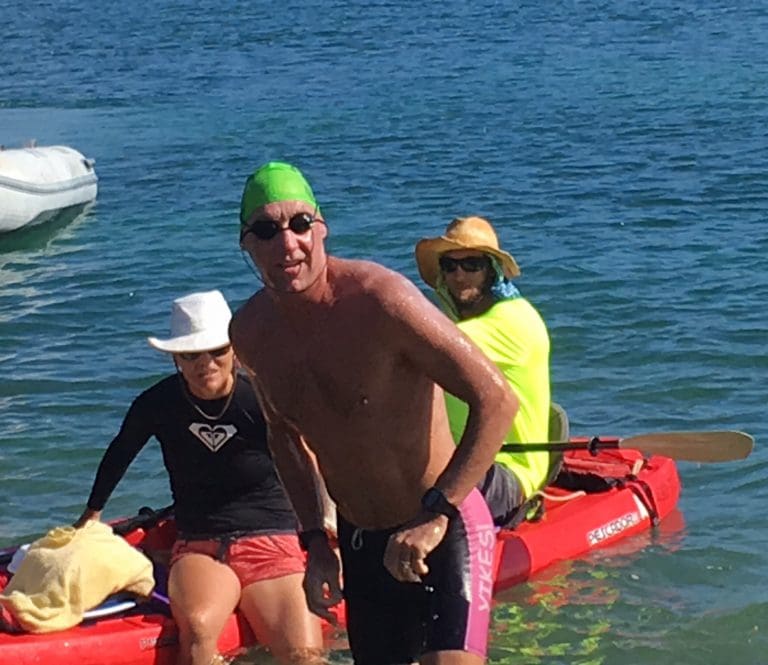 He knows the waters around St. John well and had swum the entire route at various times. After scrutinizing currents and wind patterns, he'd chosen to go on a weekend day at the end of September when the water is warmest and the sea is most likely to be calm—if there are no tropical storms.
The ideal pond-like conditions arrived on Thursday, September 22, but they passed within 24 hours.
Miller said he became nervous and cold-called a respected weather forecaster he often listens to on the radio. "Do you realize you've called a meteorology corporation?" the man asked. Miller told him yes, but he didn't know what else to do and explained his situation.
"He was great," said Miller. "I sent him an email with details, and he called me back in 40 minutes." The meteorologist predicted Saturday was the best possible day, and the team made their final preparations.
The currents worked perfectly in his favor, but the wind was coming from the south, and Miller had to fight his way through quartering waves all the way up the south side of St. John.
Miller found the miles crossing the open water outside Coral Bay to be challenging, but as he rounded the point at East End and headed back towards Cruz Bay, the wind from a squall gave him a push. The second half of the swim was relatively easy, he said.
At various points along the way, swimmers swam out to try to greet him, and kayakers and paddle boarders joined his flotilla for part of the distance. Miller regularly paused to drink a power beverage (which he swears he'll never touch again) and consume some nutrition in gel form, but that was all he ate aside from a few grapes.
The swim was planned as a fundraiser for two causes that are close to Miller's heart –wounded veterans and cancer survivors. Over the years, Miller has met a number of veterans, some blinded, some paralyzed from the waist down, who travel to St. John to race kayaks and scuba dive as part of the Team River Runner initiative.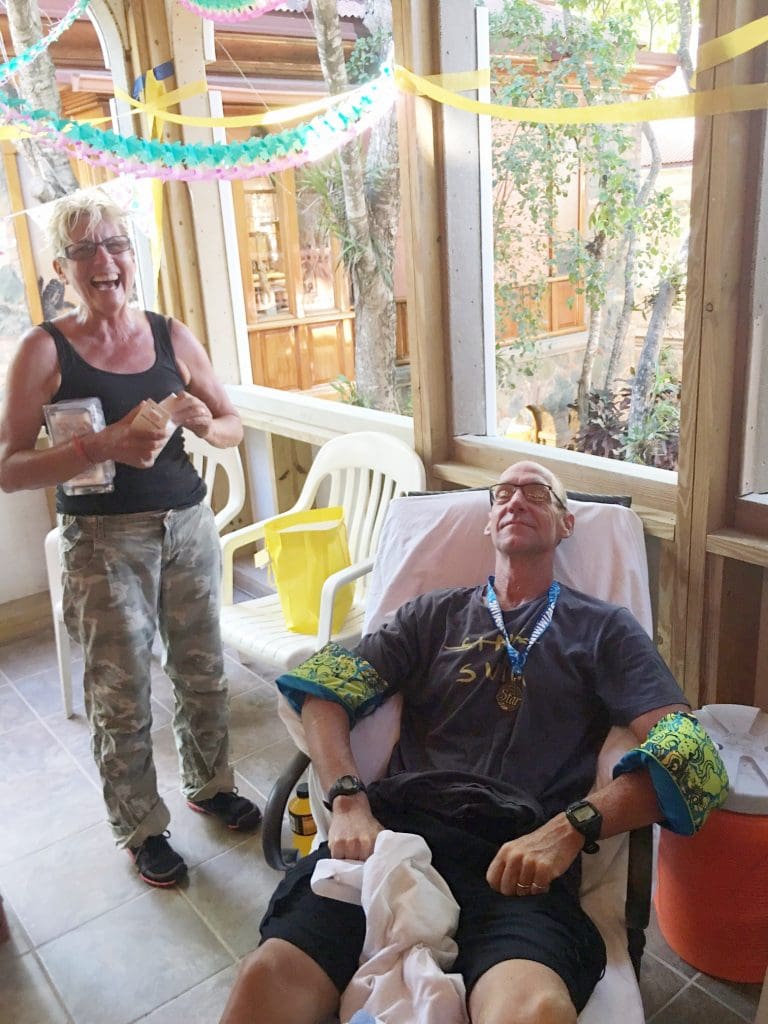 Amazed and inspired by their courage, Miller has set up a page on the Team River Runner website where people can make donations, and he's arranged for a portion of the funds collected to go to the St. John Cancer Fund.
"The SJCF has done a phenomenal job of getting funds to people here who need it," he said. "Everyone in my family has had cancer, including Jude." (Click here to donate to Jeff's swim).
Miller wanted to thank the many people who have assisted with the swim and donated to the cause.
St. John Tradewinds would like to invite people who were involved to add their comments on our Facebook page.