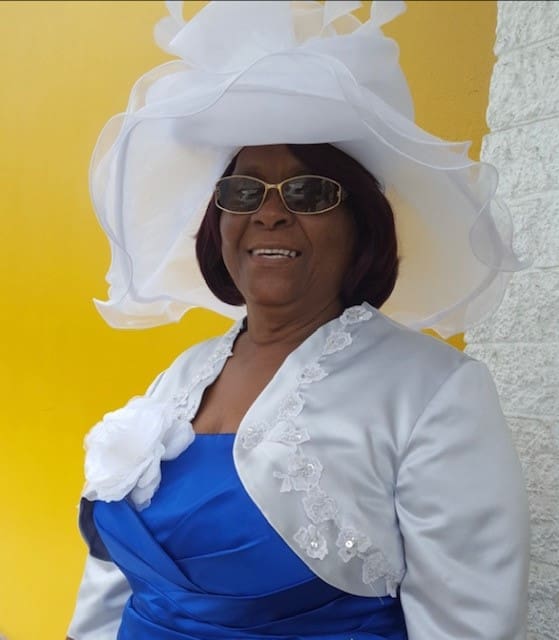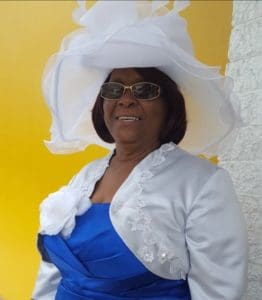 Family and friends celebrate the life of Miriam Albertine Stapleton-Maynard, also known as "Allie" "Ali" or "Tina," who died on Sunday, Jan. 2, at the age of 74 in Auburn, Ga.
Miriam was survived by her husband, Ferdinand Bosley Maynard Sr.; daughters: Karen "Kayren" Maynard, Nelcia Collins, Yasmine Maynard-Weekes, Melynda Maynard and Tracy Leticia "Teesh" Maynard; sons: Ferdinand Bosley "Ferdy" Maynard Jr. and Randall Maynard; grandchildren: Keitayro Kaylon Joshua Maynard-Scott, Tafari Collins, Menelik Collins, Ajonai Collins, Zebulun Collins, Azariah Maynard-Weekes, Adonija Maynard-Weekes, Lamont Kikuyu Sweeney Jr., Marquis Tisdol,  Jeniya Roebuck, Jayden Maynard, KeMonte Maynard, Jahlayzia Maynard, Gabriel Maynard, I'mUnique Maynard and I'mUlani Maynard; aunts: Gwendolyn Clarke and Lillian Prentice; sisters: Rositta Stapleton Ward,  Lorraine Stapleton Hull, Joan Stapleton Pemberton and Judith Stapleton; brother, Spencer Stapleton Sr.; and nieces and nephews: Vida Hendrickson, Sinclair Ward, Edreade Ward, Francina Hull, Garilyn Hanley, Brenda Fyfield, Anthony Ward, Belinda Ward, Mavis "Rovita" George, Pansy Morton, Wendell Liburd, Bernard "Brother B" Liburd, Jascinth Claxton, Yvette Powell, Spencer Stapleton Jr., Edreade "Roll" Stapleton, Carmelita "Suzette" Lewis, Sheryl Farrell, Margaret Ruiz, Diana Stapleton, Alva Stapleton, Vernon Stapleton, Calvin Stapleton, Lisa Stapleton, Michelle Stapleton-Caines, James Stapleton Jr., Jerel Stapleton, Raymond Stapleton Ward, Frankie Stapleton, Sharon Ward, Marcia Ward, Andrea Hull King, Lydia Hull, Carlyle "Bing" Pemberton, Lesroy Pemberton, Esmeralda "Esmie" Pemberton, Sylvia "Syl" Pemberton, Derry Pemberton, Dave Pemberton, Warren Pemberton and Marlon Stapleton.
She is also survived by cousins: Eulalie Browne, Althea Prentice, Imelda Simmonds, Linda Mitcham, Hilary Lewis, Angela Duporte, Melissa Prentice, Michelle Prentice, Mavis Pemberton, Hazeline Claxton, Violet Sommersal, Janet Webster, Claudette Prentice, Joycelyn Huggins, Joan Gomez, Genevieve Thomas, Sandra Prentice, Reginald Francis, Gilbert Francis, Eugene Francis, Calvin Francis, Bernard Martin, Leroy Prentice, Cecil Prentice, Junior Huggins, Miller Huggins, Wendell Huggins, Alfred Prentice, Rohan Prentice, Calvin Prentice, Marvin Prentice, Steven Prentice, Eric Stapleton, Janet Stapleton, Sharon Stapleton, Karen Stapleton, Anne Stapleton, Wentworth Stapleton, Harvey Stapleton, Wilfred Stapleton, Blondina Stapleton, George Stapleton, Wilhelmina Stapleton, Lolita Stapleton, Perdita Stapleton, Joy Stapleton, Delton Stapleton, James Tyrell, Leroy Tyrell Hodge, Cynthia Tyrell, and Edna Tyrell; Daughters-In-Laws: Jada Liburd Maynard and Kimberly Greenidge Maynard; son-in-law: David Collins; sisters-in-law: Ilis Walters, Cynthia Stapleton, Camilla Stapleton, Pearl Hodge, Valerie Lawrence, Gervaise Schoobaar-Maynard, Veronica Van Gurp and Rosita Claxton; and brothers-in-law: Mundelain Ward, Vincent Maynard and Cecil Maynard.
Other survivors include godchildren: Jackie Williams, Junie Williams, Joseph Merchant, Nina Figueroa, Marjorie Pemberton and Elizabeth Bass; close friends: John and Helena Osborne and family, Pauline Canton and family, Loretta Jones and family, Julian and Ingrid Chapman and family, Bob Whitford and family, Norma Barnes and family, Mount Pleasant (East) neighbors and family, St. Croix and St. Thomas Virgin Islands Wesleyan Holiness Churches, First Assembly Church of God Christiansted and her Powerful Prayer Warriors Group; a host of 40 nieces and nephews; 96 great nieces and nephews; 39 great-great nieces and nephews; as well as cousins, other relatives and friends too numerous to mention including the Prentice, Marshall, De Costa, Powel, Williams and Stapleton families in the United States Virgin Islands, British Virgin Islands, Nevis, St. Kitts, St. Maarten, Anguilla, St. Eustatius, The United States, Canada and England.
[adrotate group="6"]
Visitation, viewing and a Celebration of Life for Miriam Albertine Stapleton-Maynard will be held at George B. Levett Funeral Home, Gwinnett Chapel at 914 Scenic Highway Lawrenceville, Ga. Visitation will take place from noon to 8 p.m., Friday, Jan. 28.
A second viewing will be held from 9-11 a.m., Saturday, Jan. 29. It will be followed by a Celebration of Live from 11 a.m. to noon.
Miriam's final resting place will be at Corinth Memorial Gardens, 1635 Georgia 81 Loganville, Ga.
LIVE STREAM link https://vimeo.com/666901999