Reports that Boyson Inc. would be bringing its General II barge back from stateside drydock on board the company's newest barge weren't true — but, unlike most island boat stories, thi could have been.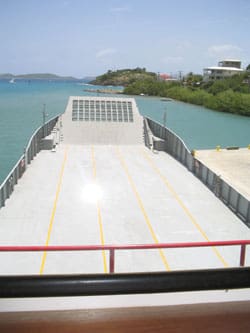 At 136 feet long and 44 feet wide, the five lanes on the interior deck space covers an area with enough room to comfortably fit at least one of the company's other three barges.
St. John residents who use the barges for inter-island travel can breathe a sigh of relief. Mister B is here to help alleviate congestion at Red Hook and Enighed Pond caused by the ever-increasing amount of people who travel between St. Thomas and St. John on the barges.
Mister B is Boyson Inc's new barge, and, with a capacity of 52 cars, it eclipses all the other barges running the Red Hook-Enighed Pond route.
The one-of-a-kind barge was designed by Boyson Inc and built for the company in New Orleans.
"It was built specifically for us," said Cheryl Boynes-Jackson of Boyson Inc. "We designed it, just like we did the other two."
"It is state-of-the-art, 21st century" said Boyson Inc. Captain Michael Jackson, from the joy stick at Jackson's control in the towering bridge to the three CAT engines below deck.
The Mister B, named after Boyson Inc founder Noel Boynes Sr., will be put into service in addition to barges already running to help alleviate congestion and long lines faced by those who travel between the islands on the barges, according to Boynes-Jackson.
The looming barge could be seen at Enighed Pond last week, where it awaited for U.S. Coast Guard certification papers.
"It's waiting for certification papers from the Coast Guard," said Boynes-Jackson on Tuesday, June 27. "We're hoping to get them by the end of this week or next week. We're just keeping our fingers crossed, hoping that something will happen soon."
The Mister B will hold nearly double the capacity of barges currently running between St. Thomas and St. John.
Boyson Inc's General II is currently in dry dock in New Orleans for upgrading. The General is in service, running daily between Red Hook and Enighed Pond.